What's new for October/November 2006
Get Immunized And Be Protected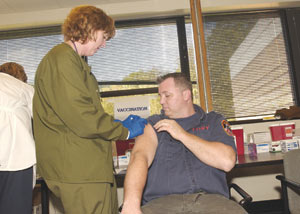 This year, BHS will again conduct a city-wide drill to provide the flu vaccine to our FDNY members.
This exercise will be conducted on two days.
City-Wide Drill
On November 9th at 1800 hours, a city wide drill will begin with the city wide distribution of the flu vaccine to all on duty members. In this exercise, 4 mobile and 4 stationary PODS manned by BHS medical staff will provide influenza vaccination to our on duty members. Fire and EMS units will be directed to either stationary sites or to mobile sites for immunization. All members will participate. Members can accept or decline vaccination but immunization is highly recommended to all members. This remains the best way to protect yourself and your loved ones against the flu.
High Rise Drill
On November 17, from 9 am to 4 pm, FDNY employees at Headquarters, 9 Metro Tech will be given the flu vaccine in a day exercise in the auditorium. During this exercise, employees at headquarters will be called down floor by floor to the auditorium to participate. Again, employees can choose whether to accept or decline the vaccine but all employees will participate in the drill. FDNY members working at 11 Metro Tech in Communications will also respond to this exercise.
Both drills are part of our FDNY Bio Terror Preparedness program. The department must be ready to respond to biological threats, whether terrorist driven or through nature. The recent avian flu is a reminder that biological agents can infect one species and then be transmitted to another species with close contact. Furthermore, the agent can undergo mutation with changes in virulence and sensitivity to treatments.
This drill will again involve the entire agency. Many bureaus have participated in the preparation and planning. These bureaus will assist in the completion of these exercises. Each year, as we construct the drills, lessons learned from the prior year are incorporated into the planning. Remaining prepared is critical to our department. BioPod 2006 provides an opportunity to stay prepared and protect our workforce. Get immunized and stay safe.
Influenza Vaccination Time
It's fall, leaves are falling, noses are dripping. Time to think about protecting yourself against the flu.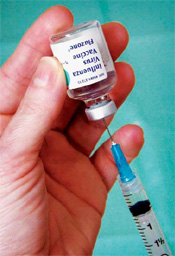 The flu vaccine is offered yearly between the months of October through the end of December to protect people against the influenza virus.
The flu is a contagious respiratory illness caused by influenza viruses. The symptoms may be mild to severe, but can be very debilitating in certain groups such as the elderly, the very young and also those with chronic medical problems.
The symptoms of the flu can include fever (sometime high), headache, marked fatigue, dry cough, sore throat, muscle aches, and nasal congestion.
For some individuals, the complications from the flu such as pneumonia, ear infections, sinus infections and dehydration can occur as well as worsening of their chronic medical problems.
Every year in this country, 5 to 20 % of the population gets the flu. More than 20,000 people are hospitalized from flu complications and 36,000 people die from the flu.
The best protection against the flu remains flu vaccination. Each year the flu vaccine is formulated to protect against three strains of the virus. This yearly formulation is designed to provide the best protection against the latest strain of virus occurring in a given year.
Let's review some of the questions frequently asked by our members:
I had the flu shot last year; do I need to get it again?
Yes, this vaccine is given each year. Each year, the formulation may vary to try to best match the viruses that are active in a given season. Also the protection from this vaccine only lasts a season. It does not give life long protection like some other vaccines that are offered.
I'm healthy; I don't fall under these high risk categories, why should I bother getting vaccinated?
When you protect yourself, you protect others, including your co-workers and family. The spread of illness through a community occurs from person to person. Vaccination is the best way to prevent infection and stop the spread of infection to others.
I take my vitamins, eat right and work out regularly, how can I get the flu?
Flu viruses are spread from person to person through coughing and sneezing by respiratory droplets. If a person sneezes or coughs, that spreads the virus. When you put your hands into your mouth or touch your nose, you can get infected. People can spread the illness one day before symptoms start and up to five days after getting sick.
Who is at highest risk and should be vaccinated?
Everyone who wants to reduce their risk of getting the flu SHOULD be vaccinated. The highest risk group for complications from the flu includes:
Children aged 6 months until their 5th birthday
Pregnant women
People over the age of 50
People of any age with chronic medical conditions like heart disease, diabetes, asthma.
People who live in nursing homes and other long term care facilities.
And people who live with or care for those at highest risk including parents of small children and infants and health care workers.
It sounds like everyone should get this shot, so who should not?
People who should not be immunized include:
People with severe allergy to chicken or eggs
People who got a bad reaction to the flu shot in the past
People who developed Guillain-Barre syndrome within 6 weeks of getting the flu in the past.
Children less than 6 months of age
People who are sick with a fever should wait until the symptoms are better.

When the flu season hits, what steps can I take to keep myself and my family healthy?
First, get the flu vaccine and get your family protected. Avoid close contact with people who are sick. And when you are sick keep your distance from others.
Cover your mouth and nose with a tissue when coughing, and then throw the tissue away. If you don't have a tissue, cough or sneeze into your upper sleeve, not your hands. Dispose of all used tissues in the waste basket.
Clean your hands after coughing and sneezing or wash with an alcohol based cleaner.
Keep your hands out of your mouth and nose. Wash your hands before eating or preparing or serving food.
Can't I get the flu from the vaccine?
No, this is not a live vaccine; it is an inactivated vaccine containing noninfectious killed viruses and cannot cause influenza. You cannot get the flu infection from the vaccine. Side effects from the vaccine can include sore muscles, low grade fever, fatigue and local tenderness at the injection site. But, in general, the vaccine is well tolerated with few symptoms. The benefit of not getting the illness and not spreading it to your families and friends outweighs the risks.
Am I guaranteed I won't get the flu if I take this vaccine?
No, but it remains your best protection. In adults aged less than 65 years, the influenza vaccine typically prevents influenza illness among 70 to 90 % of healthy adults when the circulating virus matches the vaccine. In children, the vaccine is highly effective in preventing the illness and it will also reduce the risk of ear infections, a common complication of the flu. And even if you get the flu this season, it may be milder with fewer symptoms because of this vaccine protection.
GET THE FLU SHOT THIS YEAR AND EVERY YEAR.
PROTECT YOURSELF AND THOSE YOU LOVE.
---
Dr. Kerry Kelly
Chief Medical Officer

Dr. David Prezant
Chief Medical Officer
OMA EMS

Malachy Corrigan
Director
FDNY CSU

Mary T. McLaughlin
Director
FDNY BHS