What's new for February 2006
FDNY Comes To The 'Rescue' By Donating Life Saving Bone Marrow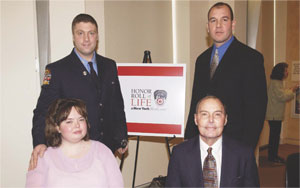 FF John Jensen of Ladder 174 and former FF Joe Kazlauskas became the newest heroes to Ms Brooke Williams of upstate Governeur NY and Mr. Glenn Hale of Phoenix, Arizona.
Not for saving them from a fire, but for saving them from a life threatening illness, Cancer.
Both John and Joe joined the Bone Marrow program as a result of the partnership of the FDNY with the NY Blood Center. They joined the program at Probationary Firefighter School at Randall's' Island. Two years ago, both members made this lifesaving donation.
On January 19, 2006, the Department celebrated the 2nd annual Honor Roll of Life. The Honor Roll of Life was a gift to FDNY from the NY Blood Center recognizing all members who have selflessly given bone marrow to save the life of a stranger.
The ceremony acknowledges the newest names of donors from FDNY within the past year.
The highlight of the ceremony has been the emotional reunion between donor and recipient and this was no exception.
FF John Jensen stood at the podium while Ms. Williams embraced him while balancing on crutches and filled with overwhelming emotion as she met the person who was instrumental in her survival. Former FF Joe Kazlauskas was also met with the same emotion as Mr. Glenn Hale walked up to meet the person who gave him this lifesaving gift.
Mother Teresa once said, "It's not how much we give but how much love we put into giving". This was truly evident that day.
The Marrow Donor Program began in 1991 as a result of the efforts of retired Firefighter Mark Kwalwasser from Engine 43 who created the Elaine Diedrich Memorial Donor Program in honor of his sister, who lost her fight against leukemia. Since then, 72 firefighters have been donors out of over 8,000 members who are in the program. The NYBC acknowledges that FDNY has provided the most donations of any single collective organization, and for that, they are eternally grateful.
We salute our members as they expand their generosity to those in need. The connection our donors have with their recipients is a bond that began as strangers but one that will never be broken. The mission of FDNY to protect life and property intertwines with the mission of the NY Blood Center to help those in need. Our partnership with the NY Blood Center is one that we are very proud of and we will continue to work toward that goal.
Kids Connections
Kids Connections, the program administered through the CSU that serves children who lost an FDNY parent in the line of duty, is in its third year and continuing to grow. The program's primary mission is to facilitate interaction amongst these children, children of all ages, through social and recreational programming facilitated by CSU clinicians and FDNY peers. In addition to the CSU staff, FDNY members volunteer at all of our events, which is an important element of the program; the kids served by this program benefit tremendously from being around members, and their presence at events helps keep these families connected to the department.
Activities we're holding this winter include a paintball/laser tag event, bowling, web design workshops, and a teen outing to a NY Knicks game. The last two events speak to specific programming that has developed out of Kids Connections program. The web design workshops were created to get kids more actively involved in the Kids Connections web site. Kids post profiles on the site's password-protected online gallery, to create an online Kids Connections community, and design their own web pages. The Knicks game is one of the monthly outings we conduct specifically for teens ages 13 and up, to encourage their participation and to introduce them to peers in the program. In addition to the monthly teen outing, which includes activities like bowling and rock climbing and day trips like skiing and horseback riding, the teen program holds a weekend-long camp retreat in the summer. In the year that we've been running the teen program we've seen attendance continually grow and we've been able to meet a lot of new teens and introduce them to others. Kids Connections also recruits teens to volunteer at events for kids of all ages, and gives these teens letters that they can use for school community service credits.
In addition to the social and recreational programming Kids Connections conducts activities that are more therapeutic in nature. We've held girls' chat groups, and we holding regular arts-and crafts events facilitated by art therapists.
One extension of the program is the partnership we formed with Big Brothers Big Sisters of NYC three years ago. In this program we recruit FDNY members and retirees to be Big Brothers to boys who lost a FDNY parent in the line of duty, and women affiliated with the department to be Big Sisters to girls who lost an FDNY parent in the line of duty. Mentors are required to spend 8 hours per month with the child they are matched with for a minimum of one year. Matches are encouraged to attend Kids Connections events, and we do see many of our matches at the events.
Anyone who has questions about the Kids Connections program, wants to be an FDNY Big Brothers or Sister, or who wants to volunteer at a Kids Connections event, should contact Kim Ahearn in the CSU at (212) 570-1693 x 323 or ahearnk@fdny.nyc.gov.
Congratulations to Dr. Prezant
We wish to congratulate Dr. David Prezant on his promotion to Chief Medical Officer of EMS Medical Affairs. Dr. Prezant's commitment to the health and safety of all members of FDNY is paramount. We are confident that his dedication to the additional responsibilities of this new position will contribute to FDNY's overall mission. Dr. Prezant will continue as the Co-Director of the World Trade Center Medical Monitoring Program under the direction of Chief Medical Officer Dr. Kerry Kelly.
Dr. Prezant will also continue seeing Pulmonary cases in the BHS Clinic. We wish Dr. Prezant continued success in these endeavors.
World Trade Center Medical Monitoring Program Kicks Off
Retirees since 1997 were sent a letter inviting them back to participate in the World Trade Center Medical Monitoring Program. Letters were sent out to over 5600 retirees providing a retiree contact information form to assist in developing a data base and set up follow up medical appointments. Over 1500 retired members have responded.
In the last 3 weeks, 50 retirees have participated in the program. They came to BHS for follow up evaluations. Many continue to have symptoms and physical complaints. Some have developed new problems. This monitoring helps us track longituditinally the health issues of retirees exposed on 9/11 and in the rescue and recovery efforts at the site. Continued evaluation will occur over the next several years. Ideally retirees and active members will be seen for three medical evaluations in a five year program. Additional appointments for retirees will be made over the next several weeks, with expanded appointment schedules.
Cumulative information will be made available in future Health Connections.
---
Dr. Kerry Kelly
Chief Medical Officer

Dr. David Prezant
Deputy Chief Medical Officer

Malachy Corrigan
Director, FDNY CSU

Mary T. McLaughlin
Director, FDNY BHS