What's new for September/October 2005
Hurricane Katrina FDNY Deployment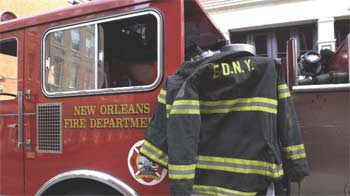 As a result of the catastrophic events due to Hurricane Katrina to our fellow Americans in the Gulf coast states, our Department sent our firefighters, fire officers, EMS EMT's and paramedics, communications personnel and mechanics to assist in the rescue and recovery operation. This request was made to FDNY through EMAC (Emergency Management Assistance Compact), which is an agreement between state authorities to ask each other for assistance.
The deployment operation began as a request to all divisions for volunteers; over 300 members made the initial commitment to serve.
Dr. Kelly and the staff of BHS were fully aware of the unsanitary conditions of this operation and prepared to medically protect all our members who so unselfishly were 'stepping up' to assist others without regard for their own personal safety.
All members who volunteered through their respective divisions for service were submitted to the Bureau of Operations who in turn, submitted these names to BHS for determination of their immunization status.
Guided by the protocol set forth by the Center for Disease Control (CDC), Dr. Kelly advised the Bureau of Operations that the highest protection required for members was that they were immune to Hepatitis B and that they had a Tetanus shot within the last 5 years.
Each and every member's computer immunization record was printed and reviewed for both Hepatitis B immunity and Tetanus immunization. Those members who needed a Tetanus shot were identified; those members' whose Hepatitis B immunity was negative were notified that they were not eligible for deployment at this time.
The medical and support staff of BHS transported Tetanus vaccine, immunization records and consent forms to a hanger at Kennedy Airport at 3 AM Monday, Labor Day, where members' reported for deployment. BHS Medical Officers and nurses reviewed the immunization record with the member and immunized those in need of Tetanus shots for the highest level of protection.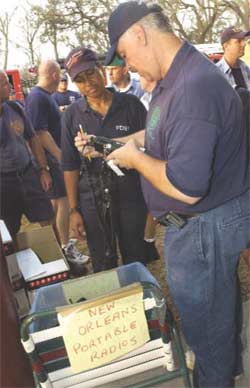 Close to 100 additional members reported to the hanger at JFK requesting deployment; Mary T. McLaughlin, Director of BHS, remained stationed at FDNY HQ to print, review and advise Dr. Kelly on the immunization status of those members who were not in the initial list of volunteers.
Dr. Kelly and the staff of BHS felt confident that those members who were ultimately deployed that night were protected at the highest level as dictated by the policies set forth by the CDC.
As members were deployed, they were given a safety bulletin reminding them to wear all their protective gear for the highest level of personal protection as this rescue and recovery mission will expose them to a variety of conditions not common in our daily Operations.
The duration of this deployment is for a two (2) week period. Members who are considering volunteering for this mission must have their immunization records up to date.
Members appearing for their Annual Medical are given all required immunizations by the BHS Nursing staff.
Members who come to the BHS Clinic may request a review of their immunization record with the Nursing staff and can receive all required immunizations at that time.
Dr. Kelly and the staff at BHS wish to remind every member how important it is to protect yourself by wearing your personal protective gear and to have all your immunizations up to date. The staff of BHS commends you for your continued service to the citizens of NYC and our fellow American citizens now in need in the South.
Be well…be safe….but most of all, BE PROTECTED!
---
---
Snug Harbor
On July 13th, 2005, FDNY (Fire, EMS & Civilians) couples gathered at Snug Harbor in Staten Island to experience and learn about wellness. Snug Harbor, a cultural center and home to several museums, performance spaces, and beautiful gardens, was the perfect retreat for couples to relax together.
As couples arrived, they entered a space of peace and tranquility. Practitioners welcomed couples to their stations, where they could try ear acupuncture, reflexology, and massage. While receiving acupuncture or waiting for their next treatment, couples read books and materials on a variety of health, nutrition, and holistic healing topics. Some folks jumped right in to try everything. Others hesitated, unsure if they would allow the reflexologists to massage their feet or the acupuncturist to insert needles into their ears. As couples gave the foot reflexology rave reviews, more people were encouraged to take their socks off. And one by one people sat down around the acupuncture table and let the acupuncturist place the tiny needles into different points in their ears.
In another room, couples took a class in acupressure techniques, breathing exercises, and stress reduction tools, to be able to bring some elements of relaxation home. Couples identified areas of pain and then learned pressure points in the neck and shoulders that help release tension and provide relief. As they worked on each other, several couples said that their pain diminished or disappeared completely. Elizabeth Poole, a licensed massage therapist said, "Self acupressure helps people feel empowered to play a role in their own relief." Several couples agreed, "We plan to keep this up at home, because it really works."
At the end of the day, couples talked about their experiences over dinner. People were happy to have a reason to schedule a night out together. Between work, children, and other responsibilities, some said they find it hard to find the time to spend with each other. Others talked about how relaxed and calm they felt.
Why Wellness for Couples? Community Connections planned this event as the first of a series of events to provide opportunities for couples to spend time together having fun, learning new ways to deal with stresses associated with work and family life, and to meet and share experiences with other FDNY/EMS couples in their community.
If you have suggestions for other activities or workshops for couples and locations, please email the Program Director, Lynn Walker, at walkerly@fdny.nyc.gov with your comments.
---
Dr. Kerry Kelly
Chief Medical Officer

Dr. David Prezant
Deputy Chief Medical Officer

Malachy Corrigan
Director, FDNY CSU

Mary T. McLaughlin
Director, FDNY BHS