What's new for February 2005
From the Firehouse Perspective Working Smarter Not Harderd
Contributed by FF Al Salce Engine 34
The New Year is a time to reflect on the year that has passed and look at our lives to see where we need to make changes to have a more prosperous year. We turn to our New Years Resolution, as a set of guidelines to help with what we feel needs improvement. A New Year's resolution that we are all very familiar with is of course our health in relation to balancing good exercise habits with healthy eating choices. At the firehouse this can be extremely challenging, but far from impossible.
A routine that I have been using for some time now is the Principle of Periodization and Volumization. This workout concentrates on the volume of work and time spent doing the work, compared to the set/rep routines that most of us are used to. There are a few things to take into consideration when working out like this.
Never train to failure (more sets/less reps)
Train with a set time frame (every hour, ½ hour, or every time you walk into/out of kitchen to eat a snack, etc.)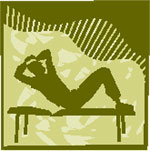 When you attempt this type of training you will realize that it is better to spread your workout throughout the day than to burn yourself out in one session. You will reduce the risk of injury due to fatigue and lack of concentration. Every exercise will be performed with excellent form since you have a long rest period. Your body will get used to working all day long rather than for just 1 to 2 hours a day increasing your energy levels and metabolism. Another factor that we need to take into consideration as firefighters is the possibility getting an alarm in the middle of or the end of a workout, and having to go to work. If you were to try to workout with the set/rep routine and a run came in, you would more than likely burn out sooner than if you only did one set every hour. The lactic acid build up would be minimal and fatigue will not set in as quickly.
Something that I am trying at the firehouse is dusting off and bringing the "pull-up/dips/knee raises/push-up stand" up from the basement gym and putting it out on the apparatus floor. We have all heard this before, "Out of Sight…...Out of Mind". Every hour I will do a set of one of the exercises for the day. For example: on a 24-hour tour I will do Pull-ups (8 reps/hr) for the entire tour. By the end of that tour, excluding runs, BI, getting the meal, etc., I should get 10-15 sets (80-120 reps). I could probably do 12-15 pull-ups but I don't want to train to failure. Every tour I will pick a different muscle group, exercise or circuit (more than two exercises). There are no limitations to this kind of training. Any and every exercise can be done in this manner, from free weights to calisthenics.
Here is something else that I would like to try at the firehouse. Lets make the probies do a set every time they walk into and out of the kitchen, and we will set an example that will keep them in good shape and yet not break the tradition of "NO PROBIES ALLOWED IN THE GYM WHILE ON PROBATION". I agree they can get hurt in the gym, but they shouldn't be allowed to let the healthy mind set of the academy wash away. They say you gain 20+ lbs your first year in the firehouse… Now that's a tradition we could do without.
With the tragedies that came to be last month we know that this career can put us in trying situations. Though we cannot control the outcome, we do have the opportunity to be in the best shape and health possible to help the outcome of such situations. Having been in such a position, it helps to be in decent shape.
Lets stay safe and healthy out there. If you have any questions regarding this workout you can contact FF Salce E-34 at salcefdny@hotmail.com
The Meeting of a 'Lifetime' / Honor Roll of Life
The auditorium at FDNY Headquarters on the morning of January 5, 2005 was the scene of an extraordinary event. The emotional level ran high among everyone in the audience. Some members of the audience however, had a feeling of euphoria and anticipation. Today was the day that brought two women from different backgrounds and parts of the U.S. to our Fire Department family. Our connection to each other is a bond that began as strangers but one that will never be broken.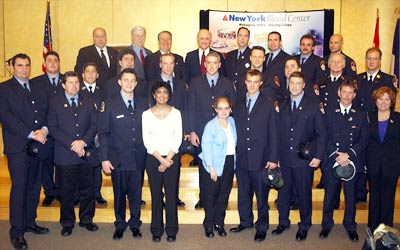 FF Peter McMahon of Ladder 26 in Harlem and FF Greg Hansen of Ladder 153 in Brooklyn met the women to whom they donated bone marrow – the gift of life.
Ms. Devendar Mata of Missouri received her marrow from FF McMahon in December 2003, and Ms. Melanie Hanson of West Virginia received her marrow from FF Hansen in October 2003. This meeting between them highlighted the selfless gift given by members of our Department to those in need.
FF McMahon and FF Hansen joined the Bone Marrow Program at Probationary School. The NY Blood Center holds enrollment drives at every probie class; and for the last number of years, almost 100% of new probationary firefighters joins the program in the hopes that one day they too will be called upon to donate bone marrow.
The job done everyday by members of our Department is to protect the life and property of all New Yorkers. The FDNY participation in the Marrow Donor Program continues that tradition of selfless giving.
The NY Blood Center acknowledges that the FDNY has provided the most donations of any single collective organization.
In recognition of our contribution, the NY Blood Center presented the FDNY with the "Honor Roll of Life" which lists 60 members of FDNY who have donated bone marrow so that others may live. This list includes members who made the supreme sacrifice on September 11th such as FF Terrence Farrell of Rescue 4, LT Carl Bedigian of Engine 214 and FF Eric Olsen of Ladder 15 as well as those who have donated to more than one recipient such as LT William Connolly of Engine 298.
The Honor Roll of Life will be prominently displayed in FDNY Headquarters.
Our Department is grateful to those members who have made this sacrifice and all those members who continue to join this most important partnership with the NY Blood Center. We are looking to expand this program to all members of the FDNY.
Anger Management
10 session program for FDNY Employees - This group has already begun but if there are interested members they can contact either Ashley Taheri at (212) 570-1693 or John Marchini at (212) 925-6671
Support Group for Spouses/Significant Others of Retiring or Retired Firefighters
For more information call Ashley Taheri at (212) 570-1693 or Patty Dorph at (732) 872-8736
---
Dr. Kerry Kelly
Chief Medical Officer

Dr. David Prezant
Deputy Chief Medical Officer

Malachy Corrigan
Director, FDNY CSU

Mary T. McLaughlin
Director, FDNY BHS