What's new for December 2005
Enhanced BHS World Trade Center Medical Monitoring Program Begins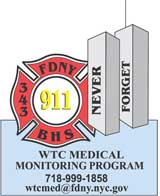 The FDNY Bureau of Health Services (BHS) announces the enhanced BHS World Trade Center Medical Monitoring Program. Designed specifically to meet the needs of our FDNY members, this program was jointly developed by BHS, NIOSH, and the Mt. Sinai Consortium, and co-designed with the UFA, UFOA, and EMS Locals 2507 and 3621. The BHS World Trade Center Medical Monitoring Program is funded by two grants, a federal grant from the National Institute of Occupational Safety and Health (NIOSH) and a September 11th Recovery Grant of the American Red Cross Liberty Disaster Relief Fund.
FDNY BHS is the designated WTC Medical Monitoring Program Center for FDNY of first responders providing the crucial testing and surveillance needed for early detection of any health effects from our unique WTC exposure. The BHS WTC Medical Monitoring Program includes a free four-hour comprehensive medical together with specific follow-up testing and treatment.

All FDNY members - active and retired - are eligible. Active FDNY members, Fire and EMS, will receive the enhanced BHS WTC Medical Monitoring as part of their regularly scheduled BHS Annual Medical visits. Retired FDNY members, who participated in the rescue and recovery efforts at the World Trade Center site, between 9/11/01 and July 2002, are eligible for the BHS WTC Medical Monitoring Program, even those who did not receive the original BHS WTC Medical Screening. Retirees can schedule an appointment by contacting the BHS WTC Medical Monitoring Program by phone at 718 - 999 -1858 or e-mail at wtcmed@fdny.nyc.gov.
All members, active and retired, were exposed together – we will monitor our health together – and we will stay together - as a FDNY family. You took care of New York. Now, let us take care of you!
Pulmonary Function Test – Why Is It Part of Our BHS Medical?
The Pulmonary Function Test (PFT) is a critical part of the BHS World Trade Center Medical Monitoring Program.
Why is a PFT so important? The PFT is an important BHS assessment tool to measure the extent, if any, to which an FDNY member's occupational exposure to contaminants is affecting their lung function. The PFT is an early warning tool used to detect the beginnings of potentially serious lung conditions. The sooner that these lung conditions are diagnosed, the earlier a clinical plan can be implemented to treat them. This early treatment may favorably impact the severity, length, and outcome of a WTC or other work-related condition or illness.
The importance of receiving regularly scheduled BHS medicals, that include a PFT, can't be overemphasized. The unique FDNY exposures to particulate debris, fire, dust and smoke at the WTC site, seem likely to produce delayed, and developing, serious health outcomes that will be years in the making.
Spirometry, the PFT used in your regular BHS Medical, measures how well your lungs inhale and exhale. How you exhale during your PFT can uncover problems in the way you breathe. Spirometry results can determine the cause of your shortness of breath. PFT results help BHS physicians diagnose the development of certain kinds of lung disorders, particularly obstructive lung diseases, such as asthma, bronchitis, emphysema and chronic obstructive pulmonary disease (COPD). The PFT can also help track progress in disease treatment.
As with everything that BHS does on behalf of FDNY members, the PFT exists to help serve you and your health. This regular health surveillance can only benefit you.
Three contributions that a FDNY member can make during a PFT, all of which are crucial for achieving accurate PFT results –
Cooperation that you provide your BHS Health Assessment Technician
Attention that you pay to test instructions
Amount of effort that you expend while taking the PFT
In each spirometry test, a person breathes athletically into a mouthpiece that is connected to an instrument called a spirometer. The spirometer records the amount and rate of air that is breathed in and out over a specified time. Measurements are taken during forced inhalation or exhalation after a deep breath. For your PFT at BHS –
You will be asked to breathe in deeply, and then exhale as quickly and forcefully as possible into the mouthpiece/tube
The exhale must last at least six seconds
Members will be asked to repeat this process at least three times
If your lips poorly seal around the spirometer's mouthpiece, this will produce inaccurate results, thus affecting the interpretation of your PFT results
The best result is considered an accurate measure of your lung function
How Are PFT Results Evaluated? Normal results, also known as normal predicted values, are based upon the age, height, ethnicity, and sex of the person being tested. Normal results are given as a percentage. A result (value) is generally considered abnormal if it represents less than 80% of the predicted for the person being tested. Usually, results between 70% and 80% of predicted are of questionable clinical value, if a member is not short of breath during exertion. An abnormal result usually indicates that a chest or lung condition, in some stage of development, may exist.
Three important preparations before coming for your BHS medical –
If you are having blood tests, do not eat anything for six hours before your medical. If you have already had recent blood tests at the FDNY Training Academy, do not eat anything for two hours before your medical
Avoid drinking coffee or other caffeinated beverages on the day of your medical
If you are a smoker, don't smoke for 4 – 6 hours before your medical
BIOPOD 2005 Exercise A Success
On November 10. 2005, the Department conducted its' 3rd annual BIOPOD exercise. This exercise is part of the Departments' overall preparedness program to provide and distribute preventative medication/vaccination in the event of a biological exposure. The exercise simulated rapid distribution of a vaccine, in this case, by offering all on-duty members the real flu vaccine.
This exercise is a collaborative effort spearheaded by Chief Medical Officers Dr. Kerry Kelly and Dr. David Prezant of the Bureau of Health Services, DAC Joseph Pfeifer from the Bureau of Operations and both the Bureau of Information and Technology Development and the Bureau of Communications. All participating unions supported this exercise.
At 1800 hours, the Bureau of Health Services activated 4 mobile and 4 stationary POD's (Point of Distribution) citywide, BIOPOD Teams were dispatched to selected FDNY locations where BHS physicians and nurses offered all on duty members the flu vaccine. Both Fire and EMS units were dispatched to the nearest POD in a series of rotations to ensure that emergency response and emergency medical care to every borough was maintained.
This exercise also incorporated a new computer application to track units moving through the respective POD's, to track the rate of members moving through the exercise, and to track the balance of acceptance and declination to the flu vaccine (in an actual event, all members would accept treatment unless there was a medical reason to decline).
By 0600 hours on November 11, 2005, 100% of the Fire units and 78% of the EMS units had participated in the exercise.
Each unit participating in the exercise was given an Exit Survey with 3 questions on the overall operation; in addition, units were asked to comment and make suggestions for the Planning Committee to review and incorporate into future exercises. This exit survey is an additional evaluative tool in that field personnel have the opportunity to voice their concerns or suggestions to help us all become better prepared.
The overall operation was strongly supported by the participants; some of the comments ranged from:
conducting the exercise at a more realistic time of day, when traffic patterns are at their peak;
more computers to make the processing through the POD quicker;
let the host firehouse or EMS station know well in advance of the operation so they can accommodate more units;
better directions on where to report, where to park
crossing bridges and using tunnels would be problematic if this were an actual attack
The complaints ranged from:
too many companies from the same battalion at the site
clearer response directions for units who are unfamiliar with the area
did not receive the flu vaccine handout
response tickets did not advise to respond on a 10-20
All of these comments are viable; all will be taken into consideration as we plan for the next exercise. We wish to thank all units for their insightfulness and for their input.
We also wish to thank the following members whose commitment to this exercise greatly contributed to its' success:
David Rosensweig and all Borough Dispatch Offices for their professionalism in moving units through the exercise without jeopardizing citywide coverage. The success of this exercise is predicated on the expertise of the members of Communications whose experience to handle multiple events, along with the fire and ems activity of the tour, all the while maintaining citywide coverage, and we thank them for their commitment.
Dave Mitchell and Balaji Jayaraman of the Bureau of Technology and Development for their technical expertise to address both computer hardware and software issues to give us a comprehensive application so that we can monitor POD activity in real time. This information gave us the flexibility for adjustments as we moved units through the operation. Their cooperation with the members of BHS proved invaluable as we designed an application with the specific needs of such an undertaking and we thank them for their efforts.
The BHS medical professionals, officers and support staff - their contributions began in the planning stage, carried through the logistical phase and resulted in a successful execution of the exercise. There were some bumps along the way but the BIOPOD Team Leaders were able to troubleshoot and arrive at a viable conclusion without incident. We thank them for their professionalism as well as all participants for a job well done!
---
Dr. Kerry Kelly
Chief Medical Officer

Dr. David Prezant
Deputy Chief Medical Officer

Malachy Corrigan
Director, FDNY CSU

Mary T. McLaughlin
Director, FDNY BHS