What's new for September 2004
Bio Pod 2004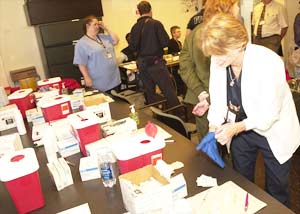 On November 11,2004, Bio Pod 2004 will be held. At eight sites located throughout the city, on duty Fire and EMS members will be directed to the nearest POD (point of distribution). At each POD, members will be offered the flu (influenza) vaccine. At the same time, members will participate in a drill designed to evaluate the distribution of prophylactic medication.
This will mark the second BIOPOD exercise for FDNY. In last year's exercise on Staten Island, one borough was offered immunization.In this year's exercise, the entire on duty work force will be offered the flu vaccine. All three tours of EMS personnel as well as the day and night tours for Fire personnel will participate.
Since 9/11, heightened concerns about terrorist attacks have prompted institutional changes. This exercise represents a preparedness plan to rapidly distribute medication and to vaccine members. In the event of a true biological exposure, this plan will be critically important. The drill has been designed and developed with the input of many bureaus: BHS, Operations, Communications, and Technical Services. If a true biological exposure were to occur, FDNY would coordinate with multiple NYC, NYS and Federal partners to provide medications and vaccinations to our members. This drill helps our department coordinate our response to such an event. Homeland Security and other agencies remain interested in our program as a model for other urban areas and other agencies.
Members will be given more information at the time of this drill. On the day of the POD, all on duty units will participate. The flu vaccine will be offered to all and we urge members to consider getting your yearly protective vaccination. Members will review questions to help decide about prophylactic medications but since this is a drill, only candy will be given out. This candy has been supplied by the UFA.
BioPod 2004 will be an opportunity to evaluate and design a department wide response to a biological event. In this non emergent setting, the flow of units and members through 8 sites can be evaluated. Evaluations of each POD, and the collection of data at each station, will help us develop an FDNY model to serve our members better. Bio Pod 2004 is another program to help us remain prepared.
It's Time For The Flu Shot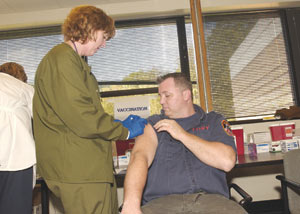 Each fall and winter, BHS offers the flu shot to prevent influenza. Influenza, commonly known as the flu, is a viral infection in the nose, throat and lungs. About 10 to 20 percent of Americans get the flu every year. Some people can get very ill with this infection, and may require hospitalization or develop other serious complications. For most healthy people, the flu is an annoying inconvenience with symptoms of fever, cough, sore throat, a runny nose, headache and most of all severe body aches. It can feel as though a Mack truck ran over you and then back again when the illness has overtaken you. Most people feel better in a few days to a week but in some individuals , other more serious problems can occur such as pneumonia.
People at greatest risk of complications are the very young and the very old as well as though with underlying medical problems. Others at increased risk include: health care workers, pregnant
women, people with chronic lung problems such as asthma or emphysema, those with suppressed immune systems, those with chronic kidney problems, and anyone with diabetes, heart disease or other chronic health problems.
Any one in these groups should get the flu vaccine. You should also consider getting the flu shot to prevent spreading the illness to others.
The flu shot is given at the beginning of the flu season, starting in October and continuing through the winter. This vaccine helps your body build up antibodies to the influenza infection. It is not a live virus vaccine so you cannot get the flu from the vaccine. It helps protect you when the flu illness arrives. Each season a new vaccine is formulated to best protect against the strains of flu that are expected. The vaccine contains protection against 3 different strains of the flu virus. Even if the flu strains that arrive are somewhat different from the vaccine that was made, the shot will give you some immunity. The vaccine is 70 to 90 percent effective in preventing the flu in healthy people. If you get the flu, your response should be better so that the symptoms will be milder and not so debilitating.
Remember the flu vaccine is safe and well tolerated. If you are allergic to eggs or have had eactions to the shot in the past, skip the vaccine.
The flu season is approaching. Protect yourself and your loved ones. Get the flu shot and stay healthy. The flu shot will be offered at BIO-POD 2004, at the Annual medicals, at the Union meetings in November and also at BHS clinic. Stay well. Get the flu shot.
Drinking: How Much Is Too Much?
Asimple definition of a problem drinker is someone whose life gets better if he or she stops drinking. To put it simply, if you suspect you may have a problem with alcohol then you probably do, but also know that alcohol problems can come in many different shapes and sizes. For example, according to The National Institute on Alcohol Abuse and Alcoholism, "A person can abuse alcohol without actually being an alcoholic-that is, he or she may drink too much and too often but still not be dependent on alcohol" (niaaa.nih.gov).
Traits Identified By Problem Drinkers Include:
Gulping drinks
Drinking alone
Drinking more than planned or drinking without thinking about it
Secrecy
Planning or thinking about the next drink or drunk
If you want to address your drinking, there a number of options available. Asking for help is a major step. Research has shown that the most effective way of treating a drinking problem is by talking with others seeking help with the same problem.
Alcoholism can be treated. The Counseling Service Unit has professional substance abuse counselors and social workers available to discuss any concern you have about alcohol. We recognize the value and necessity of anonymity and make every effort to ensure confidentiality.
We have an in-house Day Treatment Program, Monday through Friday, available to any FDNY employee with substance abuse problems. If you need immediate help, the FDNY CSU has a counselor on call 24 hours a day 7 days a week. The information from evaluations and treatment plans is confidential.
You can get help! If you have any questions or concerns on the topic of alcohol or substance, CSU is here to support you. We make referrals for inpatient and outpatient treatment. We understand that some employees will not feel comfortable talking to CSU. If you would prefer to see a therapist outside of CSU for individual counseling, we can arrange that for you as well. Please call (212) 925-6671 for more information.
---
Dr. Kerry Kelly
Chief Medical Officer

Dr. David Prezant
Deputy Chief Medical Officer

Malachy Corrigan
Director, FDNY CSU

Mary T. McLaughlin
Director, FDNY BHS