What's new for November 2004
November 11, 2004 - BIOPOD 2004 Exercise A Success
On November 11, 2004, BIOPOD 2004 completed its mission — an exercise to ensure that all on-duty members received preventive medicine (candy, for the exercise) in the event that a biological exposure occurred.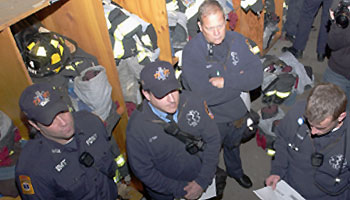 This exercise consisted of 10 mobile units (Point of Distribution units or PODs), staffed by Bureau of Health Services' employees. These mobile units fanned across the five boroughs of NYC, commencing at 1800 hours. The entire exercise took about 12 hours and by 0600 hours, all the POD units had returned to FDNY Headquarters (9 MetroTech Center).
Twenty-three hundred on-duty Fire and EMS members participated in this exercise.
The mobile Pods were staffed with the following: a Fire Officer assigned to BHS served as the POD leader; a Firefighter served as the vehicle driver and computer guide; a BHS Medical Officer and a nurse or EMT/Paramedic/EMS Officer were assigned for education and medication recommendation. Key FDNY pre-determined locations were chosen and the vehicles were dispatched to five to 10 sites per Division. The Borough Dispatchers directed fire units and ambulances to each of these locations. Chief Dispatcher David Rosensweig and Deputy Assistant Chief of Operations Joseph Pfeifer conducted the overall control and management with the IMT (Incident Management Team), located in the Emergency Notification Center (EOC).
Each vehicle was equipped with a laptop computer, printer and tethered scanner. The computers had specially designed programs to ensure that each participating member was registered. Once registered, each member was given a group educational briefing. In this briefing, information about biological responses was provided. Specific facts regarding anthrax were highlighted. Each member was asked about individual medication allergies to determine the recommended medication in the event an anthrax exposure occurred. Each member was offered a substitute — candy — in place of medication.
Members of the Department of Homeland Security, who assisted in the planning of this drill, supported the exercise. Representatives from other agencies, such as the Department of Health and Mental Hygiene, the Office of Emergency Management and the NYC Police Department, observed the drill.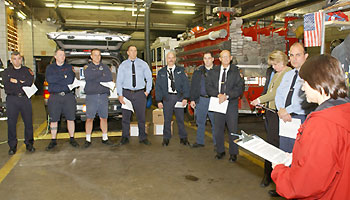 This exercise was a tremendous undertaking with the entire on-duty membership participating. All Divisions were represented and the few Companies that were unable to participate were involved in active fire duty at the time.
Drills such as this are critically important. For our Department and other agencies, this drill serves as a learning tool. Now we can look at the deployment of each mobile unit and evaluate the flow through each POD site. The time stamp captured with each action at the POD can be evaluated. From the information gathered, we can determine if changes must be made to the program. The drill showed that the entire on-duty work group could be mobilized, while simultaneously ensuring maintenance of essential services to the City.
Fire and EMS units can be directed to multiple POD sites to get medication. The plans developed and the blueprint for this exercise, along with the After Action Report, will provide a template for others to follow.
As each unit worked its way through the Divisions, the FDNY members were professional, warm and gracious. Whether the BHS BIOPOD unit arrived at 1900 or 0300 hours, the members participated with enthusiasm. Thank you to all for the success of this exercise. Programs such as BIOPOD 2004 are designed to help us prepare. FDNY, along with our country, face new challenges every day. We must remain ready to respond; we must work to protect our members as best we can. BIOPOD 2004 was an exercise to help us maintain that readiness.
Funding For Mental Health
Since 9/11, the need for mental health services has been clearly felt. NYC provided the funding for these services through our pre-existing CSU with the blending of FEMA money, as well as Center for Mental Health, International Association of Fire Fighters, National Fallen Firefighters Foundation, American Red Cross and Silver Shield funds. This funding allowed for the expansion of locations, new programs and additional counselors. Through this funding, more than 8000 members, as well as family members, have been able to utilize the available programs and individual counseling.
The need for services certainly has not ended. Our FDNY members have continued to seek counseling post-9/11. For each individual, the time frame to seek assistance may vary. A certain event, a particular birthday, a persistent memory may trigger a person to seek counseling. It is critical that these services be available when most needed.
Project Liberty funding through FEMA will be ending. However, through Federal and expected city funding, the counseling sites, counselors and programs will continue. Members can still be seen at the current sites: Manhattan, Fort Totten, Brentwood, Orange County and Staten Island. Professional counselors will continue to see members and family members at these community-based locations.
Members who need to see outside counselors can continue to be funded through the American Red Cross, which will provide up to 32 sessions per person. The American Red Cross will provide funding for members who officially were deployed to the WTC site, their spouses and their children. For spouses and children, the American Red Cross has some limitations, which will be explained to the family member by the American Red Cross.
Questions about seeking services still remain. Let's review some of them.
Counselors are professionally trained. There are choices of counselors, both female and male. Different issues can be addressed through individual or couples counseling.
Appointments can be made by calling the CSU units. You can expect to get an appointment within 24 to 48 hours. Emergency appointments are available.
Counseling services in the CSU units and also with outside counselors remain available. The counseling is confidential. You may remain on full duty and seek counseling assistance. Issues of grief, depression, substance abuse and family concerns can be addressed. If outside services are recommended, referral assistance will be taken care of by our staff.
As we enter the holiday season with its inherent stresses, it is clear that counseling services must remain available. It remains our priority to keep these services intact and accessible to our members. Barriers to getting help have been removed with our initial FEMA funding through Project Liberty. Continued funding will maintain the programs, the sites and the counselors to keep our members healthy. Stay well and safe.
---
Dr. Kerry Kelly
Chief Medical Officer

Dr. David Prezant
Deputy Chief Medical Officer

Malachy Corrigan
Director, FDNY CSU

Mary T. McLaughlin
Director, FDNY BHS