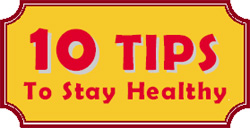 Spring brings reminders of life awakening about us. The longer days bring us outdoors and the warmer weather gets us moving. As we shed our winter clothing and start the tasks of fixing up the house, planting in the garden and changing the oil in the car, we need to give some thought to maintenance of our health. We remember to fertilize our lawns, change the oil, store the winter clothing, but sometimes forget that good health can't be taken for granted.

The NYC Department of Health and Mental Health have outlined 10 important steps to improve health. These steps, incorporated into your life and the lives of your loved ones, can give you an action plan to stay healthy.
Have a regular doctor or health care provider. Don't wait until you are ill to see your doctor. Utilize the visit with your doctor to discuss concerns, family history of illness, health habits and to ask questions about your health. Episodic care through emergency rooms visits does not provide the continuity with a health care professional.
Be Tobacco-Free. The single most important health decision you can make is to stop smoking. Exposure to second hand smoke also puts your health at risk. In the hours after you stop smoking, improvements in blood pressure, breathing and circulation are seen. Quitting smoking lowers risks of heart disease, stroke and cancer. Children of smokers have increased respiratory risks and also are more likely to become smokers themselves.
Keep Your Heart Healthy by addressing the issues of blood pressure control, weight and cholesterol. As a nation ,we have gained weight. Children as well as adults have become couch potatoes with super-sized portions. Maintaining or losing weight requires dietary changes accompanied by an exercise program. The ideal exercise prescription includes a minimum of 30 minutes of moderate to vigorous physical activity at least four days a week. Learn to read food labels and develop strategies to incorporate at least 5 servings of fruits and vegetables into your daily diet.


Know Your HIV status. Getting tested can put your concerns to rest. But avoiding risky behaviors and using protection to prevent exposure on each and every encounter remains critical.
Get help for Depression. Depression is a treatable condition. Although we may seek help for a cold and sore throat, we remain reluctant to address the very real symptoms of depression. Depression will be made worse by alcohol and drug abuse. Making that first step and seeking help for yourself or family members is often the most difficult but most worthwhile.
Live free of dependence on Alcohol and Drugs. Abuse of alcohol and drugs, whether prescription or non prescription, impacts on individual health as well as family and work health and life. Treatment plans are available to get help with these substances. Again recognizing that abuse is the first step in getting help.
Get checked for cancer. For all people over fifty and people with increased family risks, getting a colonoscopy to look for colon cancer is recommended. For men over 50 or with a family history, blood testing for PSA can detect prostate cancer in an earlier stage. Women should get PAP smears at regular intervals. Women over forty should get regular mammograms to detect breast cancer. Any person who finds a lump in their breast (male or female) should get it checked. Skin surveillance and showing changes in the skin to your doctor will also address skin cancers. Prevention of cancer begins with protecting the skin from sun exposure.
Keep your immunizations updated. Shots are not just for kids. Ensuring that your children are immunized is important as is ensuring that your immunizations are maintained. Hepatitis B immunizations, flu vaccine, tetanus boosters are important adult immunizations. Flu vaccine is offered every fall.
Make your home safe and healthy. Take an assessment of your home environment. Are your smoke detectors and carbon monoxide detectors in working order? Each family needs to practice leaving the house in a fire or other emergency. Discussing a plan is a family activity that may save lives.
Have a healthy baby. Planning pregnancy can help ensure a healthy mother and healthy baby. Preparing for a healthy baby includes avoiding drugs, not smoking and good nutrition. Multivitamins including folic acid can prevent birth defects.
---
Good health cannot be assured but preventable causes of illness and disease can be addressed. The commitment to good health habits starts with each individual. The benefits are very real. Start today to incorporate good health practices into your life.
Annual Medicals

The Annual Medical remains an important part of health maintenance. On that day members receive needed immunizations, get TB testing with the PPD skin test and undergo medical testing. This testing can be helpful in the detection of medical problems that could pose a threat to good health.

Also members receive needed training, mandated by OSHA, in the area of blood borne pathogen training and right to know training. Mask fit testing is also done on the annual medical day. The current schedule provides a medical examination at a 15 month interval.

Members on medical leave or light duty who have not had an annual medical examination in over two years will be scheduled for a medical when the member is on light duty or ready to return to full duty. Members will be placed on light duty and receive a medical evaluation. The member will then be returned to full duty or remain on light duty if the member is unable to return to full duty.

The member assigned to light duty will be directed to BHS to report for a complete medical evaluation including the complete educational training.

The annual medical day has been instrumental in detecting unknown medical problems. Addressing health concerns can be accomplished through this medical process.

Stay well, stay safe.
WTC Medical Monitoring
Coming Soon...
Details to Follow
---
Dr. Kerry Kelly
Chief Medical Officer

Dr. David Prezant
Deputy Chief Medical Officer

Malachy Corrigan
Director, FDNY CSU

Mary T. McLaughlin
Director, FDNY BHS