QUESTIONS MOST FREQUENTLY ASKED ABOUT THE WTC MEDICAL MONITORING PROGRAM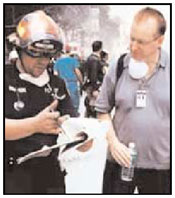 WHO CAN PARTICIPATE?
All FDNY rescue workers, i.e. firefighters, fire officers, fire marshals, EMTs, Paramedics, EMS officers who were employed by the FDNY between 9/11/01 and June 2002 (when the WTC site officially closed). All retired members who assisted in the rescue and recovery at the WTC site, regardless of their retirement date.
WHEN WILL THE MONITORING BEGIN?
Baseline monitoring has already occurred during the time period of October 2001 through February 2002, when the first 10,000 medical examinations were conducted. Additional baselines have been performed since then for a total of 11,800. Even if you had not received your baseline examination, you are still eligible for the WTC Medical Monitoring Follow up Program. The next phase of monitoring will start in the fall of 2004. The monitoring calls for three individual evaluations to be done over a five-year period.
HOW DO I SCHEDULE MY MEDICAL?
Active members will come for their medicals with their company for annual medical day. The WTC Medical will be incorporated into the annual medical. Retired members will be able to choose their appointment days and times. For retirees, we will provide choices that include daytime, evening and weekend appointments, depending on interest. Retired members can come individually or they can choose to come with other members of their company, battalion or other retirees. Information about these appointments will be sent out in the fall of 2004.
IS MY UNION SUPPORTING THIS MONITORING?
Yes, this program represents a joint union management venture. The UFA representing FDNY Firefighters, UFOA representing FDNY Fire Officers, DC 37-Locals 2507, representing FDNY EMTs and Paramedics, and 3621 representing FDNY EMS Officers have worked with BHS to (1) obtain funding for this monitoring program (25 million for the next five years) and (2) to design the various aspects of this program. There is a continued mutual effort to shape the medical and the monitoring to ensure that worker confidentiality is maintained, that the medical is thorough, and that needed information is gathered.
WHAT WILL THE WTC MEDICAL MONITORING PROGRAM INCLUDE?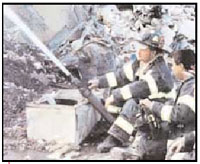 The medical is still being shaped and discussed by many work groups with full participation by union representatives and FDNY medical staff. These work groups are composed of medical experts from BHS and from a variety of external medical facilities, ex. Mt. Sinai, NYU, Stony Brook, NIOSH, etc. The annual medical and the original WTC Medical will continue with additional tests to be offered, that specifically address the evolved findings and concern of those exposed to WTC dust. The medical and psychological questionnaire that is currently in place will be reformatted and updated to reflect these concerns and any new findings. In addition to state of the art questionnaires and medical tests, the evaluation will also consist of individual interaction with our health team (physicians and nurses).
WHAT HAPPENS IF THE MEDICAL EVALUATION FINDS A PROBLEM WITH TEST RESULTS?
WHAT'S THE NEXT STEP?
Each participant will be given his or her own test results. It is anticipated that each participant will share this information with his or her own health care provider. Certain issues may not be of immediate concern but should be followed up with life style changes and continued monitoring. Certain test results may suggest that additional studies are advisable. Some of these issues can be dealt with entirely by our own BHS Medical Staff. Other issues may be better handled with your own private physician.

WILL WE FIND OUT HOW WE ARE DOING AS A GROUP?
This is the most often asked question. Yes, you will. The general trends and overall results, without patient identifiers, will be analyzed, reported to each of you in regular letters and reports to your unions. Medical confidentiality will be always be maintained. Only aggregate (group data) will be reported. In this way we can maintain medical confidentiality while providing early warnings to each of you about trends of illness and successful interventions.

The events of 9/11 will never be forgotten. The losses that were sustained that day are still felt. In the aftermath of that day, FDNY continued its commitment to the rescue and recovery, working at Ground Zero until June of 2002. No other workforce has had such significant exposures. This WTC Medical Monitoring Program was developed in recognition of this exposure and to provide follow up over time.

Further information about the program will be provided to you. Be well and stay safe.

Veteran Fire Department Personnel: HELPING OUR FDNY MILITARY RETURN FROM ACTIVE DUTY
We spend our lives ensuring that we are present for many significant events in the lives of people we love. We are there for birthdays, weddings, baseball games, graduations, births and deaths. When we can no longer be a part of these things it can change the lives of an individual and his/her family forever.

Pride, principle, identity and esprit de corps are among the many qualities that one acquires from serving their country. The flip side, however, is that those who return may require some readjustment. This can be very disrupting to family life because it is difficult to leave family and friends behind. Sometimes we choose not to share our experiences with family, then with whom can we share our thoughts?

As we welcome back our Veteran Fire Department personnel from their service, we must also understand the challenges and changes that come from such an experience. Veterans can experience feelings of isolation, family alienation, sleepless nights, memories of the war and changes in behavioral patterns. These are also likely to affect the people with whom the individual is connected.

Because each individual's experience is different and unique, their individual experience must be heard and validated. This will create a road map as to how the member and his/her family can be helped.

The FDNY Counseling Service Unit is here to help the returning veterans and their families as they adjust to lives during a transition that may have created some personal/family changes or challenges. CSU is available for individual, couple and group counseling at 5 locations in the New York area. For more information call 212-570-1693. A Veterans Support Group will begin on Tuesday, July 13, 2004 at 10:30 am. It will meet at 251 Lafayette Street, 3rd Floor in Manhattan. Contact Ashley Taheri at 212-570-1693 to RSVP.

---
Dr. Kerry Kelly
Chief Medical Officer

Dr. David Prezant
Deputy Chief Medical Officer

Malachy Corrigan
Director, FDNY CSU

Mary T. McLaughlin
Director, FDNY BHS