What's new for February 2004
Building a Better Relationship: Coming Together as a Couple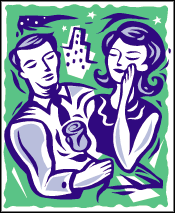 Marriage or romantic commitments are possibly the most complicated of adult relationships. Such intense emotional bonds with another individual can often make us feel fragile; our needs and our faults are exposed, we invest our trust in another person, we make a leap of faith in believing in the bond forged with our partner. Maintaining such a complex relationship can occasionally feel unsettling, even in the most ideal situations. When the outside world and circumstances get in the way, it can be downright scary.

These days, more and more FDNY couples are seeking help managing their relationships. The weight of the past few years has been taking a toll. Since marriage or romantic commitments tend to be the primary emotional bond for adults, it is important that our emotions find positive expression and that we communicate with our partner. When something is wrong in a relationship, subtle changes in our communication methods or emotional experience are often the early warning signs. Our feelings, because they are less easily manipulated or distorted than our thinking, are the best clues to what is happening inside and between two people.

Couples counseling is an avenue to explore those individual emotions that influence our relationship needs. A listening and empathetic counselor can help partners access and express the emotions that might seem to us inappropriate or embarrassing in day-to-day life. That counselor can help us improve our communication, which will make not just a marked difference in the quality of the relationship, but in the quality of our individual life as well.

Everybody knows that a listening ear and good advice can help. An expert not wrapped up in the family and not judging either partner can be invaluable as well. To inquire further about help for FDNY couples, please call the CSU at 212-570-1693.
Bells' Palsy Case Review — Follow Up Report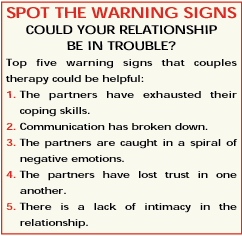 In the last issue of Health Connections we gave our members our initial report on Bells' Palsy. BHS is aware of the recent stories with regard to the number of Bells' Palsy cases, which have occurred in both Engine 76 and Ladder 22. We promised you a more complete data analysis in this issue.

First, for those that missed last month's issue, allow us to summarize the general knowledge about Bell's Palsy, a neurological condition that causes the facial nerve to weaken or become paralyzed. This nerve controls the movement of the facial muscles, the muscles that control eyelid movement and movement of the cheek and mouth.

Bell's Palsy affects 40,000 Americans each year. The most common cause is viral illness. Both men and women are affected equally. Worldwide statistics show a .02% incidence, or 3 of every 15,000 people may get this disorder. All ages can develop this condition. Groups at higher risk include:
Pregnant women

Individuals with diabetes

Individuals with influenza

Individuals with colds or other upper respiratory illnesses
Other conditions such as sarcoidosis increase the odds for facial paralysis. Other factors such as stress, lack of sleep, illness, diabetes may cause reactivation of a latent virus.
FDNY Bell's Palsy Cases

We have completed a careful review of cases from 1/1/1997 to date within the FDNY Fire and EMS personnel. There have been a total of 25 cases (18 cases in Fire and 7 cases in EMS). During a 7-year time period, medical experts would expect an average of 21 to 35 cases in this size population (15,000 FDNY workers). In the 7-year period that we have reviewed, FDNY has had an averaged of 3.5 cases per year. According to these statistics, FDNY Bell's Palsy cases were about average in number. The annual breakdown of cases is in the following table.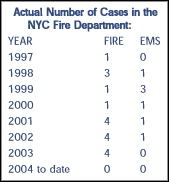 The cases involved Fire and EMS members in all boroughs. Members worked in different Battalions throughout the city. There were NO clusters (three or more cases which occur at one time in one place) of cases. In three firehouses, 2 cases have occurred. In one firehouse, the cases occurred several months apart. In one of the firehouses, the cases occurred over a year apart. In the third house, 2 members had the disorder at the same time. The members affected live in all fire boroughs as well as other counties.

As is typical for Bells' Palsy, members have recovered and returned to full duty. One member had a reoccurrence that has now resolved. Viral illness was the presumed cause as workup for other causes was negative in all cases. Treatments for Bells' Palsy included rest, Prednisone (cortisone), and antiviral medication. Wearing eyeglasses and ensuring that the eye does not get dry is also important. This condition is NOT contagious. The time for recovery is usually a few weeks. For others, the time frame may be longer as regeneration of a nerve may occur over a time period of a year. This condition may recur in 5-10% of individuals.

At this time the number of cases is not increased compared to the general population. With the computerized medical record at BHS, injury and illness trends can be followed. BHS remains committed to the good health and well being of our membership. We hope this information has been of help.

---
Dr. Kerry Kelly
Chief Medical Officer

Dr. David Prezant
Deputy Chief Medical Officer

Malachy Corrigan
Director, FDNY CSU

Mary T. McLaughlin
Director, FDNY BHS