What's new for December 2004
Stationary Bio Pod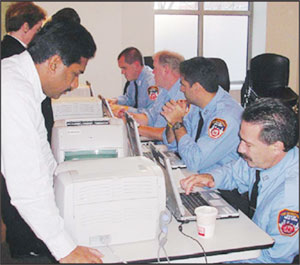 On December 16th, a stationary BioPod exercise was held in FDNY Headquarters. In this drill, all the FDNY employees working at 9 and 11 Metro Tech were directed to the Auditorium to participate in the mock distribution of prophylactic medications (candy). This drill was designed to complement the mobile drill that occurred in the field on November 11, 2004.
In this exercise, all employees were registered, given education regarding biological exposures, and were offered medications (candy). The employees were directed down floor by floor using fire alarm notification principles. The fire drill wardens for each floor instructed employees to go to the lobby in a sector wide response. Communication between the fire wardens and the participating fire marshals ensured the smooth flow of participants through this exercise. Bureau of Health Services officers, nursing staff, support staff and medical officers ran the drill. Dave Mitchell and the Bureau of Technology and Development Systems supplied computer support. Wireless scanners were utilized to capture information electronically.
During the morning session, from 8 am to 12:30 p.m., over 600 employees were seen. In the morning, a 'fast track matrix' was utilized. This approach recognizes that the vast majority of members will be candidates for Doxycycline. Therefore, at the conclusion of the educational program, the instructor reviews the matrix of questions that are relevant for the choice of medications. Those participants without a history of allergy to tetracycline, and without other medical problems or even questions were referred directly to the medication distribution sign out desk. All other participants were referred to the individual matrix desk to review questions and other medical issues that would influence medication choice.
In the afternoon an additional 200 participants were seen. The afternoon session utilized the structured program that was used in the mobile program. The goals of the program were met. The entire work force at Headquarters participated in this drill with few exceptions. The exercise was conducted without disruption in work activities at Headquarters. Both participants and staff became familiar with the mechanics of a biological exposure drill. With each exercise, there is an increased awareness on the part of the participants and the staff continues to review their roles in remaining prepared. We thank everyone for their participation in this exercise as we continue to address our protocols for readiness and preparedness if we were faced with an actual event.
BIOPOD 2004 Exit Survey Results
On November 11th 2004, BioPod 2004 was conducted. Ten (10) mobile units were directed to the field for a simulated biological exposure drill requiring the mass distribution of medications to on duty field members.
At the conclusion of this 12-hour drill, over 2000 members had received medications (candy). An exit survey was given to each participating Fire Company and each EMS unit. Over 300 surveys were returned.
When asked, did you understand the purpose of the entire drill? / Did you feel that you were processed quickly and efficiently?
The results of the survey showed:
35.2% strongly agreed
62% agreed
2.1% disagreed
1.1% strongly disagreed.
The individual comments were very encouraging. Members felt that the exercise was worthwhile. They gave high marks to the participants and to the format of the program. Members gave suggestions for improving the program. Thanks again for the feedback and your active participation. These drills help us remain prepared.
TOP TEN NEW YEARS' RESOLUTIONS
Make this the year to stop smoking
Wear protective eyewear when responding to incidents such as car accidents
Get a good night's sleep
In icy conditions, watch for potholes when stepping out of your fire truck or ambulance
Look to change bad eating habits; add more fruits and vegetables to your diet and that of your family
Be mindful of hypothermia
Spend quality time with your family members instead of watching TV or using the computer; grab your kids for some outdoor activities; Ice skating, bicycling, walk in the park, snowball fights, sledding
Wear you hood; make sure you wear all your PPE
On CFRD/EMS runs, 'glove up'
Look to decrease your alcohol consumption
If you try to incorporate any or all of these suggestions into your private and professional life, you will see that it will make you a happier, healthier and safer person - one that enjoys life to the fullest !
---
Dr. Kerry Kelly
Chief Medical Officer

Dr. David Prezant
Deputy Chief Medical Officer

Malachy Corrigan
Director, FDNY CSU

Mary T. McLaughlin
Director, FDNY BHS