OPERATION BIO POD

Operation Bio POD is a series of exercises that will help us prepare for future biological challenges. At a time of urgent need, FDNY must be able to rapidly vaccinate its rescue personnel. Our plans are fluid and can be expanded as the need arises to staff one or multiple Bio POD sites. In this current exercise, planned for October 15, 2003, FDNY's Bureau of Health Services will vaccinate on duty EMS and FIRE personnel in one borough over a 24 hour period to ensure that all three tours of EMS and the day and night FIRE tours are offered vaccination. Operations will ensure that the on-duty members are rotated to this Bio Pod site in a manner that allows continued, ninterrupted emergency care and fire suppression services to the community. A tabletop exercise was held on September 4, 2003 with the internal interaction of our department. Lessons learned from this tabletop have been integrated into this planned field exercise.

On Wednesday, October 15th, this field exercise will be done live in the borough of Staten Island. All on-duty members will be rotated to a single site at EMS Battalion 22 for distribution of the influenza (FLU) vaccine. This recommended vaccine will be offered to all of our members at this time. Members participating in this exercise will be given the opportunity to accept or decline this vaccine. In this exercise, we will evaluate our ability to identify a functional POD (Point of Distribution), set up a POD, manage the logistics of rotating and directing members to a given site, managing the flow of members through the site while maintaining an available work force for the community.

Preparing for future terrorist threats remains a focus for our department. Biological events will demand a rapid response to protect our members and to maintain a protected work environment. These exercises are designed to help FDNY Bureaus develop procedures and protocols that ensure a smooth delivery of services to our members. Although this exercise involves the interaction of many FDNY Bureaus, in a real event, the cooperation of other agencies would be required. Certainly FDNY, DOHMH, OEM and NYPD would be working with the Mayor's Office and our Federal partners, CDC, and FEMA through Homeland Security.

Operation Bio POD is an FDNY initiative to prepare for bioterrorism events. In this exercise our department will test and fine-tune the programs in place while providing needed influenza vaccine.
COUNSELING SERVICE UNIT FUNDING
The Counseling Service Unit would like to clarify the status of its programming and the state of its funding. Contrary to information that was distributed by outside parties, the CSU does indeed have funding to maintain its six sites and to run current projects. These projects, including programs for couples, retirees, spouses, and children, as well one-on-one counseling, are designed to encourage healthy and happy Department members and their families.

We encourage FDNY members and their families to seek help here if they need it; we provide appropriate and proven services at our sites and can also offer help if you prefer to seek help through non-Department providers. Funding for CSU programming is more than adequate at the moment and, through current, ongoing discussions, we are hopeful of sustaining a full programming schedule well into 2004.
Flu vaccinations will once again be offered. The influenza vaccine is offered each fall to all our members. Many people assume that only the elderly and ill need this vaccine but it is recommended for many groups of people including: those over 50, health care workers, people with chronic lung problems such as asthma and emphysema, those with chronic health problems such as diabetes, kidney problems and those with impaired immunity. Smokers should get this protective vaccine. The flu or influenza remains a serious illness that can be prevented. This vaccine is an inactivated virus (not live) vaccine so you cannot get the flu from this shot. Some people who get the flu vaccine may still get the illness, but a milder case. It remains a very effective way to prevent this illness and will reduce your chances of catching influenza.

This vaccine is offered from October through December to protect us during the winter months. Each fall the flu vaccine is offered since immunity only lasts for the winter season. The flu vaccine will be offered by BHS at the annual medical, at each visit to the clinic and BHS will send our nurses to the firehouses and EMS battalions to give this vaccine. At the same time, members can catch up on needed vaccines such as Hepatitis B vaccinations. The flu vaccination schedule is enclosed.

Civilians and members working at 9 Metro Tech can come to BHS, 2nd FLOOR, during the week of October 6th through October 10th from 2 to 3:30 PM., for flu vaccination.
BE PROTECTED WITH THE FLU VACCINE.

The FDNY QWL Committee is sponsoring a free CPR course for Fire Department employees. The course is called Introduction to CPR for Family and Friends. The course will be given on Saturday, November 8, 2003 from 9am-12noon at 9 MetroTech in the auditorium. Pre-registration is required. Please call Labor Relations at 718-999-2549 no later than October 30th to pre-register for this valuable course. Please note that this course is an orientation to CPR and is not a certifying or credentialing course.
The FDNY QWL Committee has arranged for the presentation of an informational seminar regarding the City's Long Term Care Program. This is an optional program available to City employees. FDNY employees are invited to attend this seminar on their lunch hour on Wednesday, 11/19/03 from 12:30pm-1:30pm at 9 MetroTech Auditorium. No pre-registration is required.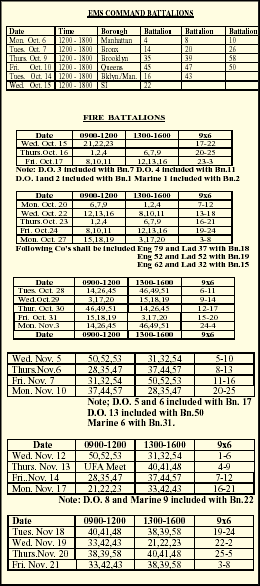 Commencing on October 6, 2003 The Bureau of Health Service will be providing Flu Vaccination for members of the Department. Vaccinations will be administered at the Battalion Headquarters on the date and time listed below. Members visiting The Bureau of Health Service for any reason may receive the vaccination during this time period. Those working in the field may visit any of the following locations on the dates specified. F.D.N.Y. employees working in Headquarters may receive the flu vaccination from October 6th thru October 10th at the Bureau of Health Services on the 2nd floor, from 2:00pm to 3:30pm. Hepatitis B Vaccines will also be available for members who need a booster shot. Any Questions? Contact Lt. Frank Auditore at 718-999-1889.
Administrative Units
Influenza Vaccinations will be given to Civilian and Uniformed Personnel on the following dates. Vaccinations will be scheduled between 0900 Hrs. and 1600 Hrs. Assigned times are approximate and may vary according to conditions ex. "traffic, staffing etc".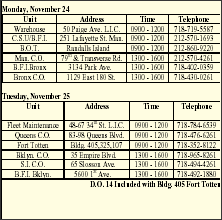 ---
Dr. Kerry Kelly
Chief Medical Officer

Dr. David Prezant
Deputy Chief Medical Officer

Malachy Corrigan
Director, FDNY CSU

Mary T. McLaughlin
Director, FDNY BHS