A FREE PRESCRIPTION FOR WELL BEING

An often-heard motto at FDNY declares 'If it's free, it's for me'. Well, there is a prescription for good health that remains free, widely available and quite effective in treating and perhaps preventing illness. That prescription is called EXERCISE. Regular physical activity, performed three to four times a week for a minimum of thirty minutes will reduce the risk of developing and dying from illnesses.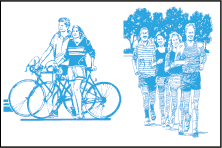 You cannot change your parents and the genetic load you have been given by birth. You can change how that outcome occurs. For example, a person carrying 20 extra pounds who lives a couch potato lifestyle may be predisposed to developing diabetes at age 40 to 50. With regular exercise and weight loss, that illness may not develop until age 65 to 70.
Currently, over 8 million people have adult onset diabetes. Now we are seeing children develop this illness. Yet a regular prescription for daily exercise may prevent, delay or improve many illnesses such as diabetes, heart disease and high blood pressure.
Over 60 million people are overweight. This epidemic now affects adults as well as the children in our country. Many factors play a role, whether it's the super sizing of portions, cable TV or video games; it is clear that families as a whole have to tackle this issue. You can't tell your kids to lose weight without becoming part of the solution. When exercise is fun time you want to participate. When you were a kid, no one had to tell you twice to go out and play. Start playing again. There are very real benefits to physical activity. It helps both your brain as well as your body. We know that it is a real treatment for diseases such as diabetes, high blood pressure and heart disease. But it also helps keep bones and muscles stronger, helps control weight and reduces feelings of depression and anxiety. It's a prescription for a life worth living.
The goal is to make this a part of your daily life. When you participate in activities that you enjoy and you see and feel the positive outcome, you are more likely to continue in a program. Here are some tips to get started:
Shut off the computers, TVs and Video games at home. Studies show these sedentary activities keep you slowed down and are associated with snacking.
Get outdoors with your kids, with a friend or even alone. Put on your sneakers and get moving. No high tech equipment is needed. Make it fun, whether it's kicking a soccer ball, shooting hoops or throwing a ball back and forth.
In the days before organized sports, kids rode bikes, roller-skated, swam, jumped rope, played tag and created activity driven games. Put that active time into your life and the lives of your
kids. When you show your participation, your kids will follow.
No time for activity? Make time by creating opportunities to keep moving. Take the stairs at work, park further away in the parking lot. Walk to the corner store for bread or milk (not cigarettes). Take the dog for a longer walk, even our dogs don't get enough exercise.
Dance to the music, rock, rap or dance cheek to cheek with your partner. Whether you dance around the kitchen or the ballroom the effects are the same: your heart rate will increase while your spirits soar.
Walk away the blues, clear the cobwebs from your brain, take deep breaths and enjoy the scenery.
Taking your walk before you get into the house, helps you unwind, it throws off the day's stresses and invigorates you. A better you will walk through that door, unburdened by the day's events.
There are many paths to wellness, but YOU need to choose a path to run or jog or walk along. Sometimes taking the first step is the hardest one to take. When you get moving, and keep moving, you will feel the difference. Maybe your joints will creak a bit at first, but as you continue, you will see important changes. Your brain and your body will function better with regular physical
activity. It is a free prescription for better health and longer life. So get going. Your life depends on it.
OPERATION BIO-POD SUCCESSFULLY COMPLETED
On Wednesday , October 15th, FDNY held a live exercise in the borough of Staten Island as part of a terrorism preparedness program. In this exercise all the on duty fire companies and ems personnel in the borough of Staten Island were directed to a single point of distribution (POD) for flu shot vaccination.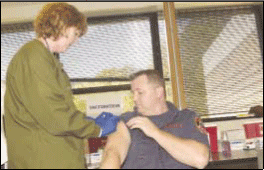 At EMS station 22 on the grounds of Seaview Hospital, units reported to the designated site. BHS nurses and physicians provided medical information, reviewed consents and provided flu vaccinations. Computer access was set up so that information regarding immunization could be placed in the data base. This provided a permanent record of immunizations, whether declined or accepted. The exercise was valuable in many ways. If a true biological exposure occurs, our medical staff would be needed to provide vaccination or medicines. The flow of members through the site was evaluated so that staffing, materials, and POD selection could be adjusted in the future. The entire day tour had been completely vaccinated by 4 p.m. The evening vaccination program was terminated due to the tragic Ferry accident. The goals of the exercise were met. Future planning will continue utilizing the information gathered at this exercise. Our on duty members continued to provide essential services to our community, with fire suppression and emergency care.
Operation BIO-POD was designed and executed with the cooperation of the many bureaus in this department. It is part of our preparedness program. The Ferry crash that occurred that same day
highlights the unpredictable nature of our work and our lives. The outstanding response of our department, as fire and ems units responded to that accident was evidence of the professional skills of our members. Preparedness for the unexpected is part of the work we do every day. Working together on those goals remains our mission.

In the aftermath of 9/11, every individual in our department felt the tremendous pain associated with the loss of 343 friends, family and colleagues. The after shock of exposure to this event will
be long felt by each and every one of us. Our Counseling Services Unit has been a presence in our department for the years before this event, helping with the stresses of life whether individual or group issues. Since 9/11 it has been actively engaged in evaluation, treatment and education of our members, active and retired as well as family members. Much of our funding has been provided through Project Liberty, a FEMA sponsored program, administered through the NYS Office of Mental Health and then through the NYC Department of Health and Mental Hygiene. This program was not funded beyond December of 2003.
Thanks to the joint efforts of Commissioner Scoppetta, FDNY, BHS-CSU, UFA, UFOA, Local 2507, Uniformed EMS Officers Union, EMS Chief Officers Union, the IAFF, Mayor Bloomberg and his staff, as well as the efforts of Senator Hillary Clinton, further funding through June of 2004 has been approved. This cooperative effort has been instrumental in providing this funding and will be needed to continue funding for the future.
The programs that have been developed in response to 9/11 remain in effect. Clinical services for individual and group sessions remain in place at 251 Lafayette St., NYC as well as at Fort Totten, Staten Island, Brentwood and Middletown. Appointments for members and their family members can be made at any of these offices to see licensed counselors.
In the two years since this tragedy, our response to that day remains. But the individual and group needs have changed. Our programs have adapted to reflect that change. The firehouse based clinicians who have served our most affected houses will be redeployed to serve the needs of our entire department. New groups have been designed to deal with new issues that our members are facing. The CSU peer program is continuing. Another training workshop will be held in late October for interested members. Both EMS and FIRE members, active and retired may attend this workshop. Please call to confirm a space, 212 570 1693 and ask for Frank Leto. The Counseling Services Unit remains committed to helping our members. Thanks to our continued funding, needed services will remain in place.
---
Dr. Kerry Kelly
Chief Medical Officer

Dr. David Prezant
Deputy Chief Medical Officer

Malachy Corrigan
Director, FDNY CSU

Mary T. McLaughlin
Director, FDNY BHS