Where We Stand - BHS Is Proud of It's Accomplishments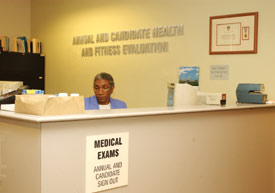 I. MEDICAL CARE EXTENDING BEYOND CONTRACTUAL AGREEMENTS
BHS is not involved in absence control issues. BHS is committed to the health and well being of our uniformed members. The work of firefighting and emergency medicine requires extremely fit individuals. BHS activities, including duty evaluations (for both candidates and incumbents), provide the fire/rescue/emergency medical team with fit individuals to maximize everyone's safety. BHS medical decisions remain independent, as our only goal is the health and safety of our members.

Annual medical evaluations are now performed according to a regular cycle to nearly 14,000 uniformed service employees. A dedicated staff of physicians, nurses, paramedics and support personnel have been assigned to this unit. Additional blood testing (ex. Hazmat levels), pulmonary function tests, exercise testing, cancer screening and cardiovascular screening are now a part of this evaluation. This medical was a model for the IAFF nationally recognized medical evaluation program.

Blood tests at the annual medical can take several days to weeks to return. To improve the annual medical interaction, blood testing was moved to an earlier date (at the training academy) so that results are available to each member and the medical officer at the time of the annual medical.

Hypertension screening is now a regular part of every visit to BHS including annual medicals and injury/ illness evaluations.

Tuberculosis testing and immunizations are a regular part of our medical evaluation program.

Influenza (flu) vaccinations are offered both at BHS and in the field.

BHS has renovated its facilities since moving to 9 MetroTech. A comfortable waiting room with televisions has been provided. Separate areas for annuals, injury/illness and specialty evaluations have been provided. A board-certified physician sees each patient individually in a private room. The medical chart has been computerized to provide with a seamless and truly permanent record. Each member leaving the injury/illness area is given a written diagnosis, duty determination, return date and when treatment is provided a written plan for their recovery.

During clinic hours the medical officer no longer leaves BHS to respond to multiple alarm fires unless a dire emergency has been identified.

Post-exposure evaluation, testing, counseling and treatment are available to all members.

Prescriptions for medications are routinely provided. Expensive post-exposure medications are provided through a plan that ensures confidentiality and no need for out of pocket expenses. A quality assurance program was added to prevent prescription of medications to those with allergies.

Specialty evaluations (orthopedics, physiatry, cardiac, respiratory, psychiatric, renal [hypertension], emergency medicine, internal medicine, and family medicine) are now routinely available at BHS. Orthopedic evaluations are available by appointment 6 days per week. Respiratory evaluations are available 2 days per week.

Specialty testing (MRI, CAT scans, EMG, Cardiac Stress Testing, Pulmonary Function Testing, Methacholine Challenge, Cold Air Challenge) is routinely and expeditiously obtained for every member with persistent medical issues. Members are sent to facilities that provide improved service, faster appointments and faster turn around of reports. This is a process that is constantly refined so that our initial contracts for MRI and Physical therapy services were terminated (at the request of BHS) and improved services are now being provided.
In 2000 -- 1069 MRIs were performed
In 2001 -- 1472 MRIs were performed
In 2002 -- 2064 MRIs were performed
In 2003 (first 4 months) - 623 MRIs were performed
In 2002 -- 301 Chest CT scans were performed in response to 9/11
In 2003 (first 4 months) - 118 Chest CT scans were performed in response to 9/11
II. WTC RELATED ACCOMPLISHMENTS
BHS was the first occupational medical unit to realize the need for a comprehensive medical following WTC exposure. BHS successfully argued for federal funding to provide this valuable medical evaluation and treatment program. BHS was awarded $4.8 million to provided initial and follow up medicals to incumbents and exposed retirees. BHS is actively pursuing an additional $25 million to allow this effort to continue.

We completed 10,500 WTC Medicals in 5 months form October 2001 to February 2002. All results were sent to each member. Our medical was used as a model for medicals currently offered by other medical institutions to non-FDNY employees throughout this region. When compared to other organizations, our medical remains the most comprehensive and we have provided more medicals than any other organization.

We are the only organization to have started follow up medicals and to date have already provided over 4,000 WTC follow up medicals.

By providing this medical through BHS, we provided rapid and more extensive testing than outside facilities, maintained medical confidentiality, provided diagnostic evaluation and treatment thereby reducing medical leave while allowing the WTC recovery effort to continue uninterrupted.

WTC Medical and other related activities were used to publish in the most prestigious medical journals, evidence that FDNY 1st Responders were exposed and affected by WTC. Again, this was done using group data without identifying individuals. Only by allowing prestigious medical journals to review and publish our results can we assure that medical issues are taken seriously and that external funding continues to be available.

BHS with an outside panel of nationally recognized mental health experts (with vast experience dealing with Oklahoma and Gulf-War mental health issues) developed a mental health questionnaire to better understand the needs of our members and to design services customized to our members and their families. The various unions asked for special confidentiality protection from the federal government and BHS obtained this agreement.

After intense lobbying by Dr. Kelly and Malachy Corrigan, BHS and the Counseling unit was awarded over $8 million from the federal government and additional dollars from private foundations. We have worked closely with the IAFF, UFA and UFOA for additional funding.

BHS spearheaded FDNY Fire and EMS involvement in Phase I of the Federal Smallpox initiative.

We are committed to our members' active and retired. RETIRED members who were on active duty and exposed to WTC are eligible for a WTC Medical or WTC-Follow-up medical through a dedicated federal grant to the FDNY-BHS. RETIRED members still come to BHS for medical treatment of WTC respiratory medical issues.
CARDIOVASCULAR: The number one cause death in firefighters (service and non-service connected) remains myocardial infarction.

CHOLESTEROL: The annual medical provides cardiovascular risk modification counseling for cholesterol lowering.

HYPERTENSION: The annual medical and our injury/illness evaluations monitor blood pressure and provide counseling for hypertension treatment.

TOBACCO CESSATION: Firefighters are exposed to numerous toxins and carcinogens at fires and rescues. All compounded by the WTC collapse.

After the WTC, BHS partnered with American College of Chest Physicians (Chest Foundation), Pharmacia, and the IAFF to provide voluntary, non-punitive, no-cost state of the art tobacco cessation to all tobacco using members AND their families. Medication is provided at no-cost through monthly meetings at BHS.
WTC Medicals and Follow up Medicals have been funded through the Centers for Disease Control and Prevention (CDC) and the National Institute for Occupational Safety and Health (NIOSH) totaling:
$4.8 million years 1 and 2
$25 million future years

WTC Behavorial and Health Treatment exceeds $8 million

Tobacco Cessation treatment $500,000 in funding (Chest Foundation, IAFF) and donated medications (Pharmacia)
RETIREES - STAY CONNECTED
If you are like most firefighters, the firehouse is more than just part of your job. It is a part of your life. And when a life change as dramatic as leaving the firehouse occurs, you are likely left feeling a little bit lost.
Retiring from a job is never an easy transition, but firefighters suffer especially hard. The close-knit, family-like nature of the fire department supplies many of those you consider loved ones as well as emotional comfort and a sense of place. The fact that many are facing pre-mature retirement due to injuries sustained in the line of duty only makes the change more painful. There are, however, steps you can take to ease the transition to civilian life.
Just because you are no longer fighting fires does not mean that you cannot still find refuge in your old house and solace in your active-duty comrades. Stay involved with your firehouse; stop by often. You can also get help from the Department. A new program called Stay Connected can help you design a customized post-retirement plan that meets your needs.
Whether you are retiring due to disability and are looking for new job options or are leaving the department after a full career of service and are seeking ways to stay involved, the program can help you. If you are looking to go back to school, refine your resume, or just spend your days fishing the Stay Connected program can ease the transition from active duty to retirement. Career workshops, individual educational counseling, luncheons, trainings, and social activities are all offered. For more information, contact firefighter Greg Smith or Kim Davis at 212-570-1693.
Retiring from the job does not have to mean the end of your active, department life. Being a firefighter is part of what makes you who you are and you do not need to abandon this identity. Instead, enjoy your new-found freedom in life. Show up and cook for the boys one afternoon. Volunteer with the Stay Connected program and meet other retirees. Overall, remember that you are, and always will be, part of a proud tradition and family. And that is something to hold on to.
.
---
Dr. Kerry Kelly
Chief Medical Officer

Dr. David Prezant
Deputy Chief Medical Officer

Malachy Corrigan
Director, FDNY CSU

Mary T. McLaughlin
Director, FDNY BHS