What's new for March 2003
STAYING HEALTHY
The Bureau of Health Services would like to take this opportunity to discuss various medical issues that can educate our workforce, assist us in making lifestyle changes and ways of protecting ourselves.
Preventive medicine tries to reduce the risks to individuals so that individuals may live longer and healthier. There are certain medical conditions that we cannot prevent. But we can always try to look at habits that help make us healthier and habits that increase our risk for illness. Screening for and treatment of high blood pressure has reduced the numbers of strokes in this country. But there are still areas in which lifestyle changes could further reduce illness. It is estimated that 400,000 deaths a year are related to cigarette smoking, 300,000 deaths are related to unhealthy diets and lack of exercise and another 100,000 due to excessive alcohol use. Each of us has known individuals who died prematurely, before they had a chance to enjoy retirement because of these problems.
HYPERTENSION: Essential hypertension is treatable; any abnormal blood pressure where systolic (the value on top) is greater than 150 and diastolic (the value on the bottom) is greater than 90 can usually be lowered safely to normal levels by employing one or more of the following strategies:
Diet and exercise with the goal of reaching an 'ideal' weight
Restriction of salt intake
Use of one or more antihypertensive (blood pressure medications)
Lets look at some of the high-risk lifestyle behaviors that can impact on our health.
OBESITY remains an increasing issue with both adults and also the children in our country. Obesity refers to excessive body fat, defined by a term BMI or body mass index. This is a person's weight in kilograms divided by height in meters squared. If a person has a BMI above 30, they are at increased risk for coronary heart disease, type 2 diabetes, hypertension, elevated cholesterol, stroke and some types of cancer. Weight management requires both decreased daily calories as well as increased physical activity. Changes in food selection should include a variety of food groups, with emphasis on portion control and decreased fat consumption.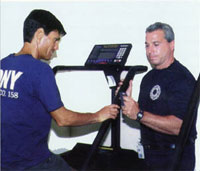 LIFESTYLE CHANGES FOR LOWERING CHOLESTEROL
Keep your weight down. Obesity is a risk factor for heart attacks and high blood pressure. Get regular moderate exercise. Caution: If you are over 35 and/or have been sedentary for some time, consult with your health care provider before beginning an exercise program.
A walking, swimming, or other aerobic exercise started gradually and consistently used will greatly improve the physical conditioning of the heart.
Stop smoking and drinking alcohol and coffee because these substances have been proven to increase your risk of heart disease.
Avoid fried foods, and try to limit simple carbohydrates (sugar, honey, dried fruit, fruit juices, refined white flour).
Avoid stress, and learn stress-management techniques such as progressive relaxation, meditation, or guided imagery.
NINE GREAT WAYS to get your blood fats under control
Reduce excess body fat so that you reach your ideal body weight.
If you drink, do so in moderation. Alcohol is high in calories, it increases one's risk of high blood pressure, and it increases triglyceride levels.
Don't smoke, and avoid second-hand smoke (That's a given!)
Eat more fiber -- fruits, vegetables, and whole grains and cereals. As often as possible, replace high-fat animal foods with low-fat foods (e.g., have cereal and nonfat milk for breakfast, instead of buttered toast, bacon, and butter-fried eggs; choose fruit instead of ice cream or chocolate).
Exercise! Walk, run, bike, swim, or otherwise get yourself moving for at least 30 minutes a day. Your exercise pace, by the way, should make you sweat a little, but should not cause you to become breathless. Get your doctor's OK if you haven't had a checkup in a while.
Limit your dietary cholesterol intake. This means restricting fatty animal foods (i.e., fatty meats, poultry skin, whole-milk products), and limiting egg yolks to three or four a week (including those used in cooking and baking).
Limit the saturated fat in your diet. Saturated fat has far more of an impact on blood chemistry than dietary cholesterol has. Your liver makes cholesterol out of the saturated fat you eat.
Be happy, and make time to relax. Anger and hostility have been linked to heart disease more often than any other emotion or personality trait.
Get enough sleep. Take regular breaks from your routine. Learn stress-management techniques. Spend some quiet time alone each day.
Take medication, if you must. Cholesterol lowering medication is very expensive and often carries burdensome side effects, so try lifestyle changes first.
RISK FACTORS FOR CORONARY HEART DISEASE
Major risk factors for coronary heart disease that can be modified or treated:
Individual response to stress
Diabetes mellitus
Obesity and overweight
Physical inactivity
High blood pressure
High blood cholesterol levels
Tobacco smoke
Major risk factors for coronary heart disease that cannot be changed:
Heredity (including race)
Male gender
Increasing age
If you experience any of the symptoms of a heart attack, contact your doctor or go immediately to the emergency room of the nearest hospital, even if symptoms last only a few minutes. Half of all heart attack deaths occur within three to fours hours of the onset of the attack, so a person suffering from a heart attack requires immediate medical attention.
PHYSICAL INACTIVITY The proverbial couch potato runs the risk of both coronary disease as well as type 2 diabetes. An exercise program doesn't require special equipment or training. The best exercise is just a step away with a half hour walk three to four times a week. This walk will not only help your heart, it will help your head. If you enjoy the exercise program you choose, you are more likely to stick with it.
TOBACCO USE has clearly declined but it is estimated that one fourth of American adults still smoke. Unfortunately many teens are starting to smoke, beginning a habit that will be difficult to stop. Smoking is not only a principle cause of lung cancer but it remains a risk factor for many other cancers, including the mouth, vocal cords, throat, esophagus, pancreas, kidney and bladder. Exposure to asbestos will substantially increase this risk. Smoking also increases the risk of heart disease, stroke, and chronic lung diseases such as emphysema. Cigarettes are addictive and many programs to help smokers quit smoking exist. The BHS has offered a smoking cessation program in recognition of this serious problem.
The FDNY Smoking Cessation Program provides the tools and support needed to help smokers quit one craving at a time. The program includes nicotine replacement therapies including transdermal nicotine patches, nicotine inhalers, nicotine nasal sprays and bupropion. Multiple treatment options increased the chances of a successful quit attempt. The program also includes group meetings and individual support, medical evaluations, telephone help lines and email and Internet support with Pharmacia's Nicotrol Helping Hand.
BHS has been offering this free Smoking Cessation Program to all members, their families and significant others. New groups will be forming in April/May 2003. If you wish to participate in a program that assists you in becoming tobacco-free, please call BHS at 718 999 - 1942 to sign up.
ALCOHOL USE can become abuse when patterns of drinking change. When one or two drinks becomes a six pack a day, when a night out with friends becomes an excuse to binge, when you can't remember what you did the night before, then alcohol is a health hazard. For optimal health, alcohol consumption should be limited to two drinks per day for males and one drink per day for females.
Making changes in your life starts with recognizing that you have a problem or you are unhappy with your current lifestyle. For many people, change will not occur until a consequence of their actions has occurred. Ideally you can make that decision before this moment of truth has hit. The first step to change is recognition that you want to make a change. In the next step you make a plan of action. The Counseling Unit can help with these plans and this service is free, voluntary and confidential (212) 570-1693.
Each of us inherits genetic material from our parents that increase our risk of certain health problems. But we can modify those influences by changing our lifestyles. For people who are diabetic or at risk for diabetes, regular exercise may prevent this disease or push it off for another decade.
The change of season with spring around the corner makes us think of the future. Take the time to look at your lifestyle. Small changes in behavior can have big benefits on your health. It's never too late to make those changes.
This and other related health issues will be presented at a Health Fair sponsored by the Quality of Work Life Committee on Wednesday, March 26, 2003 from 12 Noon to 2:00PM. Details enclosed.
FDNY Quality of Work Life HEALTH FAIR - 2003
Wednesday - March 26th 2003, 12 Noon to 2:00 PM
Auditorium — Lobby - 9 MetroTech
Employees Are Welcome to Attend on Their Lunch Hour
Raffles, Prizes and Giveaways!!!
Prizes Include: Free Gym Membership, Gift, Baskets, Books, Gift Certificate and more...
New Raffle Every Hour on the Half-Hour, You must be Present to Claim Your Prize
Retirees: New Programs at the Couseling Services Unit - Stay Connected
The CSU recognizes that staying connected to the Fire Department is a priority for retirees. The Stay Connected program helps retirees design a customized post-retirement career, educational, or volunteer plan. The program also offers luncheons, trainings, and overall support during the transition from active duty to retirement.
Upcoming Events:
Retiree Lunch Series
Get out of the house, meet old and new friends, and find out about new information and opportunities for retirees.
CSU Middletown: March 13, 2003, 12 Noon
2279 Goshen Turnpike
(845) 695-1029
CSU Manhattan: March 20, 2003, 12 Noon
251 Lafayette, 2nd Floor
(212) 570-1693
CSU Staten Island: March 27, 2003, 12 Noon
1688 Victory Blvd
(718) 815-4111
CSU Brentwood: April 8, 2003, 12 Noon
Crooked Hill Road (631) 851-6888
CSU Fort Totten: April 10, 2003
Fort Totten-BLDG 413A (718) 352-2140
Career Planning/Goal Setting Workshop for Retirees
Are you confused about where to go from here? This 6-part workshop will help assess your skills and personality to help you set goals for the future.
Date: TBA (late April, early May)
For more information or to make an appointment with the Stay Connected Program, please call Kim Davis or Greg Smith at (212) 570-1693 x324 & 317

Coping Techniques: Children's Reactions to Trauma
Children's fear and anxiety are very real, even though to adults they may seem exaggerated. Children are afraid of what is strange. They fear being left alone. Following a disaster, they may begin acting younger than the age they are. Behaviors that were common at an earlier age, such as bedwetting, thumb sucking, clinging to parents or fear of strangers, may reappear. Older children who have shown some independence may want to spend more time with their families. Bedtime problems may appear. A child may begin to have nightmares; not want to sleep alone; and /or become afraid of the dark, falling asleep or remaining asleep.
Some children will show their fear by developing physical symptoms, such as stomachaches, headaches or feeling "sick." All children can experience thinking difficulties. They can become easily distracted, feel confused and disoriented and find it hard to concentrate. These reactions can be triggered by smells, objects or activities associated with the trauma. A child may be unaware of the triggers and of any of the behavioral changes that occur. They are not intentionally showing they are anxious or fearful.
There are ways to help your child through these tough times. Children of all ages can benefit from the family keeping their usual routines - meals, activities, and bedtimes - as close to normal as possible. This allows a child to feel more secure and in control. Accept the special needs of children by allowing them to be more dependent on you for a period of time. Give more hugs if they need them; let them keep the light on at night or not sleep alone or return to having their favorite teddy bear or blanket.
Children express their feelings and reaction in different ways. Your acceptance of this will make a difference to how your child recovers from the trauma. This means accepting that some children will react by becoming withdrawn and unable to talk about the event, while others will feel intensely sad and angry at times and at other times will act as if the disaster never happened. Children are often confused about what has happened and about their feelings. However, don't be surprised if some children don't seem to be affected by what they have seen and heard. Not everyone has immediate reactions; some have delayed reactions that show up days, weeks, or even months later, and some may never have a reaction.
— From Helping Young Children Cope with Trauma, courtesy of the American Red Cross

---
Dr. Kerry Kelly
Chief Medical Officer

Dr. David Prezant
Deputy Chief Medical Officer

Malachy Corrigan
Director, FDNY CSU

Mary T. McLaughlin
Director, FDNY BHS