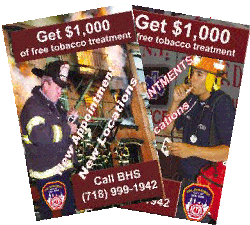 TOBACCO CESSATION

Hate that smoking habit? We can help you quit with a proven successful program. For many
members, smoking was a habit that began when they were teenagers. Usually one or two cigarettes a day became a pack a day. Add a little stress, a crisis or two, and that one pack can become two packs. The health changes can be subtle, a morning tickle in the throat, a winter cold lasts longer and the cough takes longer to go away. The easy run is not so easy. Climbing steps with equipment is more tiring. Maybe you're getting older, you might tell yourself. But then maybe it's the butts. And now the kids keep asking you to quit. Or maybe your kids have started smoking and you know they are following your lead. There are more reasons to quit than to smoke but its not so easy to do. That's why there is help available.
In the daily work of our Department, there are some work exposures that can't be avoided. But the additional burden of cigarette smoke can be eliminated.
BHS with CSU has offered a program of smoking cessation since July 2002 to help members quit smoking. Since that time, over 600 members and their families have received this free treatment. The program has brought together tobacco cessation experts with free prescription products provided by Pfizer/Pharmacia. To date, there has been a 60 percent success rate for tobacco cessation in our FDNY group. The program has been generously supported by Pfizer/ Pharmacia, who has provided the nicotine products, as well as the UFOA and UFA through IAFF funds.
This program is now coming to the boroughs so that members and their families who could not get into Brooklyn can now participate in their community. The programs will be held Wednesday evenings at 7 pm. The locations include the Counseling Unit Building 413A, Fort Totten, Queens; the Staten Island Family Counseling Unit, 1688 Victory Blvd. Staten Island, N.Y.; FDNY Headquarters, 9 Metro Tech, Brooklyn N.Y; and Montefiore/Einstein, Bronx N.Y. The group will alternate at these four sites every four weeks, with a group meeting to be held monthly at each site. You must register for this program by calling Michael Andreacci at 718-999-1942.
Participants must be registered. The program is open to ALL FDNY members and their families.
You can quit smoking today and feel better today. The facts show that in 20 minutes, blood pressure and heart rate returns to normal, temperature of hands and feet returns to normal. In 8 hours, oxygen levels in the blood increase with a decrease in carbon monoxide levels.
BHS CSU remains committed to the health and safety of our FDNY members. Commit to YOUR HEALTH by stopping smoking. We have the tools to help you quit. Make the choice to live a healthier life. Do it for yourself. Do it for your family. Be well and start feeling better today.
The summer months can be an opportunity to enjoy the outdoors. Whether vacationing with
family and friends at the beach, in the park or in the mountains, protecting your health and your loved ones is always important. Some health and safety tips include:
Watch out for sun exposure. Too much sun can hurt your skin the next day and also imperil your health in the years to follow. Skin cancer remains the most common form of cancer in this country. Often, it is the sunburn that a person received in childhood that may become a cancer later in life. Those who have sunburns year after year or have repeated sun exposures will increase their risk for skin cancer. Although anyone can develop skin cancer, some are at higher risk than others. (Please see box below).
Facts About Skin Cancer
Who is at Risk
Although anyone can get skin cancer, individuals
with certain risk factors are particularly at risk.
Some risk factors for skin cancer are:
Lighter natural skin color
Family history of skin cancer
Personal history of skin cancer
Constant exposure to the sun through work and play
A history of sunburns early in life
Skin that burns, freckles, gets red easily, or becomes painful in the sun
Blue or green eyes
Blond or red hair
Certain types of moles or a large number of moles

So minimize your sun exposure, avoiding the sun during the most intense hours of the day. Use a sunscreen every day since UV light is present even on overcast days. Wear hats, sunglasses and long sleeve shirts to cover up whenever possible. Remember that children and teens need to
avoid the sun and use sunblock. Get them in the habit early in life. Sunscreen must be reapplied
throughout the day, since water and sweat will remove the protection. Take an inventory of your skin and show moles or other marks to your physician or to the dermatologist.
Insects such as mosquitoes and deer ticks may transmit infections such as West Nile Virus and Lymes disease. Using insect repellent, with DEET can prevent bites. Wearing long sleeves and long pants especially when walking through tall grasses or after dusk when the insects may be more active will offer some protection. Make sure that screens are in place. Eliminate standing water that breeds mosquitoes.
Swimming accidents can be avoided when swimming with lifeguards present, never swim alone, and never dive into unknown or shallow water. Make sure your children know When working hot day, STAY HYDRATED how to swim. Adults are never too old to learn how to swim.
Biking with a helmet is an important way to stay safe while cycling about. Adults as well as children should wear helmets. Finding bike paths that avoid traffic makes the ride far more enjoyable. When riding on the roads, follow the rules of the road and remember the driver in the car may not see you. Cycle defensively at all times.
Outdoor dining requires special attention to maintaining the temperature of the food. Keep foods refrigerated or in the cooler before use, and return to the cooler immediately after eating. Food that has been sitting out in the heat or sun should be discarded to avoid intestinal infections. Meats that are barbecued, such as chicken, beef and sausages must be thoroughly cooked. Wash your hands after handling raw meat and wash counters, utensils and plates that have had contact with uncooked meats.
Summer is the time for fun and relaxation. A little attention to prevention and safety can keep you and your family healthy and happy. Enjoy! working on a remember: HYDRATED


---
Dr. Kerry Kelly
Chief Medical Officer

Dr. David Prezant
Deputy Chief Medical Officer

Malachy Corrigan
Director, FDNY CSU

Mary T. McLaughlin
Director, FDNY BHS