What's new for February 2003
FDNY SMALLPOX VACCINATION: FACING THE CHALLENGES OF TERRORISM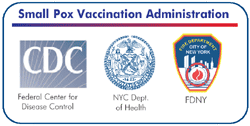 FDNY has been meeting regularly with the Department of Health and other NYC response agencies to formulate a plan of response for smallpox vaccination. The program remains in the early stage of development but it is expected that phase one will begin sometime soon. This phase will involve primarily hospital care workers and some of our first responder members. We remain committed to providing this voluntary program to interested members while protecting the safety of our members.
In the days since 9/11, our nation's efforts have been focused on preparing for future terrorist attacks. The concerns about bio-terrorism have directed efforts toward prevention of illnesses that would be viewed as biological weapons. Smallpox represents such an illness: a potentially lethal, contagious disease that could be used as a weapon in a world that has not been immunized against this virus.
As part of our national preparedness, the CDC has called upon each state and city to develop a plan to implement the smallpox vaccination. This program calls for a three-phase implementation:
Phase 1: for healthcare workers, to form response teams who could care for an index case.
Phase 2: for first responders, to prepare the front line workers who would be the first exposed in an outbreak.
Phase 3: the remaining population.
The NYC Department of Health has included the FDNY, as well as NYPD and OEM in the Phase One program. Why are we included in this phase?
The FDNY has been working with the Department of Health to develop a successful vaccination program as part of our preparedness. The New York City Fire Department experienced a terrorism attack on September 11,2001 with the loss of 343 lives, representing every rank in our job. The unique first responder events that our members respond to each and every day, place our Department in the forefront of any future attack.
Recognizing this vulnerability, it is imperative that we develop strategies that protect our members. The smallpox vaccination program represents one such strategy. The threat of smallpox as a weapon cannot be measured. It remains an unknown risk. Although the disease was successfully eradicated in the 70's after worldwide immunization and isolation of the remaining cases, the threat remains because of the stockpile of smallpox virus in Russia as well as the USA.
Other biological agents could be used as weapons of bio-terrorism. But smallpox remains a lethal illness, with no known treatments once a person is ill. Vaccination against smallpox offers excellent proven protection against this disease. The risks to vaccination are quite real and considerable, but with proper screening of candidates, adverse effects can be minimized.
In Phase One, our department will be preparing teams of first responders who will be serving our department and our city, in the event of an index case. This program remains a voluntary one. These members will include:
Medical teams: These teams of medical officers, nurses, Paramedics and EMTs will staff vaccination stations to provide round the clock smallpox vaccination to our on duty and off duty members and their families in the event of a smallpox index case. These bio-response teams will be dispatched to predesignated sites to vaccinate our workforce of 15,000 against this disease. The goal is to provide these vaccines in 24 to 48 hours to protect our workforce while they continue to protect our citizens.
EMT'S/PARAMEDICS/EMS OFFICERS
These designated teams would respond to calls for fever, rash and potential smallpox cases. In the aftermath of the Anthrax cases, in the fall of 2001, increased call volume kept our EMTs busy. The EMS service remains in the front line of any biological response. By offering vaccination to our members, we can offer another level of protection against smallpox. Those vaccinated members will be the designated response teams to transport suspected smallpox cases to hospitals.
SPECIAL OPERATIONS UNITS (SOC)
...Serve to investigate and mitigate in biohazardous events. Although their members do wear protective gear, vaccination provides an additional level of protection.
FDNY preparedness for smallpox vaccination is underway. The current task force is focused on two initiatives:
1) Phases one and two implementation of the smallpox vaccination with CDC and DOH guidelines and assistance.
2) Preparing for an index case, developing a strategic plan for mass emergency vaccination of our entire work force.
Individual work groups are tasked to implement these initiatives. There are significant challenges in developing this vaccination program, some of these challenges unique to our department and some shared with other agencies
---
New York City Department of Health and Mental Hygiene
MORE FAQs about the Smallpox Vaccine and the Voluntary Program for Vaccination of Health Care Smallpox Response Teams.
Can I get smallpox from the smallpox vaccine?
No. The smallpox vaccine contains vaccinia virus, a relative of cowpox virus, which is closely related to smallpox. There is no risk of actually developing smallpox from the vaccine.
Who SHOULD consider vaccination?
First Responders who expect contact in the event of outbreak and do not have medical exemptions. Of course, if an outbreak or attack of smallpox does occur then:
- All of the above exempt conditions are void.
- Everyone would consider vaccination because risk from disease may be greater than risk from vaccination.
Who should NOT be vaccinated?
People with immune system problems (for example, persons with HIV infection; persons with cancer; those who have had organ transplants; people who take steroids; or chemotherapy patients), women who are pregnant, and persons with chronic skin conditions (for example, dermatitis or eczema currently or have had a history of) are at a significantly higher risk for complications from the vaccine. Persons with these conditions also would be at risk of complications if a household member were vaccinated with this live vaccine.
What can I expect the week following vaccination with smallpox vaccine?
Vaccine side effects vary significantly from person to person; however, it is normal to have a blister at the vaccination site with some local tenderness and some redness. Fever, muscle aches and mild headache are common. Any other more significant or severe symptoms should prompt evaluation by a medical provider.
Are plans in place to vaccinate the entire community if needed?
Plans are under way for voluntary vaccination of health care workers who would care for smallpox patients. FDNY, local, state, and federal authorities will be able to vaccinate their entire population, quickly, in the event of a widespread outbreak of smallpox.
---
Information about the smallpox vaccine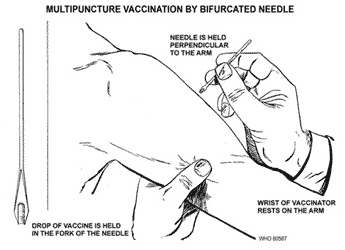 Some people are at greater risk for serious side effects from the smallpox vaccine. Individuals who have any of the following conditions, or live with someone who does, should NOT get the smallpox vaccine unless they have been exposed to the smallpox virus:
Eczema or atopic dermatitis. (This is true even if the condition is not currently active, mild or experienced as a child.)
Skin conditions such as open burns, chickenpox, shingles, impetigo, herpes, severe acne, or psoriasis. (People who currently have any of these conditions should not get the vaccine until they have completely healed.)
Weakened immune system. (Cancer treatment, an organ transplant, HIV, some severe autoimmune disorders and medications to treat autoimmune disorders, and other illnesses can weaken the immune system.)
Pregnancy or plans to become pregnant within one month of vaccination.

In addition, individuals should not get the smallpox vaccine if they:
Are allergic to streptomycin, polymyxin B, neomycin, or chlortetracycline.
Family members younger than 12 months of age.
Have a moderate or severe short-term illness. (These people should wait until they are completely recovered to get the vaccine.)
Are currently breastfeeding.
Are using steroid drops in their eyes. (These people should wait until they are no longer using the medication to get the vaccine.)

Another year has begun and we continue to adjust to life after the loss of so many of our brothers. As part of the healing process, you may find it useful to take stock of where you are now when it comes to your emotions and personal wellbeing.
Life may still feel uncertain but think about how far you've come. The numbness and raw anger of the months following the tragedy have probably eased their stranglehold on your life; you have risen above events and emotions you never imagined and taken back control of your day to day life. At the same time, you may still feel awkward when it comes to talking about the events of 9/11 or sharing your feelings with your loved ones.
And that's perfectly understandable.
As the rest of the world seems to move on with their lives, it is natural for many of us so closely traumatized by 9/11 to still be sorting ourselves out. Expressing your feelings to people you trust is a healthy way to explore your emotions and release pent-up anger but every person's time table is different. No good is served by trying to rush the process of grieving. Instead, acknowledge how far you have come. You've made it through the memorials, the funerals, the media scrutiny, and all the silly questions people ask. You have stuck to the job that has helped make you who you are and you continue to do it well. You have made sure to take care of yourself by getting exercise, eating right, and seeking help when you need it.
No matter how far along you are in the healing process, you deserve to be proud of how far you have come. For some of us, it will be a slow road but it is a journey we can feel good about making.

---
Dr. Kerry Kelly
Chief Medical Officer

Dr. David Prezant
Deputy Chief Medical Officer

Malachy Corrigan
Director, FDNY CSU

Mary T. McLaughlin
Director, FDNY BHS