What's new for December 2003
Give the Gift of Life
At the holiday season our thoughts turn to helping others. The FDNY tradition has always been the spirit of giving.
The Bone Marrow Donor program literally gives life to persons with leukemias and other cancers. Our FDNY members have signed on for this program starting in probationary class. Currently FDNY members are the leading marrow donor group nationwide.
After 9/11, the Bone Marrow Program helped our FDNY family by supplying DNA information and also stored vials of blood. This donor material, given by our members in the spirit of helping others, became a vital connection for the bereaved families. The donor blood was utilized to identify members and also for burial. The circle of giving was completed.
DONATE BLOOD NOW. PEOPLE CAN'T LIVE WITHOUT IT.

DID YOU KNOW?

Burn patients use thousands of blood products every year.
Blood products are perishable and can last as little as 5 days.
Blood only comes from volunteer donors.
The blood supply dips to critically low levels from mid-December through January and in the summer months.

GIVE THE GIFT OF LIFE, GIVE BLOOD
The holiday season is known as the season of giving. But our members continue to give of themselves each and every day for all our citizens of this great city. Their generosity is demonstrated over and over again in their daily work as well as in outreach efforts such as fire safety education, fire prevention talks to neighborhood schools and various community interactions. In addition to their participation in the NY Blood Centers' Bone Marrow Donation Program, our members have a clear understanding of the ravages of fire and the burn injuries that can occur as a result. If a member is injured and in need of blood or blood products, the call goes out and our members freely sign up to help. This need, however, is not exclusive to Fire Department personnel; our citizens, as we all know, are also victims of fire. Our communities have the greatest need for blood and its components each and every day not only when tragedy strikes.
We have been asked to join in an unprecedented partnership with FDNY and the NY Blood Center. Firefighters and emergency medical personnel are respected for the contribution they make to the community. This partnership was developed in recognition of the leadership role FDNY has played in every community. FDNY personnel will be involved in the distribution of educational literature on blood donation to passersby of the firehouses/ems stations and encouraging the communities for which they serve to contact the NY Blood Center for a local blood drive or schedule a donation appointment.
The kickoff start date of the public blood drive program will be held Tuesday, January 6, 2004 from 9:00 AM to 8:00 PM at the Cayuga Room of the New York Weill Cornell Medical Center at 525 East 68th St, Manhattan. Off-duty field personnel may participate in this kick-off program.
We look forward to the expansion of this program with partnerships of all other burn centers throughout the five boroughs so that all communities within the city can participate and benefit from the generosity of their fellow New Yorkers.
Blood donation was a cause that Fire Captain Timothy Stackpole vigorously and passionately supported. Before he lost his life on 9/11/01, he was an advocate for the Blood Center program in recognition of the extraordinary requirements for blood by burn patients. As this program expands to the five boroughs of NYC, we hope you will participate. Your blood will save lives, and the life you save could be the life of a loved one, friend or neighbor!
Game Plan FOR Life
Wellness isn't any one thing. Yes, it's a good idea to eat nutritiously and exercise, or play sports, and anytime you can work any of those into your busy life you benefit. But wellness is also about balancing all the elements of your life. The idea is that by bringing all your experiences in harmony, you'll be better able to manage stress and feel you have more control over where the stress takes you.
"Much easier said than done", you say. But think about it: Your daily struggles with grief and healing these past two years have gone a long way toward getting you "well". Though you may not have found a way to incorporate all the wellness ingredients below into your life (and that's okay) use the list to see how you can inject more pleasure and health into your daily routine.
Physical: With all the hard work you've been doing mentally, your body may sometimes get neglected. If so, think about making some form of cardiovascular exercise part of your fitness regimen. With flexibility and strength a priority, eating well and avoiding smoking and drinking to excess – habits that are also good stress busters-will become second nature.
Emotional: Your quest to accept and honor your feelings, no matter what they may be, means you are already paying attention to this area. Although there are days when you may feel anything but positive, looking for ways to share your emotions with others can stave off any feelings of sadness on your own.
Intellectual: Focusing on some activity can offer a sense of comfort needed at the holidays. Whatever keeps your brain engaged – be it a gripping novel, cooking, crossword puzzles, a woodworking project or baseball stats-combats stress by grounding you in the present.
Environmental: The ability to enjoy nature is another key ingredient of wellness. You may have felt cut off from the world for a while after September 11th, however now you may be better able to appreciate the beauty and calming effect of your natural surroundings again. Whenever you can, get outside, walk, and breathe; feel your connectedness to all living things.
Cultural: Experiencing other cultures-through travel or reading-is a healthy way to escape one's every day reality, particularly when it's a painful one.
Social: Harmonious relationships with others enhance your sense of wellbeing. The loss encountered by many may have complicated your dealings with some people in your life. It may have brought you closer to those who have helped you through it or it may have clarified your expectations of those who have not.
Creative: Building, improving, discovering, dancing, drawing, painting, cooking, and acting; all these activities can invoke a sense of wonder and possibility.
Spiritual: The turn your life has taken may have tested your faith. Spirituality comes in all forms. Any activity-going to a house of worship, sharing your feelings with a friend or loved one-that helps you feel part of a greater whole can be profound.
Spiritual: The turn your life has taken may have tested your faith. Spirituality comes in all forms. Any activity-going to a house of worship, sharing your feelings with a friend or loved one-that helps you feel part of a greater whole can be profound.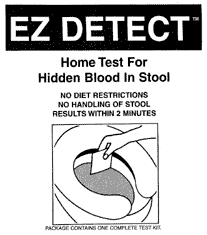 Screening For Life
The James E. Olsen Foundation has provided the FDNY with 10,000 Colo-Rectal kits for screening of our members. These kits are utilized at home for screening for the presence of blood in the stool. This screening device can help in the early detection of colon problems such as cancer or colitis. The test can be easily done in the privacy of your own bathroom. If the test does show the presence of blood, further evaluation should be conducted by your treating physician. Colon cancer remains a treatable disease with early detection. Risk factors for developing colon cancer include a family history, colon polyps and colitis. Further testing may include a colonoscopy which may reveal the cause of the bleeding. Bleeding can also occur from the stomach or upper intestines, such as with gastritis or an ulcer. An upper endoscopy can be performed to directly view these areas. Causes of upper g.i. bleeding can be alcohol, smoking, stress, caffeine, asprin and anti-inflammatory medicines.
These kits will be given to members when they come to BHS for their ANNUAL medical examination. This is part of our continued efforts to improve our medical evaluation. Early detection of medical problems remains our goal.
---
Dr. Kerry Kelly
Chief Medical Officer

Dr. David Prezant
Deputy Chief Medical Officer

Malachy Corrigan
Director, FDNY CSU

Mary T. McLaughlin
Director, FDNY BHS