Women in Firefighting
The New York City Fire Department is committed to building a diverse and qualified force. Firefighting is a very challenging & rewarding career, it has no equal! Don't just make a difference, be the difference After you have taken and passed the written test you need to prepare for the physical.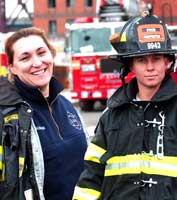 Start physical fitness training immediately (see hints below);
To contact the United Women Firefighters for assistance and mentoring throughout the process call (718) 999-FDNY(3369).
Firefighting as a Career
Firefighting is an exciting, ever-changing, highly rewarding occupation. Most firefighters enjoy the warmth of camaraderie among their new extended family , the challenge of bringing physical skills and mental abilities to play in life saving emergency situations, and the opportunity to provide care & service to people in their time of need. You are not only rewarded with the satisfaction of a job well done, but you are able to work a variety of shifts, have job security, excellent pay & health/retirement benefits, as well as receive additional training and promotional opportunities.
Women have been functioning successfully as career firefighters and officers for more than 25 years. If you become a firefighter, you are part of a strong tradition of women who are dedicated to the fire service and who have found their place in it.
Join The Bravest…
Preparing for the Physical Abilities Test
The physical test will consist of a series of events designed to simulate such fire-related activities as carrying fire equipment up flights of stairs, hoisting a hose, navigating through a dark area on hands and knees, and dragging an injured victim. Performance on the test events will depend on your ability in four categories of fitness that have been found to be important to the performance of the firefighter's job. These categories are cardiovascular fitness, muscular strength, muscular endurance, and flexibility. The physical test will be physically demanding, so it is in your best interest to prepare at least 16 weeks before the actual exam. Actual firefighting takes up only a small percentage of the time firefighters spend on duty, but that small percentage can demand extremes of strength and endurance from everyone involved. Becoming a firefighter means a lifelong commitment to physical fitness. Regular workouts and other activities will develop your strength and fitness and give you confidence in physically demanding situations.
Throughout the test you will be required to wear a weighted vest, a firefighter's air tank, and gloves. This equipment, weighing about forty pounds, is appropriately the weight of the gear normally worn by New York City Firefighters.
A trainer at your gym or a coach at school should be able to help you tailor your workout to the specific events of the test. Your training routine should involve a weightlifting program as well as aerobic activities. (Be sure to get your doctors okay before you begin any new training routine.)
To better prepare you for the test we have provided the following training tips:

16 Week Training Program
Aerobic Training
Stair Master 30 minutes;
Run and/or run up and down stairs for 35 minutes.
The training program listed below will help to build both strength and endurance. The "Initial Load" is the amount of weight you can comfortably lift at the beginning of this workout regimen. As depicted in the sequence below, you will gradually increase this "Initial Load" to effectively build your strength and endurance.
Exercise

1

Initial Load

4

3

Your exercise routine should include the following:

-Curl-ups
-Squats
-Standing or Overhead Press
-Heel Lifts
-Lateral Pull
Downs
-Trunk Lifts
-Arm Curls
-Bench Press
-Side Leg Raises
-Tricep Extension
-Upright Rowing
-Bench Steps
-Grip Bars
-Wrist Curls


2

Initial Load

5

3

3

Initial Load

6

3

4

Initial Load

7

3

5

Initial Load

8

3

6

Initial Load + 5

4

3

7

Initial Load + 5

5

3

8

Initial Load + 5

6

3

9

Initial Load + 5

7

3

10

Initial Load + 5

8

3

11

Initial Load + 10

4

3

12

Initial Load + 10

5

3

13

Initial Load + 10

6

3

14

Initial Load + 10

7

3

15

Initial Load + 10

8

3

16

Initial Load + 10

9

3
On the day of the test, arrive early, well nourished and well rested. Wear sneakers, comfortable clothing, including long pants and make sure you have water and high-energy snacks on hand. If the day is hot, make sure you've consumed plenty of water before you start the test. Warm up and stretch just as you would before any strenuous workout.
GOOD LUCK!!!
For more information and for a list of Women Firefighter Mentors please call (718) 999-FDNY (3369).
More information on women in fire fighting is available at the WFS website at www.wfsi.org.
This article is adapted from material developed by Women in the Fire Service, Inc., under contract to the Federal Emergency Management Agency/U.S. Fire Administration, and published by FEMA/USFA as "Many Women Strong: A Handbook for Women Firefighters." In this form it is copyright © 2002 Women in the Fire Service, Inc., and may not be reproduced in any form without specific written permission from Women in the Fire Service, Inc.