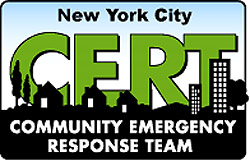 The Community Emergency Response Team (CERT) program is a federal program designed to train people to prepare for, respond to, and recover from emergency situations in their communities.
When emergencies occur, CERT members can provide immediate assistance to their neighbors until emergency authorities arrive. CERT members can further use their training to inform, educate, and train their fellow neighbors on disaster preparedness that will help improve the safety of their community.
While some of the CERT training is designed to prepare individuals and their teams to engage in disaster response, the primary role of CERT teams in New York City is disaster preparedness - on a personal level, as well as on a neighborhood level.
To learn more, review our CERT resources below: