Currently the Chevrolet Volt and the Tesla Roadster are for sale in New York City, with many more to follow.
You can test drive an EV yourself either by renting one or visiting a car dealership. Some car share companies also offer them. You can also ask your favorite car rental company to bring electric cars to New York City.
Charging: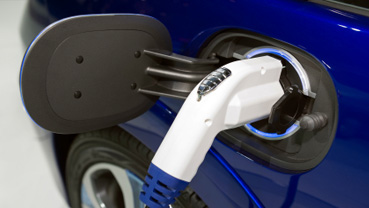 When you're ready for your own EV, you'll want to charge it. For some, but not all New Yorkers, charging will be easy. To illustrate this, let's revisit Lisa, Rich and Christina's situations.
Lisa:
Chargers can be installed outside, so Lisa, who owns her home in Flushing, can install one in her driveway. She can use either the automaker's authorized installer or buy her own charger and have a licensed electrician install it. The City cares most that the electrician is licensed and that he or she completes the permit paperwork.
Installing a charger can become more complicated if a home's wiring is too old. To delve into electrical speak briefly, you need a 20 amp, 240 volt circuit to fully charge an electric car in 10 hours or less. That's called Level II charging and has power needs similar to a clothes dryer or large wall air conditioner. If Lisa needs more electricity, Con Edison will have to either upgrade her wiring, electrical panel, or both, all at her expense.
Rich:
Rich, who parks on the streets of Prospect Heights, can't easily charge his electric vehicle. Because of the complexity, cost, and early stage of EV adoption, the City is not installing curbside charging stations.
However, the city has helped commercial garages install chargers, so there may be a parking lot near Rich that does offer charging. Right now there are over forty one public chargers in New York City.
Christina:
Christina parks her car in one of those commercial garages, so would have no problem charging.