From New York City's report on electric vehicles (in PDF):
PlaNYC, the City's comprehensive sustainability plan, established an aggressive strategy to reduce the City's greenhouse gas emissions in 2030 by 30% from 2005 levels. As part of that overall goal, transportation emissions, which currently account for 22% of New York City's total greenhouse gas emissions, would be reduced by 44% by 2030.

PlaNYC also targeted a reduction in the city's levels of harmful particulate emissions and pollutants to improve New York City's air quality. Public transportation, bicycling, and walking are critical elements of the city's sustainable transportation system.

In addition to using fewer automobiles, the city can also become more sustainable by making existing vehicles more efficient. For those New Yorkers that will continue to rely on the automobile for their mobility needs, these electric vehicles can offer an improvement over gasoline vehicles in reducing both urban pollution and greenhouse gas emissions, helping to meet the City's PlaNYC targets.
The City is on record committing to electric vehicles. The following efforts are incorporated into PlaNYC, the City's blueprint to create, "a greener, greater New York."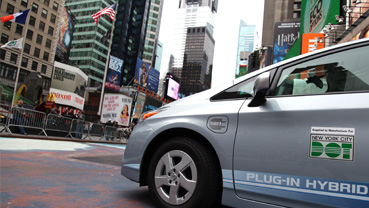 Greening the City's fleet
The City is buying fifty Chevrolet Volts, ten Ford Transit Connects, and testing out ten electric Navistar trucks. Keep your eyes peeled for these special vehicles in the City's Police, Transportation, Fire, Sanitation, Environmental Protection and Parks Departments.

These first vehicles are just the tip of the iceberg. New York has lead by example before, as one of the largest purchasers of the first generation Prius. More and more electric vehicles will join the City fleet over the coming years.

Streamlining home installation
New York City already has some of the most straightforward installation regulations in the country. If a home has sufficient electric wiring, an electrician can install a charger with quick pre-approval from the City. However, installation is not always easy. Old homes may need additional electrical wiring from the street, which can add significant costs and delays. We are working with Con Edison and auto manufacturers to streamline the installation process for home charges to ensure that it is as quick and affordable as possible. We are reducing the time it takes for both normal and problematic installations.

Facilitating publicly-available charging
Many New Yorkers do not park at home, and instead rely on commercial parking garages and on-street parking. Utilizing federal stimulus funding, electric vehicle chargers are being installed throughout the metropolitan area, including commercial parking lots. To ensure high private sector investment in charging, we are working with stakeholders such as: parking garage owners, co-op boards, consumers, and Con Edison. We are helping all parties understand the technical and consumer needs associated with electric vehicle chargers as well as the rules and regulations governing their installation and operation.
Collaborating with other cities
The City is also partnering with Philadelphia and Boston to share information and resources. Each city has valuable knowledge to share with the other two. One of the Northeast Regional Partnership's goals includes getting information to consumers. This website is part of that effort. We have a joint three city blog up as well. We are also sharing knowledge, exchanging information on curbside charging, the cost of prime and off-peak electricity, and on how to construct building codes to accommodate electric vehicles. EV driving New Yorkers will soon be able to travel to Boston or Philadelphia with confidence, knowing that they can charge when they arrive.