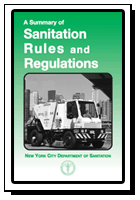 The following documents are in PDF format. You'll need the Adobe Reader to open them:

The DSNY Rules and Regulations (771KB) (Revised October 2009) is now available for you to view online.

If you would like to have a printed copy mailed to you by using Literature Request or by calling the New York City Customer Service Center at 3-1-1.