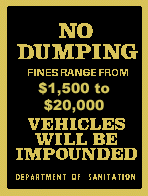 The Department of Sanitation has two programs through which the public can collect monetary awards for reporting observations of illegal dumping. Under the first - The Illegal Dumping Award Program - you must be willing to sign an affidavit and appear at the Environmental Control Board (ECB) hearing. Under the second - The Illegal Dumping Tip Program - information about your identity remains confidential.
The Illegal Dumping Award Program:
Under this program, a person who observes illegal dumping and completes an affidavit leading to the conviction of those responsible is eligible for rewards of 50% of the fine collected. The individual must appear at the ECB hearing if the respondent appears at ECB to challenge the summons issued pursuant to the affidavit.
The Illegal Dumping Tip Program:
Under this new program, a person who provides information leading the DSNY to catch the dumper in the act, would be eligible for a reward of up to 50% of any fine collected. Information on the individual's identity would remain confidential and complainants would not have to appear at an ECB hearing. However, Sanitation Enforcement personnel would have to subsequently "catch the dumper in the act" based on the tip.

Vehicle Impoundments