UPDATE:

Prospective proposers should note that two RFP addenda have been issued to date: Addendum One, dated March 12, 2012 and Addendum Two, dated  April 6, 2012. Those who have subscribed to City Record On-Line to view and/or download the RFP and those who have obtained the RFP through the Department's Contract Unit will receive all addenda issued.

BACKGROUND
The Department of Sanitation collects more than three million tons of waste every year from residences and institutions. The City spends more than $300 million to dispose of this waste in landfills and conventional waste-to-energy facilities, often located far outside the City. A substantial portion of the waste New Yorkers throw out could be recycled, composted or cleanly converted to energy. And the City's recycling rate has been slowly declining in recent years. By many measures - both environmental and financial - the City is creating too much waste and putting too little of it to productive use.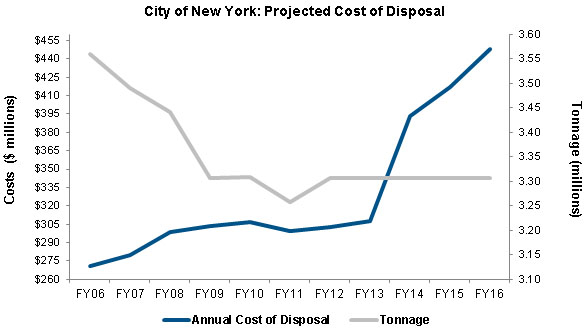 The City projects the cost of waste disposal will continue to increase over the next decade.
Source: NYC Office of Management and Budget projections, October 2011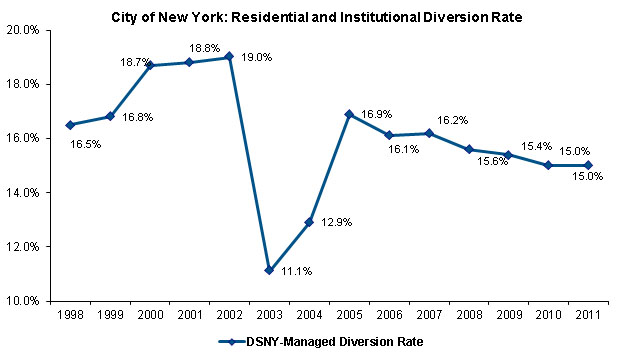 The City's "diversion rate"- the amount of residential and institutional waste diverted from landfills and traditional waste to energy facilities - has been slowly declining in recent years.
Source: Department of Sanitation
In January 2012, Mayor Bloomberg announced the City is committed to doubling its diversion rate by 2017. The City's Waste Reduction Plan has three main parts. First, the City is investing in its infrastructure, including a new recycling processing facility on the Brooklyn waterfront. Second, new and expanded programs will offer more reuse, recycling and composting opportunities. New Yorkers will soon see more recycling bins on city streets, be able to drop off their food waste for composting at more Greenmarkets, and exchange lightly used products and clothing at Stop N' Swap events in every community. And third, the City will engage the public in new campaigns to increase the diversion rate. The Waste Reduction Plan builds on the City's Comprehensive Solid Waste Management Plan (SWMP) approved by the City Council in 2006, and PlaNYC, New York City's long-term sustainability plan.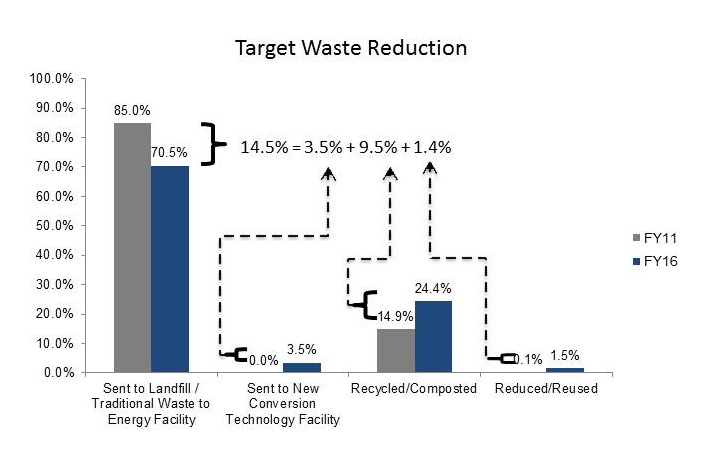 Two thirds of the diversion rate increase will come from new and expanded reduction, reuse, recycling and compost efforts, as compared to approximately one third from the conversion technology pilot.
Source: Department of Sanitation and PlaNYC
The SWMP was a joint effort of the Bloomberg Administration, the City Council, environmental justice and advocacy organizations, and community groups. It charts a strategic path towards a more equitable and environmentally sound waste management system by dramatically shifting how waste is disposed – rather than transporting waste out of the City by long-haul truck, the majority of City-managed waste will be transported by barge and rail. This shift will significantly reduce greenhouse gas (GHG) emissions, decrease annual truck travel by 60 million miles, help improve air quality in the city and ensure that no community bears a disproportionate share of the waste disposal system.
The SWMP and PlaNYC committed to pursuing alternatives to disposal at landfills and traditional waste to energy facilities, such as "new and emerging conversion technologies." These technologies have long been in commercial use effectively throughout Europe and Asia. These facilities convert waste – either through a biological, chemical or thermal process – into clean energy. They are being piloted throughout the United States and Canada, including in California, Mississippi, and Ottawa, with plans for new facilities in Los Angeles and Cleveland.  The SWMP cited several specific reasons to investigate these new and emerging conversion technologies for New York City;

• Diversification: By diversifying the means of disposal available, the City will be in a stronger position to insulate itself from the effects of an increasingly consolidated national waste management industry.
• Sustainable resource reuse and recovery: Alternative technologies have the potential to recover and reuse a greater portion of the solid waste stream than landfilling, and potentially can do so in a more sustainable manner than traditional waste-to-energy technology.
• Reliability and risk: If alternative technologies provide disposal options in or near the City, this would decrease our reliance on other states, and reduce the risk of obstacles that could undermine component parts of the City's export plan in the future.
As part of the Waste Reduction Plan, the City will fulfill these prior commitments. On March 6, 2012, the DSNY released a request for proposals for the development of a new and emerging solid waste management technology facility at a site in or near the city. The pilot facility will accept a small portion of residential and institutional waste collected by the City, and convert the waste into a renewable source of energy. In conjunction with the City's expanded recycling and composting efforts, this facility will mark a significant step towards a more sustainable solid waste disposal policy.