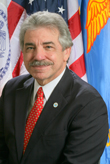 Vito A. Turso, the Department's Deputy Commissioner for Public Information and Community Affairs, is a well-known face and voice of press relations and public affairs in City government.
During his government service, Mr. Turso has served as Deputy Commissioner for Public Affairs, Community Relations and Intergovernmental Relations for three City agencies, (the Department of Sanitation from 1978 to 1990 and 2002 to present, the Department of Correction from 1990 to 1994, and the Department of Environmental Protection from 1994 to 1995). He was an Executive Vice President for corporate and government affairs at Dan Klores Communications, a Manhattan public relations firm. Earlier, Mr. Turso was an award-winning newspaper reporter. He is a long-time member of the New York Press Club, and served three terms as President of the Public Relations Officers Society of New York.
As Deputy Commissioner, Mr. Turso is in charge of communicating the Department's policies and procedures as well as its mission and message to the media, elected officials, community boards, and neighborhood organizations throughout the five boroughs. He also serves as content editor for the Department's Web site.