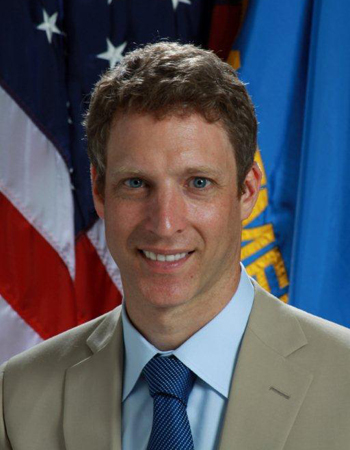 Sanitation Commissioner John J. Doherty appointed nationally recognized recycling expert Ron Gonen to the newly created post of Deputy Commissioner for Recycling and Sustainability on May 14th, 2012.
Gonen is responsible for the management of the Department's Bureau of Waste Prevention, Reuse and Recycling and with advancing Mayor Bloomberg's PlaNYC goal of dramatically increasing the city's massive urban recycling program.
Gonen has been an Adjunct Professor at Colombia Business School and the Co-Founder/Managing Director of Healthy Planet, an environmental services firm that is helping to green the sports industry by deploying renewable energy in sport stadiums.
He is the Co-Founder of RecycleBank.  During his tenure as RecycleBank CEO from 2004-2010, the company grew from an idea to a company that services over 100 cities and earned a number of business and environmental awards including the Philadelphia Sustainability Award, Excellence & Innovation in Public-Private Partnerships from the Conference of Mayors, and was ranked by the Wall Street Journal as the #1 Venture Backed Clean Tech Company in 2010.  Gonen remains a member of RecycleBank's Board of Directors.
Among his other notable environmental achievements, Gonen has been recognized by the World Economic Forum as a Technology Pioneer and by the United Nations Environment Program as a 'Champion of the Earth', a designation awarded by the U.N. to only seven people around the world each year for their leadership in protecting the environment.  In 2010, he was the recipient of the Medal of Excellence from Columbia University, which recognizes an alumni under the age of 45 for outstanding achievement in scholarship, public service and professional life.  He became a Henry Catto Fellow at the Aspen Institute in 2010.
Gonen holds a patent for the development of technology and financial incentives in the recycling industry.
Prior to RecycleBank, he was a senior consultant at Deloitte Consulting, where he developed CRM applications.
Gonen serves on the Board of Trustees of RARE Conversation – an organization that applies community-based solutions to global conservation challenges, as a New York Chapter Director at E2 – a group within the Natural Resources Defense Council that promotes entrepreneurial solutions to environmental problems and serves as a member the New York Product Stewardship Council.  He is a term member at the Council on Foreign Relations.
Gonen is on the Board of Advisors of Daily Feats.
He received an MBA from Columbia Business School.