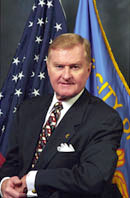 John J. Doherty, a long-time veteran of the Department of Sanitation, returned as the 42nd Commissioner on February 1, 2002.
Commissioner Doherty, born and raised in Staten Island, is only the fifth person in the Department of Sanitation's history to rise through the ranks to become Commissioner.
He began his career with the Department as a Sanitation Worker in 1960. He quickly advanced himself within the Department to hold key positions such as Assistant Chief of Snow Operations, Chief of Bureau Operations, Director of the Bureau of Cleaning and Collection (the Department's largest division), Deputy Commissioner for Operations, and First Deputy Commissioner. Prior to his three-year sabbatical, he served as the Department's 40th Commissioner from 1994 through 1998.
Commissioner Doherty is a graduate of the Senior Executive Program at Harvard University's John F. Kennedy School of Government. He also completed New York City's Top 40, a program that recognized and developed the future leaders of New York City.