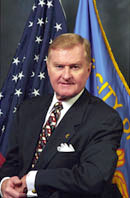 In addition to collecting your garbage and recyclables, cleaning your streets and keeping our City open in the winter by clearing snow from our roadways, the New York City Department of Sanitation (DSNY) performs many other essential services each and every day.
When you need an abandoned vehicle towed, an old refrigerator carted away, a vacant lot cleaned, or if you want to report an act of illegal dumping -- who do you call?
DSNY is the nation's - perhaps the world's - largest and most diverse cleaning and collection agency.
Since the Department was founded in 1881, it has disposed of millions of tons of garbage at landfills and incinerators it once operated around the City. Some of the older landfills are now viable park properties where New Yorkers enjoy a round of golf or a day out with their families. With the closing of the City's last major landfill in 2001, DSNY today administers a massive export program that handles the more than 12,000 tons of residential waste we produce daily.
Additionally, we enforce the City's important environmental laws, such as littering and illegal dumping, employing the country's largest municipal environmental police and enforcement squad.
I have been a proud member of this great Department since 1960 when I began my career sweeping the City's streets. Today, I am honored to be the Commissioner and I am in awe of the work performed by the Department, especially its recent accomplishments and continuing dedication to New York City -- a City that demands and deserves the very best we have to offer.
Please help me and the Department continue to keep our City clean.