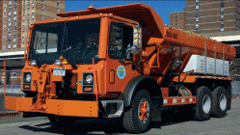 365 Salt Spreaders 
The DSNY Salt Spreaders are used to salt city roadways during snow and ice storms.  Salt spreaders can hold up to 16 tons of salt.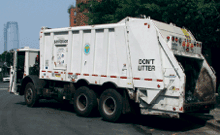 2,023 Collection Trucks
DSNY Collection and E-Z Pak trucks collect 12,000 tons (2,000 pounds = 1 ton) of refuse and recycling each day.  Collection trucks service curbside refuse and recycling along with basket collection and can hold up to 12 tons of refuse each.  EZ-Pak trucks collect refuse that is stored in containers.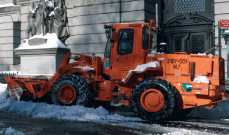 282 Front-End Loaders
Front-end loaders transfer rock salt to salt spreaders.  This equipment is also used to dump snow into the snow melters and during lot cleaning operations.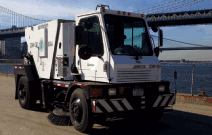 435 Street Sweepers The DSNY sweeps 47,400 scheduled routes per year, covering more than 6,000 miles of roads - equivalent to sweeping from New York to Los Angeles and back again - on a daily basis.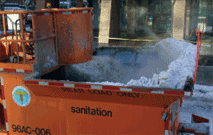 36 Snow Melters
DSNY Snow Melters have the capability to melt 60 tons of snow an hour.  They melt snow at a rate of 240 gallons a minute and work around the clock.  The liquefied snow is drained through approved NYC sewer connections after passing through filters to catch large debris.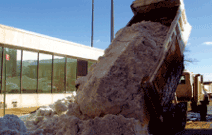 151 Cut-Downs
The multi-purpose Cut-Downs are used for lot cleaning operations, snow operations, and hauling hefty materials.