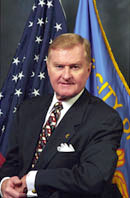 February's Snowstorms

Making sure you're prepared

By John J. Doherty, Commissioner of Sanitation

While poet T.S. Eliot said "April is the cruelest month …," many New Yorkers may beg to differ for when it comes to weather, February wins in the cruelty department hands down. And it's not just the frigid temperatures. It's the snow... lots and lots of it! It may be worth pointing out that history supports February's bad rap. As a matter of fact, seven of the eight largest snowstorms in the last four decades occurred in February, including the 2006 monster snowstorm -- the largest in New York City's history -- that dumped 26.9 inches of wintry white on Central Park in a 24-hour period.
So, although it seems that we are getting a break thus far this snow season, as Commissioner of the Department of Sanitation my job is to prepare for a worst-case scenario. And my advice to New Yorkers who want to enjoy winter and get through the remainder of the snow season worry free is to do the same.
If February lives up to its reputation and delivers a large snowfall, Sanitation is ready to deploy its formidable resources. In fact, the Department has enough dedicated men and women assigned to work in each of the city's 59 Sanitation Districts, so that all shifts have a trained and experienced workforce to operate essential snow-fighting equipment. Our 44 salt storage facilities throughout the city have a capacity of 235,000 tons of rock salt and 330,700 gallons of calcium chloride deicing solution. Prior to the start of any snowfall, our 365 salt spreaders are dispatched to salt arterial highways and bus routes. Once snow begins to accumulate on city streets and highways, approximately 2,000 plows are mounted on various Sanitation trucks and deployed to clear snow from the city's more than 6,000 street curb miles -- equivalent to plowing from New York to Los Angeles… and back!
Simply put: our goal is to make sure that despite a snowstorm, New York City can keep up its vibrant 24/7 rhythm with as little inconvenience as is humanly possible.
But, just like anything else in a densely populated city, government agencies can only do so much. No city is perfectly clean, nor can its sidewalks be absolutely clear of ice and snow without everyone's cooperation. And while the men and women of the Department will work around the clock and do whatever it takes to make sure that our streets are passable, when it comes to pedestrians, it's up to you to make sure that they can get through your sidewalks safely.
Here are the rules you must follow to make winter safe and enjoyable for yourself, your family and your neighbors:
Sidewalk Safety
Whether you're the owner, tenant, occupant or the person in charge of any lot or building, you must clear the snow and/or ice from your sidewalk within four (4) hours after the snow has stopped falling, or by 11 a.m. if the snow stopped falling after 9 p.m. the night before.



If the snow becomes frozen and too hard to remove, you may spread clean, unused cat litter, salt, sand, sawdust or another similarly suitable material within the same time limits.



As you clear your sidewalk, keep in mind: YOU MUST NOT THROW SNOW INTO THE STREET. It's against the law, and it forces Sanitation to re-plow your street. Also, you should never cover fire hydrants with snow - this could interfere with firefighting efforts.



The bottom line is sidewalks must be thoroughly cleaned as soon as the weather permits.

Failure to comply with the law may result in fines ranging from $100 to $350.
And, even though I hope this winter your shovel and snow blower will collect dust in your garage, we all need to be prepared. The proud members of New York's Strongest are ready. Make sure you are too, and enjoy the rest of the winter!
For more information on snow removal, call 311 or visit the Department's website at www.nyc.gov/sanitation.