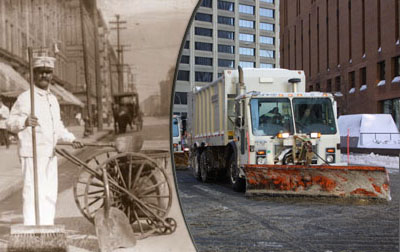 120 Years Later, DSNY still meets the challenge of keeping NYC clean on a daily basis.

Since 1881, when the New York City Department of Sanitation - originally known as the Department of Street Cleaning - was founded, waste collection and disposal have come virtually full circle.
At the end of the 19th century, one of the Department's most prolific commissioners, Colonel George Waring, instituted efficiencies and waste reduction programs that foretold the programs of today -- including recycling, street sweeping and a dedicated uniformed cleaning and collection force.
Today, the Department is the world's largest, collecting over 10,500 tons of residential and institutional refuse and 1,760 tons of recyclables a day. The City's businesses, whose waste is collected by private carting companies, generate another 13,000 tons of refuse each day. And under the leadership of Commissioner Kathryn Garcia, New York City's streets are cleaner today than they have been in over 35 years.

To meet these challenges, the Department's resources are:
7,197 Uniformed Sanitation Workers and Supervisors
2,048 Civilian Workers
The Department serves the City out of 59 Districts, using approximately 5,700 vehicles that include:
2,230 collection trucks
450 mechanical street sweepers
275 specialized collection trucks
365 salt/sand spreaders
298 front end loaders, and
2,360 various other support vehicles