Get Involved
Programming and Performance Opportunities 2018
Summer Streets Call for Proposals: May 4, 2018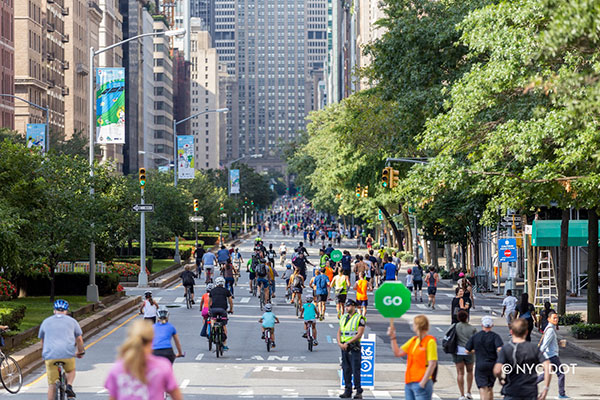 Please join DOT Art and Event Programming in our efforts to activate the Summer Streets event route, along Park Avenue and connecting streets, from the Brooklyn Bridge to Central Park, with unique, family-friendly programming (public art, performances and activities) as part of the eleventh annual Summer Streets event. The 7 mile event route will be opened to pedestrians, runners and cyclists to enjoy recreational and cultural programming, workshops, historical tours, dance and music performances and more during event hours. Programming will be offered at five rest stops – Uptown (51st Street & Park Avenue), Midtown (25th Street and Park Avenue), Astor Place (Astor Place and Lafayette Street), SoHo (Spring Street and Lafayette Street), and Foley Square (Duane Street and Centre Street).
All nonprofit organizations, artists and performers are invited to submit proposals in response to the Summer Streets Request for Proposals by Friday, May 4, 2018. Preference will be given to proposals that are interactive, promote active and healthy lifestyles and showcase the rich and varied resources of New York City. This year's Summer Streets theme is finding joy and humor in the everyday experience and capturing the unexpected moment in New York City in the midst of chaos. For images of past events, visit DOT Flickr, www.flickr.com/nycstreets.
Submission Deadline: Friday, May 4, 2018
Download Summer Streets RFP (pdf).
Download Summer Streets Public Art Application (pdf).
Download Summer Streets Performance Application (pdf).
Download Summer Streets Activities Application (pdf).