Car Free Earth Day (Broadway)
Car Free Earth Day Broadway Background
Car Free Earth Day is an annual car-free event, which will be held this year on Saturday, April 21st, the day before Earth Day. The Event opens thirty blocks of Broadway from Times Square to Union Square for people to explore on foot during event hours, 9:00 AM to 3:00 PM. Programming is presented at six rest stops: Times Square (42nd Street and Broadway), Garment (38th Street and Broadway), Herald Square (34th Street and Broadway), City Zone (26th Street and Broadway), Flatiron (23rd Street and Broadway), and Union Square (17th Street and Broadway). Environmental programming is offered by City agencies and nonprofit organizations along the route to promote activism and education surrounding climate change, sustainability and other relevant topics. Visit DOT Flickr for images of past Car Free Earth Day events, www.flickr.com/nycstreets.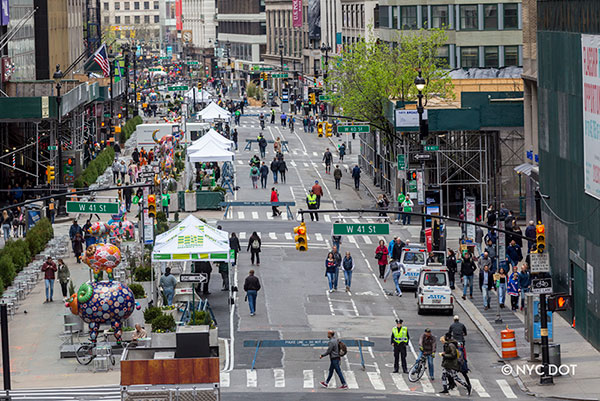 Car Free Earth Day (Washington Heights)
Car Free Earth Day Washington Heights Background
In uptown Manhattan, Car Free Earth Day opens up 9 blocks on St. Nicholas Avenue from 181st Street to 190th Street. All along the street there will be performances and educational programming highlighting the importance of sustainability, tackling climate change, and rethinking how we use our streets. Come join us between 10am and 4pm! For updates, check our Facebook page, www.facebook.com/CarFreeNYC/.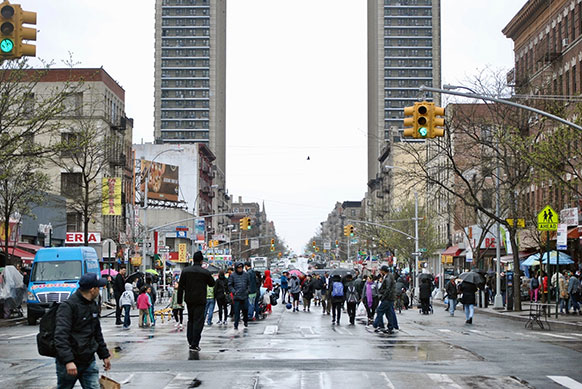 Car Free Earth Day (Downtown Brooklyn)
Earth Day Block Party
In celebration of Earth Day and Car Free Day, the Downtown Brooklyn Partnership launches their Downtown Brooklyn Presents event series at Albee Square and Albee Square West on April 21st from 1-5pm. At 1:30pm, the environmentally-friendly troupe, Bash the Trash will perform music, help kids construct instruments from recycled products, and then lead a parade. This is followed by an all-ages dance class led by the Dodge Y with beats by DJ Mike. Sustainable arts and crafts activities all day, an Earth Day Reading Room with the Uni Project, and meet Birdie, the official mascot for GreeNYC! A full list of events and timing will be available at downtownbrooklyn.com.