Event Programming Schedule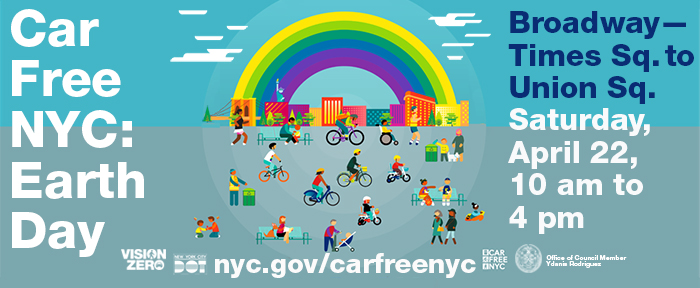 Catch a glimpse of artist Ben O'Brien's environmentally-focused illustrations installed on street light poles lining Broadway between 47 and 17 streets now through the end of May. Inspired by the great work of our City to 'Go Green', Ben O'Brien designed bold, colorful iconography in response to a series of statistics that can also be found within the art signage. Passersby can quickly digest a short stat or explore the intricacies of the illustrations while moving along Broadway on foot or bike. Thanks to DOT, DEP, DPR, DOH, DSNY and GrowNYC for sharing these lesser known facts about our City's work in the area of sustainability! Try to catch a glimpse of all 70 signs along Broadway.
Times Square Plazas
Times Square Plaza: 46th to 47th streets
Musical Performance Schedule
Times Square Plaza: 44th to 43rd streets
The Project Dance Foundation provides training, education and performing opportunities for dancers around the world. Project Dance Times Square will celebrate its 16th annual event by offering their open air dance concert designed to bring hope and healing to the public through the universal language of dance. This event found its inception shortly after 911 and continues to offer this concert as a token of our appreciation for New York City. The concert will feature ballet, tap, and modern styles of dance on Saturday April 22 on the corner 43rd and Broadway from 10:00 pm - 5:00 pm.
Times Square Plaza: 43rd to 42nd streets
Bicycle Broadway on a Historical Tour hosted by Loudest Yeller (1 ½ hour)
| | |
| --- | --- |
| 10:30 am | Times Square, Meet at Broadway btwn 42nd and 43rd St |
| 12:30 pm | Union Square, Meet at 18th Street and Broadway |
| 2:30 pm | Times Square, Meet at Broadway btwn 42nd and 43rd St |
Loudest Yeller Bicycle Tours is dedicated to having fun while furthering the voice of justice through the prism of storytelling. Learn about the progress of American thinking that led to Earth Day on an epic bicycle ride down Broadway. Many think of New York City as just concrete and cars but the city is full of environmental efforts to stem pollution, to build urban farms, to create more eco-friendly urban environments and to encourage wildlife habitation. Come on this tour to find out how environmentalism has shaped New York City. To reserve your spot today, email: earthday@loudestyeller.com. Spots available on a first-come-first-serve basis.
Garment District Plazas
Garment District Plazas: 41st to 40th streets
Insian Gallery
Fancy Animal Carnival Art Walks: The InSian Gallery will lead walking tours of the Fancy Animal Carnival installation by artist Hung Yi along the Garment District Plazas. Guides will discuss the rich cultural symbolism of the eleven sculptures as well as the artistic and material process behind the whimsical creatures that have been enthralling visitors to the Garment District since last fall. Visitors are asked to meet at the Triple Auspicious Sheep statue at 41st and Broadway at 11:00 am, 1:00 pm and 3:00 pm.
Midtown South Community Council
Midtown South Community Council Quality of Life: Established in 1983, the Midtown South Community Council was formed to combat the many problems facing residents and business within Midtown's heavily commercialized area. On Earth Day, MSCC will promote quality of life via urban farming produce, health and Chef programs, and client re-engagement programs with the Midtown South Community Court.
Garment District Plaza: 40th to 39th streets
Artist Workshop: Lina Montoya A.K.A. 'Ele Eme'
Bottleflowers & Butterflies: Colombian-born Staten Island-based graphic artist and muralist. LMProject and "La Isla Bonita" Festival Founder. Engaging the community to transform and beautify public spaces through artistic interventions. Flowers and Butterflies made with recycled plastic bottles intends to generate environmental awareness.
Broadway Boogie Woogie: A collaborative drawing workshop celebrating Broadway as New York City's signature North-South thoroughfare. For Earth Day, the public is invited to draw and create their own imaginary car-free city. Kirk Finkel is an urban designer and an artist. His work focuses on environmentally and socially collaborative design across city-planning and artistic projects.
Kirk Finkel: (215) 870 - 8564
Artist Workshop: Michael Lee
Urban Green Imagination: This workshop will introduce the fundamental components of landscape design and architecture through a playful and interactive drawing activity. Visitors will work with NYC tree typologies and canopy arrangements to reimagine spaces of the city as environmental opportunities. Ryu Kim is a landscape architect and founder of Beafy Leaf, an organic plant workshop. Michael Lee is a practicing social designer and a founder of the cultural program development firm Base 15 Studio.
Garment District Plaza: 39th to 38th streets
Artist Workshop: Jessica Maffia and Jarret Stahl
Make Your Own Recycled Planters and Plant a Seed! Artists Jessica Maffia and Jarret Stahl will demonstrate how to turn recycled household containers into beautiful planters in which participants will then plant a seed. Recycled containers, soil, seeds, and decoration materials will be provided to the public.
Natural and Reclaimed Materials in ART: The workshop will explore the uses of nature's elements and of disposed found objects, fragments & materials in the artistic creative process. During the 30, 45 or 60 minute mini cycles, a comprehensive review of the influence of nature and of the environment in the History of Art will be followed by and combined with the hands-on experience of interacting in real time with the artist's concepts and works. Sketches and model making may be included.
All Things Doilies (Flowers): Using paper doilies of various sizes and colors, learn to make flowers to celebrate Earth Day. Wear them in your hair or create bouquets for friends and family. Jennifer Cecere's artwork aims to integrate a feeling of domestic handiwork into the built environment. Doilies were invented by industrious women to hide and protect worn and frayed furnishings (maybe feelings too). Handicraft demonstrates a familiarity with domestic materials that ties us with our fragile environment and revives traditions that when integrated with art and architecture reflect our hopes and dreams. Ms. Cecere's Double Doily is on view from November 18, 2016 to November 17, 2017 at PS1 Greenstreet (Jackson Avenue and 46th Avenue), Queens.
Garment District Plaza: 38th to 37th streets
LEAP STEAMing Ahead: LEAP is a non-profit organization committed to improving the quality of public education through a creative, arts-based teaching approach to teaching the core curriculum. In celebration of Earth Day, LEAP will be presenting a youth-led interactive booth highlighting student work that marries technology and creativity to problem-solve the unique ecological challenges of the 21st Century.
Smoke-Pack-Tsunami-Warning: Manhattan Graphics Center (MGC) is a non-profit organization providing a fully equipped fine art printmaking workshop that is open to the public seven days each week offering classes and open studio opportunities for experienced and beginning artist printmakers. MGC will present a "Smoke-Pack-Tsunami-Warning" rubber stamp printing event. MGC artists will assist participants in creating and printing rubber stamp images, using water-based inks, from the worldwide system of Tsunami Warning Buoys, onto discarded and inverted cigarette packs. The packs, after being newly stamped with a buoy image(s), will be linked together into a chain to hang at the event. MGC will provide all the simple drawing and hand stamping materials needed and the discarded cigarette packs. MGC artists will do the carving on small rubber blocks and assist with stamping and re-assembling the packs.
Button Butterflies: Materials for the Arts, NYC's premier reuse facility, will be inviting participants to build their own toy BUTTERFLIES out of reused leftover materials including buttons, beads, plastic scraps, and more. Materials for the Arts, NYC Department of Cultural Affairs, distributes millions of dollars' worth of reusable materials to arts organizations and schools every year, saving thousands of pounds of waste from landfills and inspiring creativity across our city.
Printmaking Workshop - Block Printing with recycled materials: Stop by Urban Studio's tent to create block prints. Grab a small piece of styrofoam and a paper, and choose from a whole bunch of materials such as: plastic forks, toilet paper, etc. and create different affects and textures by cutting into the styrofoam or adding materials to it. This project invites people to be more mindful before throwing out everyday garbage. US+U is a collective of students, alumni and faculty/staff from the Fine Arts. Department at FIT. Urban Studio creates and nourishes professional development through emphasizing participation and collaboration. Artists are engaged in a broad range of issues and topics, and are encouraged to find new and diverse venues for their work.
Garment District Plaza: 37th to 36th streets
Permaculture Parkway, Josh Sarantitis
Permablitz Greening the Streets:
This Earth Day, Parkways will activate and beautify New York City's hardscapes for the public good with a participatory planting of a pop-up parklet on Broadway. Participants will learn techniques for growing food and other multi-purpose plants in urban areas, using raised beds, including materials selection, proper planting techniques, spacing, watering and natural fertilizers. Learn how to set up self-irrigating beds by using ollas, a traditional watering system that uses unglazed clay pots to irrigate plant roots instead of watering the surface of the planter. This technique saves water and helps plants establish healthy root systems. Parkways ethically sources the best materials for their parks including local, natural and recycled materials. Each of our self-irrigating garden beds contain a custom organic soil and compost blend & plants that are selected for climate, beauty and ecosystem function. Workshop held from 12 pm to 3 pm.
Herald Square Plazas
Herald Square Plaza: 36th to 35th streets
Re-Imagine a Better Broadway: Transportation Alternatives will provide the public with engaging literature informing New Yorkers about their organization's work. Stop by to grab a bike map and cycling rules. Participate in a workshop at a visioning table where you can design your own ideal public space. For kids, TA will be providing coloring books and handing out stickers. Volunteer activists will be on hand to answer questions.
El-Space: Creating Engaging Places for People: Design Trust for Public Space, a nonprofit that unlocks the potential of NYC's public spaces, has partnered with NYCDOT on the Under the Elevated project to enhance, activate and reclaim spaces under elevated bridges, highways and subway and rail lines citywide. "El-Spaces" have captured people's imaginations across the city, the nation and the world; through the Design Trust/NYCDOT collaboration and the development of the NYCDOT El-Space Program, we'll increasingly show how these spaces can reconnect communities and make cities more dynamic, livable and sustainable.
Gray Panthers - Activism and Advocacy against Ageism: The Gray Panthers envisions a world where the old and the young have much to contribute to make our society more just and humane, and in which each reinforces the other in goals, strategy, and action. Preservation of the planet, including improving the condition of the environment, is of course prime concern for older persons, for all who are aging, and for future generations.
Sane Energy Project: Sane Energy Project is a New York based organization working toward an equitable energy future that includes shutting down fossil fuel infrastructure and building a just transition toward renewable energy. Stop by the Sane Energy Project's tent to participate in family-friendly activities like a photo station with a cutout and bicycle-decorating or pick up information about switching NY to off shore wind and different campaigns fighting fossil fuel infrastructure across the state.
Citizens' Climate Lobby: Citizens' Climate Lobby is a non-profit, non-partisan grassroots organization focused on solutions to climate change. CCL volunteers will speak with and educate interested passersby, distribute handouts describing their solution to climate change and offer the public a signup sheet to be on our mailing list.
HYPOTHEkids STEAM the Streets: Do you have an old smart phone laying around? Want to make a difference in the lives of students? HYPOTHEkids is hosting a #SmartPhoneDrive! With these phones #HYPOTHEkids will explore the virtual world of 3D modeling through @google #GoogleCardboard this summer! Answer the call - send a direct message or email at hello@hypothekids.org if you'd like to contribute! #HkSummerSTEAM #STEAM #STEAMeducation #donate #makeadifference. HYPOTHEkids is a non-profit K-12 science initiative in Harlem, that provides underserved students with hands-on science and engineering educational and mentorship experiences such that they can thrive in the high tech economy of tomorrow. They offer in-school, after school, and summer programs for elementary school students, and a biomedical engineering design summer program for high school students. Stop by to pick up your own free science kit for children that would encourage them to see the science around them, and learn more about STEAM the Streets events, HYPOTHEkids, and other opportunities for students to engage with science in NYC. STEAM the Streets is an initiative of HYPOTHEkids that brings science and engineering experiences to students in unexpected places in NYC. Student learners often believe that science doesn't extend beyond the walls of the classroom, when in fact science is happening all around us: from the roots of trees pushing up sidewalks to the steam that rises up from manhole covers.
New Yorkers for Parks: New Yorkers for Parks (NY4P) is the citywide independent research and advocacy organization championing quality parks and open spaces for all New Yorkers in all neighborhoods. NY4P will offer research tools and resources to help New Yorkers understand how they can begin to advocate for their local parks, gardens, and open spaces, and attendees will have the chance to learn about and sign onto NY4P's "Public Realm Bill of Rights", an election-year platform for open space. We'll also offer activities to help New Yorkers learn more about the Official Flower of the City of New York, the daffodil, as part of NY4P's ongoing public beautification program, the Daffodil Project.
The Yes Loitering Project: Do you want to be a part of an exciting new research project led by artist and designer Chat Travieso? Titled "Yes Loitering," this project explores the issue of youth and public spaces, and imagines ways the city can be more open and inclusive towards young people. In this tent, teen participants can tell us about their experiences with different public spaces in the city and draw their vision of their ideal public space, and adult participants can reminisce about where they hung out when they were teenagers.
Street Ambassador Games and Activities: The mission of the Street Ambassador Unit is to engage the public, gathering their feedback and knowledge to better develop and implement street improvement projects. Join the team on Earth Day as we activate Broadway with fun games and activities to learn about how NYCDOT is #improvingNYCstreets. Some activities will include Bike Network Dominoes, design your own dream street, and DOT Sudoku!
DOT Safety Education
Visit the DOT Safety Education tent to learn more about Vision Zero, NYC's plan to reduce traffic fatalities and injuries. Come test your safety knowledge – spin the wheel and win a prize!
Pop-Up Musical Performance Schedule
Herald Square Plaza: 35th to 34th streets
Tour34: Empire to Penn
(10:30 am/12:30 pm): 34th Street Partnership and the Municipal Arts Society of New York offer free weekly guided walking tours. Explore the neighborhood's history of commerce, transit, and architecture. The walking tours leave from a special Earth Day location at 34th and Broadway. The 90-minute tours are offered all year: 10:30am on Fridays, and 10:30am and 12:30pm on both Saturdays and Sundays. Reserve your spot by emailing:
tours@mas.org.
Fitness/Performance Schedule
| | |
| --- | --- |
| 10:00 am | Pop up Yoga Pop Up Yoga NYC brings yoga to urban spaces with open level and accessible yoga designed for everyone. Live life better, stronger, and happier. |
| 11:00 am | 305 Fitness: This Miami-inspired dance fitness class combines cardio sprints with muscular toning for an action-packed, addictive workout. Catch ((305)) in the Broadway Plaza outside of Macy's (34th – 35th Streets) once per month in the summer as part of 34th Street Partnership's Sweat34 fitness series. |
| 12:00 pm | Bryant Park Jugglers: Bryant Park Jugglers have been partnering with NYCDOT for four seasons! Juggling, diabolo, unicycle! BPJ provides a variety of circus-related acts and teaches the public the basics of juggling. |
| 1:00 pm | DanceSport, Salsa Class: DanceSport offers high-energy dance instruction in all styles. Try out their Salsa and Swing classes, two of their most popular offerings. DanceSport returns to the Broadway Plaza outside of Macy's (34th – 35th Streets) for three months with dance-fitness classes, as part of 34th Street Partnership's Sweat34 fitness. |
| 2:00 pm | Dancing Classrooms |
| 3:00 pm | DanceSport, Swing Class: DanceSport offers high-energy dance instruction in all styles. Try out their Salsa and Swing classes, two of their most popular offerings. DanceSport returns to the Broadway Plaza outside of Macy's (34th – 35th Streets) for three months with dance-fitness classes, as part of 34th Street Partnership's Sweat34 fitness. |
27th – 26th Streets and Broadway
GreeNYC #BYONYC Giveaway: GreeNYC is dedicated to educating, engaging and mobilizing New Yorkers to take easy actions with big impacts to help New York City meet its ambitious sustainability goals of generating zero waste and reducing greenhouse gas emissions 80% by the year 2050. Take the B.Y.O. pledge today to join other New Yorkers who are already saving money and helping NYC to get to Zero Waste! Pledge today to bring your own shopping bags and bottles whenever you are on-the-go, and get a free reusuable bag and bottle today!
DEP Water-On-The-Go: The New York City Department of Environmental Protection (DEP) protects public health and the environment by supplying clean drinking water, collecting and treating wastewater, and reducing air, noise, and hazardous materials pollution. Since 2010, DEP has placed portable Water-On-the-Go drinking fountains around the city during the summer months to promote the high quality of NYC Water and to offer it as an economical, healthy, and environmentally responsible alternative to bottled water and sugary beverages.
26th – 25th Streets and Broadway
New York City Department of Transportation Adopt-A-Highway Program: New York City Department of Transportation Adopt-A-Highway Program provides opportunities for individuals, organizations, and businesses to participate in the cleaning and greening of New York City. The Adopt-A-Highway Program seeks to stimulate the public's sense of environmental and social responsibility. Visit the Adopt-A-Highway tent to take a free photo booth picture or a selfie to commemorate Car Free Earth Day and receive a free gift.
DOT Bicycle & Greenway Program: NYC DOT's Adopt-A-Greenway Program, started in 2015, offers companies and individuals an opportunity to enhance greenways in their neighborhood by developing maintenance strategies for greenway segments throughout Brooklyn, Queens, and the Bronx. In 2016, NYC DOT's Bicycle and Greenway Program installed 18 miles of protected bicycle lanes and 63.6 miles of dedicated cycling space throughout all five boroughs of the city. NYC doubled bicycle commuting between 2007 and 2011, and aims to triple it by 2017. In NYC, 10% of auto trips are under one-half mile, 22% are under 1 mile and 56% are under 3 miles - distances readily served by bicycle.DOT Bicycle & Greenway Program tent will be available to speak about the Bicycle & Greenway Program's projects and the Adopt a Greenway Program. Staff will illustrate projects with photo books and posters, and distribute literature (2017 Bike Maps, Bike Smart Guides, Jamaica Bay Greenway and Brooklyn Waterfront Greenway).
DOT Energy Team LED Streetlight Demonstration: DOT's Energy Team works to support the City's OneNYC 80x50 Greenhouse Gas emission goals, to reduce the city's energy use 80% by 2050. The Energy Team does this by funding various energy efficiency projects throughout the city including changing all of the city's street lights from high pressure sodium to LED and putting solar panels on the roofs of some of DOT's facilities. At Earth Day, DOT's Energy Team will showcase the new LED streetlights and show the public how these are more energy efficient than the older ones. Once DOT's LED streetlight conversion is completed, the city will save 54,844,732 kwh of energy annually, enough energy to power 7600 New York State homes for a year!
Green Infrastructure on NYC Streets: The New York City Department of Environmental Protection, New York City Department of Transportation, and other city agencies are collaborating to install green infrastructure (such as rain gardens) in NYC to collect stormwater in order to reduce polluted "combined sewer overflows" into the City's waterways. The rain gardens offer other benefits too, including adding trees and plants to the street, reducing flooding, reducing the urban heat island effect, and calming traffic to help the city reach its Vision Zero safety goals. Stop by to view a model of a rain garden (bioswale), as well as samples of permeable pavement that water can flow through.
Learn about Air Quality and Health in NYC: The New York City Health Department is working hard to protect New Yorkers by monitoring air quality across the city through its New York City Community Air Survey. Stop by the Health Department's booth to learn more about traffic-related air pollution and health, see how your neighborhood's air quality compares to others, check out the Environment and Health Data Portal and witness an air monitor working in real time.
NYC Department of Sanitation: The Department of Sanitation (DSNY) keeps New York City healthy, safe and clean. DSNY's goal to contribute zero waste to landfills by 2030 helps New Yorkers protect our environment. Visit DSNY to learn how to keep garbage from landfills and receive a free reusable bag (while supplies last)!
Artists + City: A public conversation conceived by Mary Miss, Public Artist in Residence at the NYC Department of Design and Construction. Drop by to join a conversation between an Artist and a DDC expert in engineering, architecture, resiliency, or sustainability. We will be discussing ways to imagine our future city and how to connect citizens to broader issues of urbanism. Kids can spin the Wheel of STEAM to test their Science, Technology, Engineering, Art, Architecture, and Math knowledge for the chance to win prizes.
East Side Coastal Resiliency (ESCR) Project: The City of New York's East Side Coastal Resiliency (ESCR) Project aims to reduce coastal flooding impacts, improve resiliency, and enhance the community connections to the East River between Montgomery and East 25th Streets following Hurricane Sandy. The ESCR tent has project information and staff available to explain the project, and a sign-up sheet to join the project mailing/e-blast list to be informed of upcoming project meetings and updates.
ThriveNYC is a roadmap designed to begin changing the way people think about mental health and the way City government and its many partners delivers services. Learn more about Mental Health First aid at Car Free Earth Day.
My Broadway 2040: The Department of City Planning's mission is to plan for the future of the city of New York, ensuring the long-term livability of the city's neighborhoods and the quality of the urban design that shapes them. With this in mind, the Department has created four principles that embody the city's urban design objectives: creating a sense of place; ensuring equity and accessibility; paying attention to the details; and designing spaces that make people feel good. Using these four principles as a guide, the Department of City Planning invites Earth Day participants to join them in an interactive drawing exercise to shape Broadway in the year 2040. What will the Broadway of the future look like? From urban gardens to autonomous cars, interactive signs and pedestrian streetscapes, "My Broadway 2040" gives participants a window into the future as they imagine it.
Enhancing the Urban Environment through the NYC Parks Sustainable Facilities Division: The Sustainable Facilities Division of NYC Parks focuses on developing revolutionary pilot projects that promise to enhance the overall urban environment. Our work functions as a highly visible gateway to model and actively teach best practices across the city. Projects at our table will include: green roof designs and applications, emerging technologies in the sciences, native versus exotic plant applications, a recycling relay race and a small-scale solar array demo.
Flatiron Plazas
Worth Plaza, 25th to 24th streets
Movement Creative challenges you to think and move creatively with a variety of physical challenges that will get you balancing, jumping, swinging, and more! We blend fitness, play, and the ethos of parkour to get you working out, moving functionally, and laughing while you're at it. All ages welcome.
Flatiron Plaza North 24th to 23th streets
Dance and Fitness Schedule
| | |
| --- | --- |
| 10:00 am | Athleta, Adult Bootcamp |
| 11:00 am | Gibney Dance, Dance Performance |
| 12:00 pm | Peoples Improv Theatre |
| 1:00 pm | Gibney Dance, Dance Performance |
| 2:00 pm | Athleta, Youth Bootcamp |
| 3:00 pm | The Hoop Movement, An Exhibition Hoop Jam |
Coach Cook (Sarah Diiorio): Maintaining an athlete mentality well into her 30's, Sarah, aka Coach Cook, believes there is an athlete inside all of us. It's not about how well you do it; it's about showing up and wanting it. The rest will come with great coaching and dedication! While her passion is driven by motivating others to dig a little deeper, her high energy personality has propelled her into participating in her own Tough Mudders and Spartans (amongst other OCR challenges) and can now call herself a marathoner, with several 26.2 milers under her belt. Equipped with AFFA, PIYO and Pre/Post Natal certifications, Coach Cook exercises her non-stop energy through high intensity and cardio inclusive WRKout approaches, guaranteed to get even the most hesitant attendees recognizing their inner athlete and coming back for more!
Adult Bootcamp: Sarah's Bootcamp is a high intensity body blast. With explosive movements and aerobic exercises, this WRKout will satisfy that cardio craving and body burn.
Youth Bootcamp: Do you dream Crazy Big? Do you want a class that will help you feel strong, confident, and totally awesome? Are you ready to rock your Inner Power? Then this class is for YOU! Designed for youth aged 8-13, Coach Cook will have you sweating, smiling, and striving for your best!
Reserve your spot today in one of Coach Cook's classes!
Hands are for Holding: Hands are for Holding is an interactive school-based program that uses dance as a tool for preventing violence and promoting healthy relationships. Professional dancers from Gibney Dance Company, as well as our troupe of Community Actionists, perform a series of dances that explore trust, negotiation, equality and comfort; issues essential for a successful dance as well as a healthy relationship. The dances provide a dynamic and unexpected point of entry for meaningful discussion, led by mental health professionals, focused on identifying signs of bullying, abusive relationships and providing preventative actions for young people. Hands are for Holding has reached almost 6,000 New York City students in the last three years to raise awareness of teen dating violence and provide strategies for seeking help or helping a friend. These events are facilitated in partnership with Day One and the Mayor's Office to Combat Domestic Violence. The one-hour, school-based Hands are for Holding program simultaneously addresses the socio-emotional health of young people, and exposes them to high-quality art. Appropriate for grades 4-12, the program uses dances, followed by talk-backs, to showcase elements common in romances or friendships that can be misconceived as love as opposed to warning signs of unhealthy relationships. Additionally it provides information on healthy communication, boundaries, respect and ways that young people can seek help if they ever find themselves in an abusive relationship.
Join top comedians from The Peoples Improv Theater (The PIT) as they perform improvised songs suggested by you. Hilarious songs and hummable melodies made up on the spot!
An Exhibition Hoop Jam: The Hoop Movement is a collective of movement artists, performers, and students who use the hula hoop as a dance partner and fitness tool. Seamlessly moving from one trick to another while dancing, they create art through an experimental movement and meditation practice called hoop dance. They aim to engage, entertain, and inspire New Yorkers to bring PLAY back into their adult lives by offering custom handmade hoops, hooping classes, workshops, performances, and events in New York City. The Hoop Movement is here to dazzle you with their amazing hula hoop skills! Come get inspired and then join in the fun of a "hoop jam," where they will play, perform, and promote the art of hoop dance. Join The Hoop Movement - you'll learn from the best, pick up a few tricks - AND - smiles are guaranteed!
Vita Coco Giveaways and Planting Workshop: Vita Coco will be hydrating walkers, bikers & runners all day on Car Free Earth Day! Stop by our tent and grab some fresh hydration & bring the kids to plant wheat grass in a Vita Coco tetra pack.
Flatiron Plaza South: 23rd to 22nd streets
Spin Ping Pong Expo and Free Play: SPiN is a network of international ping pong social clubs that combines a unique mixture of sport, design and entertainment with the vision of energizing people through art, music and events. SPiN is excited to participate in Car Free NYC: Earth Day 2017 event in the south side of the Flatiron Plaza. Expect ping pong pros, music, games and tons of chances to win awesome prizes.
Art & Trees: Trees New York's activities inspire students' interest and commitment to the environment while enriching their academic potential. Students increase their science-based concepts and vocabulary by learning the meaning of terms such as photosynthesis, urban forest, invasive insects, and pollinators. Our table will be interactive, where students can meet Trees New York's educators and make their own tree puppet. Students learn about the parts of the trees, why trees are important in urban settings and how to care for them. All participants will receive a copy of Trees NY's Street Tree Activity Book for Kids.
Low-Effort, High-Impact Ways to Go Green: Earth Day Initiative will provide interactive demonstrations of the benefits of clean, renewable energy and costs of dirty fossil fuels in connection with its Count to 50 campaign. The booth will also show attendees how they can go green by making quick, easy, and lasting lifestyle changes.
The Climate Museum: The mission of the Climate Museum is to employ the sciences, art, and design to inspire dialogue and innovation that address the challenges of climate change, moving solutions to the center of our shared public life and catalyzing broad community engagement. We are pleased to launch our first programming, starting in the fall of 2017, to build awareness as we establish an interim museum space for ongoing exhibitions and projects.
Community Gardens Are For Everyone!: Founded in 1996, New York City Community Garden Coalition's mission is to promote the preservation, creation, and empowerment of community gardens through education, advocacy, and grassroots organizing. On Earth Day, NYCGC will be celebrating the environmental and human diversity of community gardens.
QueensWay—NYC's Next Big Greenway: The Trust for Public Land and Friends of the QueensWay will highlight a unique opportunity to provide a 3.5 mile linear park and off-street bike route, spanning central Queens from north to south. The QueensWay table will feature a portable community engagement kit, which contains an interactive map and a series of game-like activities (developed by Hester Street Collaborative).
Get Connected to the Outdoors!: The Appalachian Mountain Club is your connection to the outdoors, providing conservation, education, and recreation programming for people of all ages and abilities. Stop by to learn about how we can help find the perfect connection for you and test your outdoor skills for a chance to win prizes!
Hudson Valley's natural wonders with Discover Outdoors: Discover Outdoors brings outdoor adventure to New York City's kids and adults. Today, we're bringing the outdoors to you, showing you some of our favorite plants and resources that are found right here in the Hudson Valley and demonstrating some survival skills tactics. You'll quickly see that the woods are full of hidden treasures and natural objects have potential to do more than you thought possible.
Finding Adventure without a Car: offMetro and Brooklyn Boulders will inspire you to adventure locally without a car. Stop by our table to look at maps, answer trivia questions for prizes and even get a link to a FREE guide to The Best Places to Adventure near NYC without a Car. offMetro is an award-winning green travel publication that makes it easy for people to plan day trips and weekend getaways—car-optional—from New York. The Brooklyn Boulders Foundation is a non-profit organization that serves to make climbing accessible to the public, specifically inner city youth and people with disabilities.
Bike Safety Inspection and Maintenance: Learn how to perform a simple, easy to remember bike safety inspection on your bike. Also, learn how to perform easy routine maintenance to keep your bike spinning like a top.
Riding a Tandem Bike: InTandem is a not-for-profit organization whose mission is to provide tandem cycling programs and opportunities to people with disabilities. InTandem will offer giveaways throughout the day and short demo rides to the public to experience riding on the back seat of a tandem bike alongside experienced captains taking the lead from the front seat.
Flatiron Plaza: 22nd to 21st streets
Learn more about Citi Bike: Citi Bike is excited to offer free rides on Car Free Earth Day available through the Citi Bike app! The Citi Bike Squad will be available at two Citi Bike stations located at Broadway & E 22nd Street, Broadway & E 17th Street and Broadway and 32nd Street offering free giveaways plus $25 off annual membership discount for new and renewing members with the opportunity to sign up, get your key on the spot and start riding right away.
Union Square Plaza
Union Square Plaza: 18th to 17th Streets
| | |
| --- | --- |
| 10:00 am | HIIT Boot Camp with Juan Hidalgo: A bodyweight-based workout full of fun, yet challenging, strength and conditioning moves. |
| 11:00 am | Cardio Sweat Party with Michele Gordon: Recognized as NYC's Top 3 Cardio Dance classes to take, the name says it all! Cardio Sweat Party mashes up kickboxing and dance with high intensity athletic drills, resistance training, and motivational mantras to energizing music to leave you feeling empowered to take on whatever comes your way! Expect to walk away feeling high off cardio. |
| 12:00 pm | Yoga with Patricia Pinto of Yoga Vida: Please join us for an-open level vinyasa yoga class. Expect to move through a steady, grounding flow of postures, balanced with some breath work, designed to help out clear tension and toxins. We will begin with a warming sequence, flow into sun salutations and close out with a short guided meditation. |
| 1:00 pm | Intensati with Patricia Moreno: Train your body, mind and spirit with this powerfully invigorating practice. intenSati combines empowering affirmations with interval training, martial arts, dance and yoga. You will leave class feeling stronger, uplifted and inspired. |
| 2:00 pm | DanceBody: A dance-inspired fitness experience that takes   everything you've got. |
| 3:00 pm | Boot Camp with Kenneth Ferrer: This class will challenge your mind and body, with well thought-out full body sequences that will leave you feeling strong and accomplished. |
Union Square: Center of 19th and Early 20th Century Political New York: This tour will examine Union Square and its surrounding area, pointing out the significant political events that occurred there and describing the fabulous and important monuments in Union Square Park. The tour will be loosely structured around Gregg LeFevre's 'Union Square Timeline'. Among the monuments discussed will be Henry Kirke Brown's monumental statute of George Washington, the statute of the Marquis de Lafayette, and the Charles Francis Murphy flagpole. The tour will also discuss such important events such as the rally during the Civil War, the labor rallies with such orators as Emma Goldman in the early part of the 20th century, the spontaneous memorial services in the days after 9/11 for the victims of the World Trade Center Bombing and the Greenmarkets in honor of Earth Day. The tour will then visit the last standing Tammany Hall on 17th Street, the Washington Irving House and will end at Pete's Tavern on 18th Street.
Meet: 10:30 at the NE corner of 17th Street and Broadway next to Petco. The tour is free of charge. Registration is not required.
James Kaplan is President of the Lower Manhattan Historical Association. He has led over 200 walking tours over the past 25 years, including his annual all-night July 4th Revolutionary Heroes walking tour through Fraunces Tavern Museum. He has written prolifically on numerous figures in American history, with a special interest in "unsung heroes." He was recently awarded the Coin of Excellence by the U.S. Army's Regimental Association for his work in promoting knowledge about General Horatio Gates, the first Adjutant General of the U.S. Army. He is also an attorney specializing in taxes and estates. He received his undergraduate degree from Yale University and his law degree from Columbia.
Abby Suckle FAIA is an architect practicing in New York City. As President of cultureNOW, she has designed and distributed over 650,000 cultural and historical maps of New York, most recently the Lower Manhattan Then and NOW map completed in 2016.  cultureNOW is building a museum of the built environment using smartphone technology. Ms. Suckle is a Fellow of the American Institute of Architects, the 2009 recipient of the New York State Fellows Award and served as Vice President for Outreach at the NY Chapter of the AIA. She received her undergraduate degree from the University of Pennsylvania and her Architectural Degree from Harvard Graduate School of Design.