FOR IMMEDIATE RELEASE
Press Release #16-003
January 12, 2016
Scott Gastel/Gloria Chin (212) 839-4850
NYC DOT Announces Closures This Weekend of Harlem River Drive Ramp to the Trans-Manhattan Expressway for Interim Rehabilitation of the Ramp
The New York City Department of Transportation today announced the start of road closures related to the interim rehabilitation of the Harlem River Drive (also known as the Trans-Manhattan Expressway) Connector Ramp. Beginning 12:01 A.M. on Saturday, January 16 through 8 A.M. on Monday, January 18, which is Martin Luther King Jr. Day, there will be a full two-lane closure in the southbound direction and a single-lane closure in the northbound direction.
This is the section of roadway along Route 1/I-95 between the George Washington Bridge and the Alexander Hamilton Bridge, which crosses the Harlem River. The connector ramp connects the expressway to the Harlem River Drive on Manhattan's east side in both directions.
Variable message signs will be installed and traffic control agents will be posted to direct traffic to alternate routes.
Suggested alternatives for travel include:
Southbound: From the George Washington Bridge, motorists may use the southbound Henry Hudson Parkway or continue eastbound over the Alexander Hamilton Bridge to the southbound Major Deegan Expressway. To access the Harlem River Drive for destinations further south in Manhattan, motorists may use the Macombs Dam, Madison Avenue or Third Avenue Bridges.
Northbound: Motorists may continue on the Harlem River Drive to Dyckman Street and then south on Broadway to 179th Street to access the George Washington Bridge – OR – motorists may exit the Harlem River Drive at the 8th Avenue/W. 155th Street exit and use Amsterdam Avenue northbound for bridge access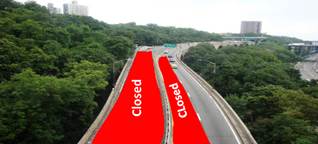 —30—