FOR IMMEDIATE RELEASE

Scott Gastel/Bonny Tsang (212) 839-4850
NYC DOT to Install Steel Protection Beam at East 90th Street On FDR Drive
Work will require full overnight closure of FDR Drive in southbound direction from East 96th to East 78th streets.
The New York City Department of Transportation (DOT) will install a steel protection beam to prevent over-height vehicles from striking the overpass at 90th Street on the Franklin D. Roosevelt (FDR) Drive. The work will be conducted on Saturday, October 18 and Sunday, October 19 and require full closure of the southbound FDR Drive from East 96th to East 78th streets from 2 a.m. to 7 a.m. The left lane on the northbound FDR Drive will be closed near the worksite at East 90th Street starting at 10 p.m. All lanes will reopen at 7 a.m.
During this project, motorists will be guided to exit the FDR Drive at East 96th Street, make a left on 2nd Avenue, and proceed south until East 79th Street, ending at the service road where they can enter FDR Drive again. DOT is coordinating with NYPD, which will post Traffic Control agents along the detour. Signs indicating the detour route will be installed as additional guidance.
Work is dependent on the weather and will be rescheduled for the weekend of October 24-26 if necessary.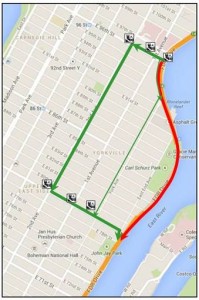 For more information about DOT's work, please visit www.nyc.gov/dot.
—30—