FOR IMMEDIATE RELEASE

Scott Gastel/Bonny Tsang (212) 839-4850
NYC DOT to Resurface Portions of the Belt Parkway from Flatbush Avenue to Rockaway Parkway
Work will require full overnight closure of Belt Parkway in eastbound direction.
As the New York City Department of Transportation (DOT) continues to address roadways across the five boroughs this year, crews will be milling and resurfacing key portions of the eastbound Belt Parkway between Flatbush Avenue and Rockaway Parkway from 11 p.m. until 5 a.m. beginning on Monday, September 15 to provide a safer, smoother roadway for Brooklyn drivers. The closures will occur Monday nights through Saturday mornings and last for approximately three weeks.  During this project, motorists will be guided through a detour route, which exits at Flatbush Avenue, proceeds to Utica/Flatlands Avenues, then East 76th Street/Paerdegat Avenue, Seaview Avenue and returns to the Belt Parkway via Rockaway Parkway. Flatlands and Pennsylvania Avenues become a designated alternate route. DOT is coordinating with NYPD, which will post traffic enforcements agents along the detour. Signs indicating the detour route will be installed as additional guidance.
Work will not occur on the nights of Wednesday, September 24, and Thursday, September 25, in observance of Rosh Hashanah. Work will resume on the night of Friday, September 26.
In the coming weeks, DOT will announce full closures for the westbound Belt Parkway as details are made available. This resurfacing is the latest effort as DOT roadway crews prepare for the upcoming winter season. For information about DOT's ongoing efforts to address potholes and maintain more than 6,000 miles of roadway, please visit www.nyc.gov/dot, and please report any pothole condition to The Daily Pothole or to 311.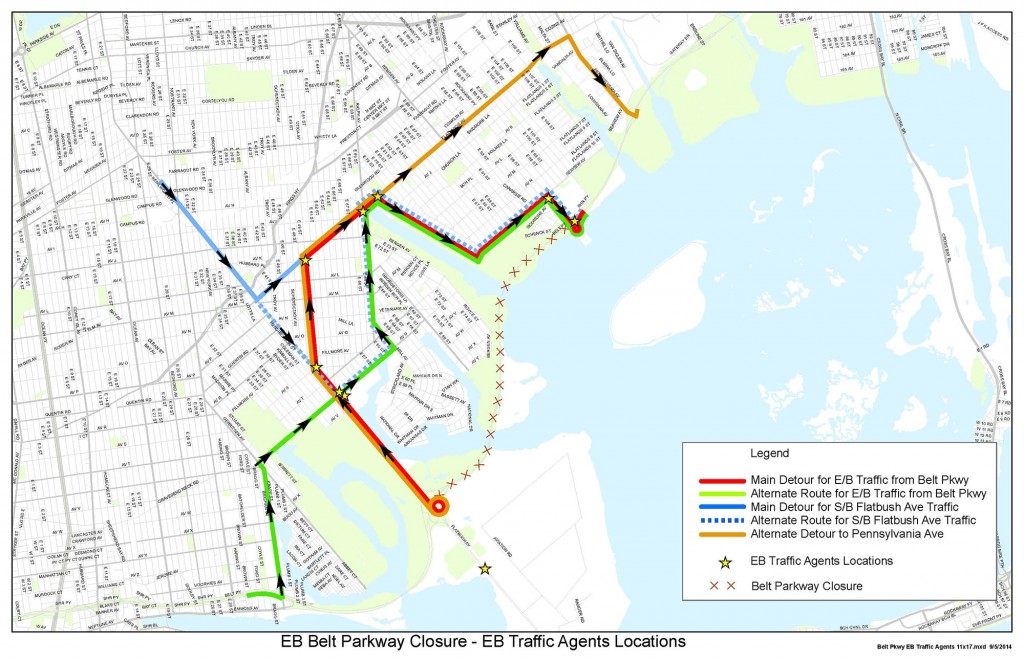 —30—