DOT Releases Preliminary Truck Study Recommendations
Release #06-09
Friday February 10, 2006
The New York City Department of Transportation (DOT) today unveiled several preliminary recommendations from its Truck Route Management and Community Impact Reductions Study. This agency led analysis seeks to coordinate engineering, education, information and enforcement efforts to mitigate the negative impacts of truck traffic and improve the City's overall truck management system. The recommendations, made by the engineering consulting firm Edwards and Kelcey Engineers, Inc., target five critical areas of truck route management: truck route signage, enforcement, engineering and routing improvements, regulatory and policy changes and education and community outreach.
"This is the most comprehensive step the City has taken in the last quarter century to address the impacts of truck traffic," said DOT Commissioner Iris Weinshall. "It's a monumental undertaking, but we're confident that we will be successful in improving the truck route system and reducing the negative impacts of truck traffic in our residential neighborhoods."
Edwards and Kelcey's Recommendations Include:
Establishing a DOT Office of Freight Mobility to coordinate education, enforcement and goods management issues and serve as a point of contact for residents, businesses and truckers with truck-related concerns.
Redesigning the City's "positive" truck route signage with easier to read signs and a system of placement standards to provide drivers with better information particularly on the approaches to major intersections and at decision points.
Revising the City's "negative" sign policies to allow for prohibitive signs to be placed at appropriate locations based on land use, residential development, roadway characteristics and traffic circulation. Examples of positive and negative signage are provided below:




Providing improved information about truck route enforcement to NYPD officers and administrative law judges. The study recommends, for example, to better enable officers to conduct truck related enforcement by providing them with a laminated placard containing a precinct-level truck route map, abbreviated regulations and additional truck related enforcement information: An example of the proposed placard is provided below: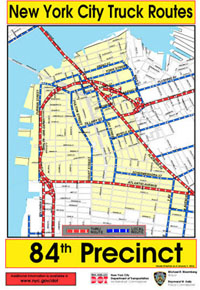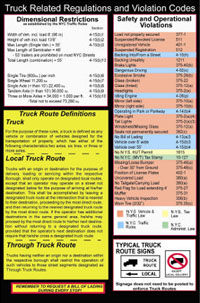 Pursuing changes to the City's current truck routes. In addition to changes already initiated in Hunts Point and Red Hook, examples include:

To reduce congestion on residential streets in the East Williamsburg and Greenpoint communities, the consultant recommends additional truck routes, including portions of Varick and Morgan Avenue to better connect industrial areas to the truck route network.
To provide better access to the Industrial section of Sunset Park on non-residential corridors such as 44 th Street.
To keep trucks off of a residential portion of Grand Avenue in Maspeth, put in place a "bypass" route, once appropriate engineering improvements on the bypass are made.
Making engineering improvements to facilitate safer and more appropriate truck movements, including expanding the City's wide turning zone initiative, placing stop bars, turning restrictions, daylighting and other intersection improvements.
Initiating a pilot project in Staten Island for a nighttime restriction on truck traffic on routes that go through residential neighborhoods.
Improving education and outreach, including updating the City's truck route map into a single, Citywide map; creating a "One-Stop" portal for truck related information on DOT's Web site; and continuing to work with Hagstrom and other road atlas providers to encourage them to include NYC truck route information in their products.
The Department expects the draft consultant report, including more detailed recommendations, to be completed shortly and a third round of community forums to be held by the end of April. For a summary of the consultant's preliminary recommendations, please visit: www.nyc.gov/dot.
###
Contact: Kay Sarlin (212) 442-7033
Chris Gilbride