Pedestrians
Pedestrian Network
DOT works to transform New York's streets to improve pedestrian safety, increase accessibility and enhance the environment. DOT's multidisciplinary teams of planners, engineers and urban designers work on projects that vary from the creation of new plazas out of underused roadways, to longer-term capital projects that can take between 10 months to 10 years to complete depending on the complexity of the project. A typical project results in shorter, direct crosswalks; more usable public space; and safe, comfortable travel paths for pedestrians, cyclists and motorists alike.
Increasing Public Space
2012–
Louis Niñe and Intervale Safety Improvements
This traffic calming project reduces speeding while increasing public space and greenery along Louis Niñe Boulevard. A new sidewalk extension improves access to transit and provides a safe waiting area for bus riders. Download the presentation (pdf)
Delancey Street Safety Improvements
DOT has proposed comprehensive safety and traffic flow improvements for Delancey Street, a key Manhattan artery for pedestrian and motor vehicle traffic. The upgrades include shortening many crosswalks along the corridor, clarifying and delineating travel lanes, improvements to traffic signal timing and an enhanced streetscape at the entrance to the Williamsburg Bridge. Download the presentation (pdf)
Grand Concourse-Mosholu Parkway Pedestrian Safety Improvements
The northern blocks of Grand Concourse at the Mosholu Parkway will have shorter crosswalks, a new bus boarding plaza, improved walking and biking access with an all-around safer street design. Learn more (pdf)
Varick & Canal Pedestrian Safety Improvements
Pedestrians have found crossing Holland Tunnel entrances daunting. These plans will make walking in the neighborhood easier and safer with new crosswalks, landscaped areas and clarified vehicle movements. Download the presentation given to the Transportation Committee of Manhattan Community Board 2 on June 6, 2012
Midtown Midblock Enhancements
Known by thousands who work and live in the neighborhood, public arcades run mid-block from West 51st to West 57th Streets between Sixth and Seventh Avenues. In response to community requests asking for safety improvements and corridor enhancements, DOT has developed a plan to connect the midtown arcades, which are privately-owned public spaces by installing stop signs, crosswalks (some raised), and pedestrians-only waiting areas. These improvements will allow pedestrians to cross safely between blocks through the entire passageway. Download the Midtown Mid-Block presentation slides (pdf)
Old Fulton Pedestrian Enhancements
DOT has developed a design in response to community requests that will reduce illegal parking while improving pedestrian and bicycle access between the Brooklyn Bridge promenade and Brooklyn Bridge Park. The project includes expanded sidewalks, landscaped concrete islands, shortened crossings, and marked bicycle lanes Download the presentation Download an update on the project (January 2012)
Bowling Green Pedestrian Improvement
Pedestrians currently crowd into the roadway around the Charging Bull south to Bowling Green. The improvements will add space for pedestrians to Whitehall Street's excessively wide roadbed. A beige surface treatment will be protected by flexible delineators and planters maintained by the Downtown Alliance. Download the presentation
2011
Grand Army Plaza
Building upon past improvements at Grand Army Plaza, DOT is redesigning the northern and southwest sections of Grand Army Plaza. Improvements will include landscaped islands and crosswalks, safety measures for all users, enhanced plaza space at the entrance to Prospect Park and north of the arch, and improved bike access. Project Presentation (pdf) Photos of the finished project (pdf)
2010
Broadway and Union Square Improvements
Union Square, one of New York City's most important and historic intersections and public places will receive safety and quality of life improvements this summer. The changes extend improvements made in 2008 and 2009 to Broadway between Columbus Circle and Madison Square Park, bringing safety changes, traffic simplification, plazas, greenery and bike paths south to Union Square. Project presentation (pdf) Project Fact Sheet (pdf) Project Update (August 2011)
Water and Whitehall Streets Plaza
A redundant slip road will become a new plaza diagonally across from the newly refurbished Peter Minuet Plaza in front of Manhattan's Staten Island Ferry Terminal. The intersection will have a simpler traffic pattern, shorter crosswalks and honor the historic Army Induction Center that stood on the block from 1884 to 1969, its eight story skeleton hidden within a modern high-rise. Water and Whitehall Project Presentation Project Update (October 2010)
Southern Boulevard & Crames Square, Bronx
The complex, five-legged intersection of Hunts Point Avenue, East 163rd Street and Southern Boulevard in the Bronx suffers from safety problems for pedestrians, traffic congestion and overall confusion. Based upon collaboration with community members, DOT will shorten crosswalks and add landscaped refuge islands in order to reduce congestion and increase safety for all users. These changes can be evaluated to determine what permanent measures might be constructed. Crames Square Project Presentation (pdf)
St. Nicholas & Amsterdam Avenues Intersection Redesign
New, landscaped improvements will simplify this complex, multi-legged intersection. The changes answer the community's pedestrian safety concerns, provide better bus waiting areas, maintain bicycle access, and enhance access to historic Sylvan Terrace and the Morris-Jumel Mansion. Project Presentation
2009
Park Circle, Brooklyn
DOT redesigned Park Circle to improve safety for pedestrians, motorists, bicyclists and horse riders, while improving access between Prospect Park and the surrounding neighborhoods. Community input helped to shape and refine the project goals and design. February 2009 presentation June 2009 presentation Photos of the finished project (pdf)
Green Light for Midtown

DOT's Green Light for Midtown improved the pedestrian experience along the Broadway corridor by greatly improving safety and providing programmed plaza space for all to enjoy. Project page
Allen/Pike Street Improvements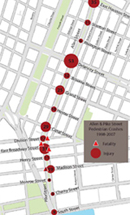 In 2009, DOT will improve pedestrian safety on Allen and Pike Streets from East Houston Street to the water's edge at South Street; while creating a pilot expansion and enhancement of the malls. In addition to widened malls, the plan includes new separated left turn lanes, new crossings between the malls, protected bicycle lanes located adjacent the current malls and new public spaces where the center malls will connect through six intersections. Project Presentation (pdf) Update on the completed project (May 2010, pdf)
2008
Madison Square
New plazas surround one of NYC's iconic tourist attractions: the Flatiron Building. Fifth Avenue reverts to its historic role as a major corridor. Broadway narrows and communities to the east and west have been knitted together by people-friendly spaces. Project Presentation (pdf) Photos of the complete project (pdf)
Broadway Boulevard - Times to Herald Square
NYC's prime destinations for entertainment to the north and shopping to the south, are being connected with a ribbon of public gathering spaces and a curbside protected bicycle lane on Broadway between West 42nd and West 35th Streets. Project Presentation (pdf) Photos of the complete project (pdf)
Bronx Hub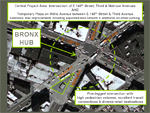 This project redefined the Bronx Hub with pedestrian safety improvements and a new public plaza. The project provided a popular transit transfer point and pedestrian shopping destination with additional sidewalk and public space and new bicycle facilities connecting the Hub with other important destinations in the Bronx, Manhattan and beyond. The intersection redesign of East 149th Street and Third & Melrose Avenues benefits pedestrian, bicycle, transit and traffic operations and provides Hub visitors and transit passengers with an attractive public space in which to experience all the area has to offer. Project Presentation (pdf) Project Images (pdf)
Gansevoort Street
DOT partnered with local community organizations to build instant plazas on cobblestone streets, creating a vibrant space for nightlife or midday retreat. Project Presentation (pdf) Photos of the completed project (pdf) Interim Report on Traffic and Pedestrian Use (pdf)
City Hall Sidewalk
DOT converted a wide sidewalk into an extension of the park by providing tables and chairs. Project Image
2007
Grand Army Plaza
New islands and crosswalks now connect Grand Army Plaza and Prospect Park with each other and two neighborhoods previously divided by heavy traffic. Project Presentation (pdf) Project Images (pdf) Read the press release
Ninth Avenue & West 14th Street, Manhattan
A new tear drop plaza transformed Ninth Avenue's 100' long north crosswalk into two short ones, with smaller plazas across the street. Project Presentation (pdf) Project Images (pdf)
Pearl Street, DUMBO, Brooklyn
DOT partnered with local business owners to transform a parking lot into community open space, giving DUMBO a new center. Project Images (pdf) Press Release
2006
Willoughby Street, Brooklyn
Looking like any little-used road until the plaza furniture was put out...then people were sitting moments after the chairs left their boxes. Images of the completed project (pdf)
Safety and Greening
2012
Jewel Avenue Traffic Calming
DOT proposes there improvements to the intersection of Jewel Avenue and 69th Road to increase pedestrian safety across highway ramps and improve vital community access on the only non-expressway road through Flushing Meadows-Corona Park. Learn more (pdf)
Bartel-Pritchard Square Pedestrian Improvements
In response to requests from the community, DOT is pursuing safety improvements at this traffic circle between Park Slope & Windsor Terrace. A new signal has been added to protect pedestrians crossing 15th Street. Other improvements are proposed such as shorter pedestrian crosswalks with painted sidewalk extensions. Download the presentation (pdf)
2011
Washington Avenue Safety Improvements, Brooklyn
At the community's request for safety improvements, DOT collaborated with local groups for planned shorter crosswalks, a new planted median on Atlantic, expansion of Lowry Triangle Park and sidewalk with trees at Park Place. Download presentation given to Community Board 2 (February 2011) Download presentation given to Community Board 8 (April, 2011)
36th Avenue and Vernon Boulevard Intersection Redesign
New sidewalk extensions at Vernon Boulevard and 36th Avenue between the Roosevelt Island Bridge roadway and service roads in Queens will enhance pedestrian safety and access. Download the presentation (pdf)
48th Avenue Traffic Calming
The community requested a study of 48th Avenue in Hunters Point. In response, DOT developed a plan that will calm traffic and serve local businesses between Vernon Boulevard and Fifth Street. The proposal provides parking on both sides of a painted median and increases pedestrian safety by installing large painted refuge areas that shorten crosswalks and can become a permanent landscaped median in the future. Download the presentation (pdf)
Macombs Road Traffic Calming
This traffic calming and pedestrian safety project will reduce speeding while increasing public space and greenery along a wide, curving corridor that is home to large residential buildings, playgrounds and schools. Download the presentation (pdf)
2010
Harlem River Park Gateway, Manhattan
In response to community requests for improved access to the new Harlem River Park and increased pedestrian safety, DOT worked with the Harlem River Park Taskforce and the Harlem Community Development Corporation to develop a plan for pedestrian refuge islands, shorter crosswalks and clearer access points to the park. Download the presentation
Columbia Street Bicycle Lane Extension
In 2009, DOT installed two pedestrian refuge islands and bike lanes on Columbia Street from West 9th to Bay Street. The 2010 project extends the bike lanes and traffic calming to IKEA and the waterfront park. In response to feedback from stakeholders, DOT has updated the project. Download the updated presentation Download the original presentation Photos of the completed project (pdf)
Hoyt Avenue-RFK Bridge Improvements, Queens
The RFK Bridge touches down into the bustling heart of Astoria with connections to the Grand Central Parkway and local streets. This crossroads serves subway and La Guardia Airport bus passengers, as well as locals moving to and from various neighborhood destinations. DOT will shorten crosswalks, tweak traffic patterns, modify signal timing and phasing, add green elements, and most importantly create new public space in an area that sees hundreds of pedestrians a day. Project Presentation Proposed bicycle mprovements and traffic calming Photos of the finished project (pdf)
Randall/Leggett/Tiffany Avenues Improvement, Bronx (June 2010)
To provide access to Barretto Point Park, and in response to recent bicycle and pedestrian fatalities, DOT is implementing a traffic calming project for the length of Leggett/Randall Avenues and Tiffany Avenue within the Hunts Point neighborhood of the Bronx. The project includes bike lanes, center medians, crosswalks, and landscaped concrete islands at key intersections. The goal is to slow truck movement and make the area more accessible to all users. Project Presentation (pdf)
Avenue C and East 18th Street
In response to community requests to improve pedestrian safety and access at Avenue C and East 18th Street—the crossroads of a ramp for the FDR Drive, Murphy Park, the East River Greenway, and Stuyvesant Town—a large landscaped pedestrian refuge island was constructed to shorten the crossing distance and calm traffic. Project Presentation (pdf) Photos of the finished project (pdf)
Crotona Avenue
Crotona Avenue bisects Crotona Park in the Bronx and the community requested traffic calming measures to slow speeding vehicles. This spring, DOT will install Class 2 bike lanes and six pedestrian refuge islands on Crotona Avenue from Crotona Park South to Crotona Park North to calm traffic, increase safety and improve pedestrian and cyclist conditions within the park. Project Presentation (pdf)
2009
Columbia Street, Brooklyn
This project calmed traffic in Red Hook through the installation of a green median where Columbia Street widens. The median provides a refuge for crossing pedestrians and helps to connect the neighborhood while adding a green amenity. Striped bicycle lanes provide a connection to the existing Brooklyn Waterfront Greenway. Project Presentation Photos of the finished project (pdf)
Metropolitan and Bushwick Avenues, Brooklyn
The traffic calming of Metropolitan and Bushwick Avenue in the Cooper Park area of Brooklyn will increase pedestrian safety and access. The ideas were first proposed by neighborhood residents through their local Community Board. Landscaped pedestrian refuge islands at both Humboldt and Bushwick Avenues along Metropolitan will reduce conflicts while improving the streetscape for all road users. The sidewalk expansion on Orient Avenue at Metropolitan will provide a shorter crossing distance with a new crosswalk. It will also feature a NYC Parks & Recreation landscaped drainage swale. For more details see the presentation to Brooklyn Community Board 1. Project Presentation (pdf)
Schermerhorn Street- Transit Plaza, Traffic Calming and Bicycle Parking
This project will create a roadbed plaza at the corner of Hoyt and Schermerhorn Street in front of the subway station. The plaza will provide space for bicycle parking, pedestrian circulation and will prevent illegal parking on the sidewalk. Project Presentation (pdf) Photos of the finished project (pdf)
Flatbush Avenue at Church Avenue, Brooklyn
Flatbush Avenue at Church Avenue will be improved for pedestrian safety and to reduce traffic congestion. The changes clarify the path for through-traffic smoothly around double-parked vehicles mid-block and left-turning vehicles at the intersection. Pedestrian exposure to vehicles in the crosswalks will be reduced. Project Presentation (pdf)
12th Avenue at West 135th Street, Manhattan
DOT installed a green median on a wide portion of 12th Avenue at West 135th Street. The median allows for two-way traffic on a previously one-way street, improving vehicular access to a row of recently developed restaurants/night clubs. The landscaped median also increases safety and aesthetics for pedestrians accessing Riverside Park. Project Presentation (pdf) Photos of the finished project (pdf)
Jackson Avenue, Queens
The 2009 improvements at Jackson Avenue and the Pulaski Bridge in Queens, improve pedestrian safety and enhance the streetscape of this burgeoning neighborhood. The project responds to community concerns about the lack of a south crosswalk at the bridge. This new crosswalk benefits residents as well as transit riders transferring from bus to subway. Pedestrian refuge islands make crossings safer and a separate signal for right-turns coming off the bridge removes conflicts from the east crosswalk. For more details see the updated presentation that was presented to Queens Community Board 2. Project Presentation (pdf)
2008
East Tremont Avenue, Bronx
Where there was once a small painted island, DOT built a new 1,750 sq. ft. landscaped island, along with new crosswalks and pedestrian ramps, creating a safe and attractive place for Lehman High School students navigating traffic approaching the Hutchinson River Parkway. Project Presentation (pdf) Project Images (pdf)
Grand, Maspeth & Flushing, Queens
Two slivers of traffic islands were connected to discourage illegal truck movements, improve safety and create a landscaped plaza to be maintained by a merchants group. Project Presentation (pdf) Project Images (pdf)
Vanderbilt Avenue, Brooklyn
DOT put this four lane street into a "road diet." The slimmed down version has two vehicle lanes with bike lanes, a median and green refuge islands and the same carrying capacity. Project Presentation (pdf) Project Images (pdf)
Canal & Forsyth Streets, Manhattan
Manhattan bridge access and safety project. Eliminated conflicts with bikes through sidewalk widening, added a planted median separating the bike lane and shortening crosswalks on Canal Street. Project Images (pdf)
2007
Carlton Avenue, Brooklyn
A wide, one way, residential street transformed into a two-way street with bike lanes and two long medians with 30 trees. Project Presentation (pdf) Project Images (pdf)
Green Refuge Islands
A new pedestrian refuge island design incorporates landscaping for safety as well as neighborhood enhancement. Each island incorporates a tree for visibility, wider cut-throughs to comfortably accommodate groups of pedestrians in the crosswalk, adjacent sidewalk space for pedestrian overflow, and protection from turning vehicles on the intersection-side of the island. Hillside Avenue, Queens (pdf) Northern Boulevard, Queens (pdf) Ninth Avenue, Manhattan (pdf) Lafayette Avenue, Bronx (pdf) Grand Street, Manhattan (pdf) Broadway, Williamsburg: presentation (pdf) and project images Vernon Boulevard, Queens (pdf)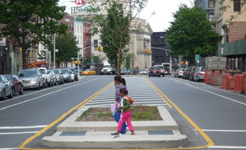 Pedestrian Oriented Reconstruction Projects
In Preliminary Design
Tillary Street
The gateway to Brooklyn, from the historic Brooklyn Bridge, will soon be redesigned as part of a capital reconstruction project, anticipated to take place in 2012 with a multi-million dollar budget, encompassing all of Tillary Street and portions of Adams Street. DOT is currently soliciting public input on the design and function of this vital gateway. Project Presentation (pdf) Brooklyn Bridge Gateway Reconstruction Project Page
In Final Design
East Houston Street
New on-street bicycle lanes and raised landscaped medians will be added along with neckdowns to shorten crosswalks. East 1st and 2nd Streets will be realigned to create landscaped plazas and simplify the current multi-legged intersections.
Astor Place—Cooper Square, East Village
Landscaped streetscapes, larger Cooper Park, new Astor Place and subway island plazas, and a large community park southwest of a newly normalized Fourth and Third Avenue intersection.
Herald Square
In 2000, DOT added temporary improvements such as shortened crosswalks and larger sidewalk areas to the complex intersection of Broadway's crossing of the Avenue of the Americas at West 34th Street. These safety improvements were expanded upon during the recent Green Light for Midtown project with the closure of Broadway between West 35th and West 33rd Streets. All of the changes are being considered in the final design phase.
Constructed
Grand Concourse, East 161st Street to East 166th Street
DOT narrowed service roads with raised planted medians and built Lou Gehrig Plaza in what had been a parking lot. DOT shrank the intersection of East 161st and Grand Concourse with shortened crosswalks and eliminated the merge between the Service Road and Main Line. Next, DOT will build permanent raised planted malls replacing the temporary planters between East 166th and East 171st Streets. Project Presentation (pdf)
Fifth Avenue, Bay Ridge
Neckdowns and enhancements were added to this 2004 reconstruction project.
Manhattan Avenue Road-End Park
This 2007 project carved away part of a parking lot to provide the community a waterfront Manhattan-skyline-view park on Newtown Creek with a kayak launch.