DOT Art Program Overview and Opportunities
DOT Art partners with community-based, nonprofit organizations and professional artists to present temporary public art on DOT property for up to 11 months. Artists transform streets from ordinary to extraordinary with colorful murals, dynamic projections and eye-catching sculptures. Sidewalks, fences, triangles, medians, bridges, jersey barriers, step streets and public plazas serve as canvases and foundations for art. Projects are presented within four program tracks: Arterventions, Art Display Case Exhibits, Barrier Beautification, and Community Commissions. Special Projects are also produced throughout the year.
Program Tracks
Community Commissions Barrier Beautification Arterventions Art Display Case Exhibits Special Projects
Upcoming Deadlines
Coming Soon
Community Commissions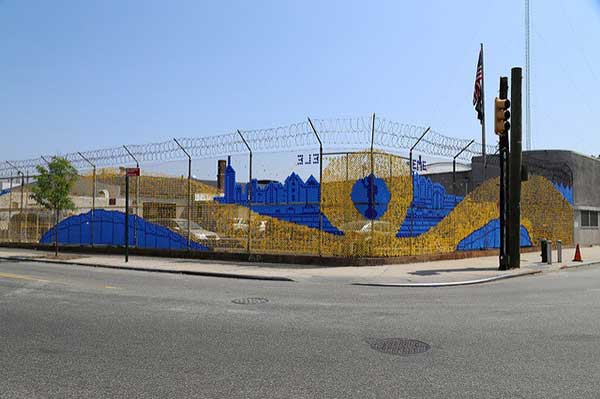 DOT Art collaborates with community-based organizations to commission artists to design and install temporary art on DOT property. A minimum of one priority site is identified by local organizations with support from DOT Borough Offices and Operating Units in each borough per application cycle. Selected artists are eligible to receive up to $12,000 towards direct project costs in addition to engineering support. Partner organizations work closely with selected artists throughout the project phases and must agree to maintain the artwork and remediate the site upon completion of the display period. Artwork remains installed for 11 months.
Submission Deadline: Coming Soon
Community Commissions projects on Flickr
Barrier Beautification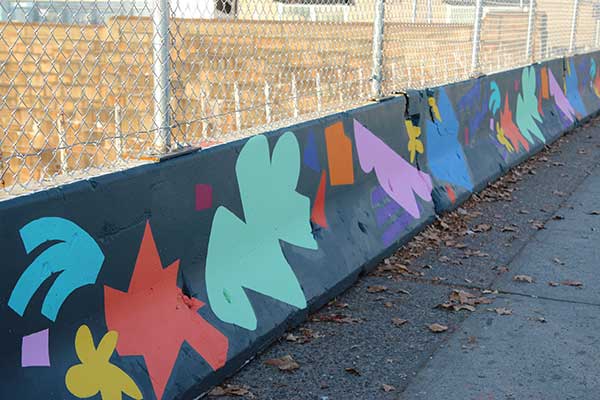 DOT Art collaborates with volunteer organizations to beautify concrete barriers with bold, colorful murals that are designed by professional artists but painted almost entirely by volunteers. Barriers located along protected bike lanes or active sidewalks serve as canvases for art. DOT Art provides selected artists with a design honorarium of $2,500 and a materials fee of $500 for stencil production. DOT Art provides paint and associated materials at no cost to the artist, and coordinates volunteer recruitment and secures volunteers to implement the mural on a single day in fall and spring. Murals remain installed for 11 months.
Submission Deadline: Spring 2019 Barrier Beautification projects on Flickr
Arterventions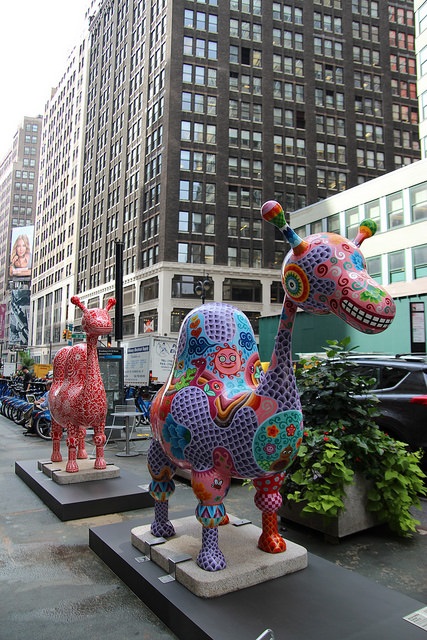 DOT Art partners with galleries, arts and community organizations and business improvement districts to install existing or new artwork on DOT property. Proposals are typically associated with an exhibition on view in a neighboring gallery, or an artwork that has been produced in conjunction with a local festival. The proposal must be fully funded by the organization. Interested organizations and artists must submit a joint application. Organizations are responsible for engineering review, artwork maintenance during the display period and site remediation upon completion of removal. Artwork typically remains installed for 3 to 6 months.
Applications are accepted on a rolling basis and must be submitted at a minimum of 60 days in advance of the proposed installation date. If a non-profit organization or fellow City agency is interested in presenting multiple art installations at one time as part of a festival or event, please approach DOT Art as soon as possible to ensure the project deadline is attainable.
Download the Site Selection Tips Guidelines Download Arterventions 2018 - 2019 Application (pdf) Arterventions projects on Flickr
Art Display Case Exhibits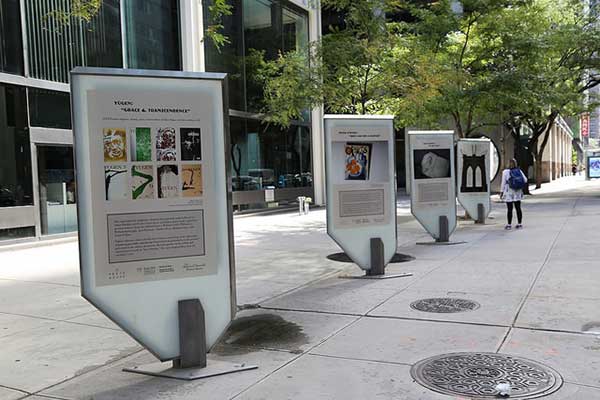 DOT Art partners with local institutions and artists to curate dynamic, changing exhibits on a set of moveable art display cases. Images proposed for the exhibit should have a cohesive underlying theme; each with a thoughtful composition adding to the overall story of the exhibition. An artist's vision, body of work and technique should also be conveyed through an image. The cases are typically installed in sets of three or four on wide sidewalks or within plazas as they must be installed on concrete. DOT prints the selected artwork on vinyl adhesives, which are then adhered to the exterior surface of the cases at no cost to the partner. DOT handles the installation and removal of the cases and restores the site upon completion of the display period. The local organization is responsible for monitoring and maintaining the cases throughout the display period. The exhibit remains installed for a maximum of 6 months. Applications must be submitted at a minimum of 60 days in advance of the proposed installation date.
Download Art Display Case Application Guidelines and Application (pdf) Art Display Case projects on Flickr
Special Projects
DOT Art commissions temporary artwork in conjunction with a priority agency initiative up to twice a year. Selected artists are eligible to receive up to $20,000 towards direct project costs. Artists should visit the Program Tracks and Opportunities page on a consistent basis to learn of upcoming open calls or sign up for the e-newsletter. Examples of past projects outside of the four Program Tracks include: Asphalt Art Activations, Summer Streets Interventions, and Construction Fence Banner Wraps.
Special Projects on Flickr
Other pages
DOT Art & Event Programming
Permanent Art Collection and Policy
Event Programming Overview and Opportunities