Motorists & Parking
Citywide Congested Corridor Study: Woodhaven Boulevard, Queens
Project Context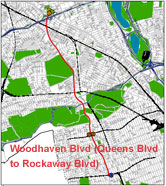 Click for full sized map (pdf)
Woodhaven Boulevard is a wide north-south road that runs from Queens Boulevard to the Liberty Avenue / Rockaway Boulevard intersection. At this point, continuing south, Woodhaven Boulevard becomes Cross Bay Boulevard, and connects to the Rockaways. The boulevard has a variety of land uses, including the Queens Center mall and other big box retail, as well as dense residential development and parks, and stretches with more neighborhood-oriented retail. The road has a very wide cross section, with as many as four travel lanes in the main roadway, and 3 lanes on the service roadway in each direction. At major intersections, only the service roadway meets the cross street, while the main roadway utilizes a flyover. The corridor crosses many major roads, including the Long Island Expressway, the Jackie Robinson Parkway, and Atlantic Avenue.
The entire length of Woodhaven Boulevard is a local truck route. The R, V and G subway lines are accessible from Queens Boulevard at Woodhaven Boulevard, and the Q11, Q29, Q53, Q38, Q59 bus lines use at least a portion of the route, with high ridership. The J and Z subway lines are accessible at Jamaica Avenue, and the A train has a station at Liberty Avenue. Pedestrian volumes vary greatly along the corridor, from very large numbers near the Queens Center mall, to sparser conditions in areas without much neighborhood retail.
Project Documents
Download the public meeting presentation which contains background information, initial observations and next steps.
Download the project update from the September 2009 public meeting.
Download the project update from the June 2010 public meeting, along with a poster of alternative designs proposed for the corridor.