Motorists & Parking
Richmondtown Roadway Improvement Project
Overview
In 1997, elected officials serving the Richmondtown area of Staten Island asked the City to demap the Richmondtown Loop. This assignment was given to the New York City Department of Transportation. The process of demapping is challenging and complicated, because the City cannot simply erase a mapped street - it must develop viable alternatives.
The Department of Transportation undertook the Richmondtown Roadway Improvement Project to assess improvements to Arthur Kill Road, Richmond Road and Richmond Hill Road in the Richmondtown area of Staten Island. These areas have serious congestion problems and a number of unsafe, high-accident locations. The goals of the study were to demap the presently mapped but unbuilt "Loop" segment and to mitigate conditions in the following locations:
"Snake Hill" portion of Richmond Hill Road - to improve safety along this steep, winding alignment with multiple sharp turns, including a blind curve at St. Andrew's Church, and a dangerous golf cart crossing at the top of the hill.
Richmond Road/Arthur Kill Road Intersection - a poorly operating intersection located in the middle of the Richmondtown Restoration. The existing roadway and intersection are already close to historic buildings and within an archaeologically sensitive area.
Arthur Kill Road/Clarke Avenue Intersection - this intersection operates poorly and its Clarke Avenue approach is a winding, steeply sloped segment adjacent to the United Hebrew Cemetery.
This study area also includes St. Patrick's Church and St. Andrew's Church, both landmark facilities. The Richmondtown Restoration, a historic development with City and Federal landmark buildings, dominates the Richmondtown area, which has a combination of "mapped", unbuilt street segments (such as the "Loop" segment noted above) and unmapped in-use roadways (e.g., the Richmond Road segment within the Richmondtown Restoration.) The study has to be sensitive to the needs and constraints of these institutions and to the area's local residents.
A key consideration for any proposed change to the City's mapped roadway system (such as demapping part of the "Loop") is that any alternative road system must provide traffic operations and accessibility comparable to the existing mapped roadway (the mapped "Loop"). Similarly, the environmental review process associated with such roadway changes mandates consideration of a broad range of potential alternatives to the proposed action.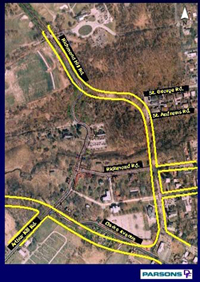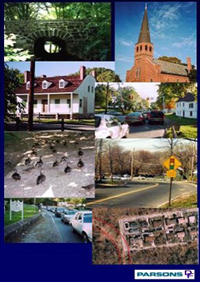 Richmondtown Roadway Improvement Project
DOT issues Final Scoping Memorandum (pdf) (July 2004.) This document reflects comments received throughout the public scoping process from various government agencies, elected officials, members of the Citizens Advisory Committee and other community organizations, as well as members of the general public.
Community Update
At a Citizens Advisory Committee meeting on April 2, 2008, DOT announced that the East Loop rendering is the preferred alternative.