Motorists & Parking
Off-Hour Deliveries Program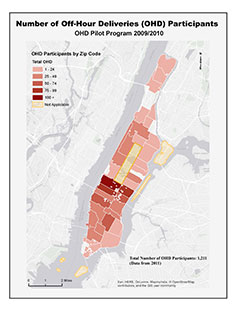 Trucks and commercial vehicles both cause and suffer from congestion on New York City's streets. Because of this congestion, deliveries made during the business day cost us all—as stores pass on the expenses of wasted time, lost revenue, missed deliveries and parking tickets. In order to combat congestion, help businesses control costs and improve air quality, DOT worked with Rensselaer Polytechnic Institute (RPI), and a group of stakeholders and research partners to implement an Off-Hour Truck Delivery Pilot program, funded by USDOT, which ran from late 2009 through 2010. Read the press release about this program.
Participants agreed to shift their delivery windows to between 7 pm and 6 am. Receivers found that fewer deliveries during normal business hours allowed them to focus more on their customers and that their staff was more productive because they waited around less for deliveries that were tied up in traffic. Carriers found that their trucks could make more deliveries in the same amount of time; they saved money on fuel costs and could use a smaller fleet by balancing daytime and nighttime deliveries, and that legal parking was more readily available. Their drivers reported feeling safer and less stressed.
Because of the success of the pilot, DOT is now seeking to expand the Off-Hour Deliveries (OHD) program. As part of the program expansion, we are seeking to understand which business are currently receiving deliveries in the off hours and which would be interested in learning more about this program. See below to sign-up to participate or learn more (pdf).
Quotes from Off-Hours Delivery Program Pilot Participants
"Everybody wins" –
Just Salad
Shifting the delivery times for the participating vendors was "relatively seamless" –
Whole Foods
"None of the off-hour drivers received a parking ticket for that month" –
Sysco
Feedback from receivers
Fewer deliveries during normal business hours leads to more time to focus on customers/clients;
Staff is more productive since they don't have to sit around waiting for deliveries during a 4-6 hour delivery window;
Rob Twyman, Regional Vice President of Operations for Whole Foods Market Northeast Region, indicated that he had received good feedback from the stores and that the shifting of delivery times for the participating vendors was "relatively seamless."
Feedback from Carriers
Less traffic at night means more efficient operations
A truck can make 5 deliveries in 1 or 2 hours during the off-hours, those same deliveries can take upwards of 5 hours during the day;
Potential for long-term cost savings by balancing day/night operations and having smaller fleets overall
Less time wasted in traffic jams led to lower fuel costs
Fewer parking tickets for double parking
Sysco reports that none of its truck drivers received parking tickets during the one-month pilot and there were no complaints from customers during the one month pilot.
Feedback from Truck Drivers
According to driver surveys, the drivers participating in the pilot experienced:
Much faster travel speeds
Much lower congestion
A large increase in available parking
Much lower levels of stress
A lower amount of time to deliver goods at each stop
A lower amount of time to complete the route
An increased feeling of safety
Participate
DOT is looking to expand the off-hours delivery program. To this end, we need your help in further understanding current delivery practices. We are conducting a short survey of business who are currently doing off hour deliveries and those who would be interested in learning more about the program. Please complete this short survey: https://www.surveymonkey.com/r/nycdotohd. We will be in touch shortly.
If you have additional questions please contact the Office of Freight Mobility via email at: ohdnyc@dot.nyc.gov or by phone 212-839-6670.