Clinton–Hell's Kitchen Neighborhood Traffic Study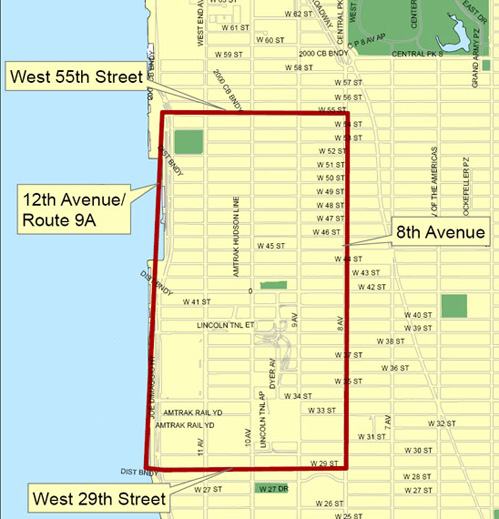 From 2007-2014, DOT conducted a comprehensive study of transportation conditions and safety issues in the Clinton–Hell's Kitchen neighborhood in Manhattan. The goal of the study was to identify ways to improve safety, mobility, and the quality of life for all street users (pedestrians, cyclists, transit users and motorists) in the neighborhood.
The Clinton–Hell's Kitchen area has seen a number of major ongoing public and private projects, including public works projects, rezoning actions, and largescale private developments. As a result, there is ongoing and growing competition between the various functions of the street, curb, terminal/parking facilities and sidewalk space, by competing street users including pedestrians, bicyclists, transit users, tour buses, delivery trucks, taxis and private autos. DOT condurected this study to address these competing demands on the street network and in response to congestion-related concerns expressed by the Community Board and local elected officials. Download the final report on the study (pdf)
The Clinton–Hell's Kitchen neighborhood study area extends from West 29th Street to West 55th Street, and from Eighth Avenue to the Hudson River. It lies entirely within the boundaries of Manhattan Community Board 4 and includes the entire Hell's Kitchen neighborhood, the Special Clinton District and the western part of the Garment District.
Issues
The study identified issues based on data collection and analyses, field observations and consultation with stakeholders such as residents, local businesses, transportation providers, Community Board members, elected officials, local government agencies and various interest groups. The issues identified include:
High levels of congestion in the study area network, mainly due to spillback from the Lincoln Tunnel.
Problematic access and egress points to the Lincoln Tunnel because of bottleneck conditions, especially onth Avenue.
Discontinuous sidewalk on west side ofth Avenue between West 36th and West 37th Streets.
Crosswalk safety is compromised when pedestrians crossing concurrently with conflicting turning vehicles.
Conditions of sidewalks, including sidewalk overcrowding, auto repair and other unauthorized parking on sidewalks, and poor condition of roadbed and pavement markings.
Lack of bicycle facilities.
Problems caused by transit, charter and tour buses, including unsafe bus turning movements, bus layover and pickup/drop-off areas and conflicts with pedestrians.
Improvements
In order to address these identified issues, improvement measures were designed and analyzed. Improvements that have already been implemented are:
Crosswalks with set-back stop bars.
Improved signage.
Bike Lanes on 8th and Ninth Avenues.
34th Street Select Bus Service Phase I.
Relocated bus layover areas and expanded bus stops.
Signal timing changes, including leading pedestrian intervals (LPIs), increased time to cross wide avenues, offset changes to improve progression, feathering of Ninth Avenue, split phase for bikes and increased green time for Ninth Avenue.
Curb extension at West 41st Street and Ninth Avenue.
"Canoe" project to provide expanded, attractive landscaped pedestrian island and provide continuous sidewalk on west side of Ninth Avenue between West 36th and West 37th Streets.
Turn prohibitions at selected locations to reduce congestion and improve pedestrian and vehicular safety on Ninth Avenue.
Other improvements planned for later implementation include:
34th Street Select Bus Service Phase II.
Split phase for conflict-free crossing of Ninth Avenue at West 43rd Street.
Split-phase for conflict free crossing of West 41st Street at Ninth Avenue.
Split-phases or LPIs for conflict free crossing of 8th and Ninth Avenues at other problem locations.
Improved signage for Ninth Avenue.
Conversion of 11th Avenue to two-way south of West 37th Street.
Alternative configurations for 11th Avenue north of West 44th Street.
PM peak period contra-flow bus lane on Dyer Avenue to relieve congestion and improve pedestrian safety on Ninth Avenue.
Expansion of Port Authority Bus Terminal.
Project Documents