Ferries & Buses
Great Kills Ferry
Launched on November 25, the temporary ferry service from Great Kills, Staten Island to Manhattan brings relief to, and eases the commutes of, neighborhoods that saw some of the worst damage from Hurricane Sandy. Storm damage to vehicles and ongoing transportation impacts around the city have lengthened daily commutes for thousands of New Yorkers in these areas. Read the Mayor's press release announcing the launch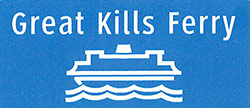 New York Water Taxi operated the eight-week ferry service. The schedule ran from Great Kills Park to Pier 11 at Wall Street, continuing on to 35th Street. Vessels leave from a newly-installed temporary landing near the marina in Great Kills Park along Buffalo Street, and three parking areas within Great Kills Park were available to ferry riders arriving by car. Additionally, a shuttle bus provided by New York City Transit links the ferry landing with the S78 and SBS S79 bus stop at Buffalo Street and Hylan Boulevard and parking areas. The one-way ferry fare is $2.00, comparable to fares for temporary ferry routes established in the Rockaways after Sandy.
The ferry service was made possible through Federal Emergency Management Agency (FEMA) funding, and the expedited bidding process was coordinated in conjunction with the Comptroller's office. The ferry service joined the temporarily-expanded Atlantic Express X23 and X24 express bus service serving Staten Island commuters elsewhere in the borough.
The ferry will conclude Friday, January 25, the end of the eighth week of temporary service. The service launched Nov. 26 using FEMA Sandy recovery funding, connecting Great Kills Park with Pier 11 at Wall Street and in Midtown at East 35th Street in Manhattan with six morning and six evening departures. While there are no plans to extend the service at this time, the City will continue to work with the borough's elected officials to build on recent transportation improvements.
Map of the temporary ferry terminal in Great Kills Park