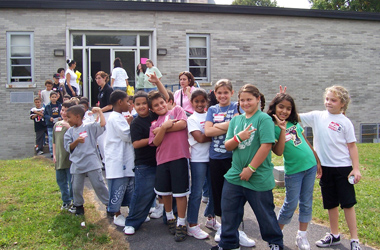 School's back in session. Follow these tips to keep kids safe on their way to and from class.
Back to School

Help your kids and kids citywide stay safe on their way to and from school this season. Here are some ideas for ways to protect your family and the kids in your community.



Walking and Biking

Make a plan: Talk to your kids about the safest route to and from school. DOT's school safety maps, created for hundreds of schools citywide as part of the Safe Routes to Schools program, can help you plan a safe trip.
Lead by example: Walk or bike with your kids to school or their bus stop, or make sure another trusted adult accompanies them. While you're out:

Stop, look and listen before crossing, even if the pedestrian signal shows the white figure walking.
Use crosswalks and always cross at the intersection; that's where drivers expect to see pedestrians crossing.
Walk, don't run across the street. Keep looking in all directions, even behind you, for turning vehicles while crossing.
Wear a properly fitting bike helmet every time you're on wheels.
Children under age 12 should ride their bikes on the sidewalk; teens and adults should drive their bikes in the street and follow the rules of the road.
Bus Smarts
Leave home early enough to avoid running to make the bus.
Wait for the bus on the sidewalk, not in the street.
Talk to your children about the danger zones all around the school bus where children are hidden from the driver's view.

Help your kids protect themselves with these simple steps:
The safest way for children to cross the street after getting off the bus is to walk at least 10 steps away from the bus (on the sidewalk) before crossing. Tell children to be sure that they can see the bus driver's face before beginning to cross, and to avoid walking behind the bus or close to its wheels or sides.
Explain to children that if they drop anything under or in front of the bus, they should tell the bus driver and not reach for it on their own.
By Car
Buckle up on every ride!
Children up to age 7 must ride in a car seat or booster seat; older children and teens must use a safety belt in the front and back seats of the car.
The back seat is the safest place for children up to age 13 to ride.
Make sure everyone on the car, no matter how old or where they sit, is correctly buckled up.
Forward this email to a friend and tell them to sign up for monthly safety tips from DOT's Office of Safety Education, at: www.nyc.gov/dotnews.




Upcoming Events

Child Passenger Safety Week

September 12 through 18



Car Seat Inspections

Make sure your car safety seat is installed correctly. A trained car seat technician will check your seat and demonstrate correct installation. No appointment is necessary.


Saturday, September 12
11:00 am - 3:00 pm
Chevrolet of Harlem, 2nd Avenue at 127th Street, Manhattan.
Wednesday, September 16
10:00 am - 2:00 pm
Babies R Us, 2655 Richmond Ave, Staten Island.

If you cannot attend these events call 311 for an appointment for a free child car seat inspection at a DOT Fitting Station. Please note that we cannot accept walk-ins. DOT Child Car Seat Fitting Station locations can be found here or come to a car seat check event.

Bike Helmet Giveaways and Fittings
Schedule a fitting for an NYC helmet at one of the DOT's Safety Cities by calling 311.

Save the Date: National Walk to School Day on October 7, 2009

For a complete list of events see NYCDOT's event calendar.


More Safety Resources
Safe Routes to School

National Safe Routes to School

Safe Routes to School Partnership

NYCDOT's School Safety Engineering Program

NHTSA's "Play it Safe" guide with games and coloring activities for kids