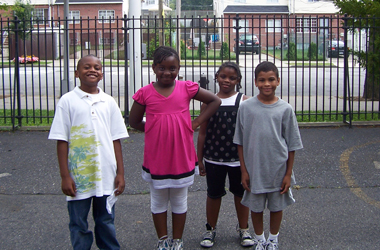 Warmer weather means a return to playing outdoors. DOT's Safety Education programs give kids the skills they need to walk safety to and from the playground.





Outdoor Safety for Spring


Spring is nearly here and children will soon take to the streets, rec center and playgrounds to enjoy the warm weather. Teach your kids to travel and play safely.



Walking

Teach kids by example to be smart pedestrians. Cross at crosswalks -- that's where drivers expect to see people crossing. Stop, look and listen before crossing, even if the pedestrian signal is in your favor. Hold hands with young children while you cross, and supervise older ones. Children under age 10 are not ready to cross by themselves.



Biking

Short trips to the park or playground can be easily made by bike. Be sure your children wear a helmet that fits properly, and that you wear one, too. Wear light- or bright-colored clothing, and check to be sure there are reflectors on your bikes. Children under age 12 may ride their bicycles on the sidewalk; children over age 12 and adults should ride in the street and follow the rules of the road, like all other drivers.



Driving

If you drive your children to their activities, buckle them up in the appropriate type of car restraint -- a car safety seat, booster seat or safety belt. New York State law requires that children up to age eight ride in a car safety seat or booster seat and children ages 8-15 must use a safety belt in every seating position, whether it's in the front, back or middle row. Drivers and all front-seat passengers must always buckle up, too. Children under age 13 are safest riding in the back seat.

Consider forming a carpool to get your children to and from recreational activities. Carpooling is good for you -- it saves gas, as well as wear and tear on your car. It's also good for the environment, and reduces congestion and CO2 emissions. All children in your carpool need to ride in a car seat, booster seat or safety belt, based on the child's age, weight and height, and in accordance with the law. Start the car only after everyone is properly buckled up. Never leave children alone in the car -- even for just a few moments. The temperature inside the vehicle can rise rapidly, and the consequences can be deadly.

New York City is a wonderful place for outdoor activities. Enjoy them with your family, and get there safely! Remember: you are the best role model for safe behavior for your child!




More Safety Resources

Bicycle Safety Tips from the NYC Department of Transportation
Carpool Driver Safety Checklist from Safe Kids Worldwide
Playground Safety Tips from Keep Kids Healthy

Forward this email to a friend and tell them to sign up for monthly safety tips from DOT's Office of Safety Education, at: www.nyc.gov/dotnews.
DOT Safety Education Events




Free Car-Seat Check

Is your child car-seat installed properly? Nine out of ten car seats are not. Find out if yours is.

Saturday, April 10
11 am - 3 pm
Chevrolet Cadillac of Harlem, 2485 Second Avenue in Manhattan at 127 Street

A trained car-seat technician will check your seat and demonstrate correct installation. No appointment is necessary.

If you cannot attend this event, call 311 for an appointment for a free child car seat inspection at a DOT Fitting Station. Please note that we cannot accept walk-ins. Car-seat checks are done by appointment Mondays - Fridays at all DOT inspection stations.

DOT Child Car-Seat Fitting Station locations can be found here.



Bike Helmet Fittings and Giveaways

March 30, 11 am - 3 pm:
Pratt Institute's Green Week
20 Willoughby Avenue, Brooklyn

April 17, 10 am - 2 pm:
Carl Schurz Park
217 East 85 Street, Manhattan

Saturday May 1,
11 am - 2 pm:
Earth Day Rockaway
Beach 29th St. (on the boardwalk) Far Rockaway, Queens

The Department of Transportation will give away free bike helmets while supplies last. Helmets are available for all ages. You must be present to get a helmet and you must learn how to properly fit and wear it before you receive it. Adults over 18 receiving a helmet must sign a waiver, and a parent or legal guardian must be present to sign a waiver for children under age 18.



Immigrant Heritage Fair

April 20th, 10 am - 4 pm:
NYC Police Museum, 100 Old Slip, Manhattan. The event focuses on keeping your family safe in New York City, and is aimed at New Americans and immigrant families.

For a complete list of events, see NYCDOT's event calendar.