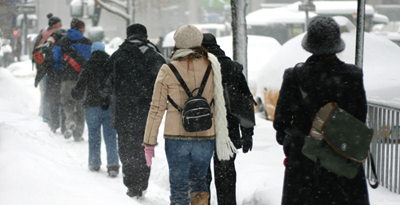 Make a resolution to walk and bike more often and do your part to keep others safe on the streets.
Stay safe and healthy in 2009!

Here are some times to get your New Year's started right!



In a car
Buckle up on every ride. Be sure babies and young children are riding in a car safety seat or booster seat, and that all other passengers buckle up, too.
If older adults or others with special needs are crossing at an intersection, be patient and give them a break.
Be especially alert for sudden dart-outs in areas where children play or walk to school.
Be alert for cyclists, too. Use your turn signal and look out for cyclists before making a turn. Look for cyclists before opening your car door on the street side.
Keep bike lanes clear. Avoid parking, stopping or standing in them; drive across them only for safety and turns.
On a bike
Follow the rules of the road, like all other drivers. Come to a complete stop at stop signs and red signals, and ride with traffic, never against it.
Make eye contact with drivers. Be sure drivers see you before making a turn or riding in front of a turning car.
Be visible. Wear bright colors for daytime riding, and use reflective materials and lights at night.
Ride predictably. Use hand signals, ride in a straight line and avoid weaving in and out between cars.
On foot
Stop, look left-right-left again and listen before you begin to cross. Keep looking as you cross for turning vehicles or emergency vehicles.
Drivers don't expect to see you step out from between parked cars. Cross at crosswalks whenever possible.
Keep your stroller on the curb beside you while you check to make sure it's safe to cross.
See and be seen. Wear bright colors in the daytime and light colors and retro-reflective items at night.
Forward this email to a friend and tell them to sign up for monthly safety tips from DOT's Office of Safety Education, at: www.nyc.gov/dotnews.




DOT Safety Education Events

Free Car Seat Check
Is your child car seat installed properly? Nine out of ten car seats are not. Find out if yours is.

Saturday, January 10
11:00 am - 3:00 pm
Car Seat Check Event, Chevy Saturn of Harlem, Chevy Saturn service area, 127 Street between 2 – 3 Avenues, Manhattan. No appointment necessary.

Saturday, January 24
10:00 am - 2:00 pm
Car Seat Check Event, Bruno Pontiac Buick GMC, 435 Hamilton Avenue, Brooklyn. No appointment necessary.

A trained car seat technician will check your seat and demonstrate correct installation. No appointment is necessary. Future events are scheduled for February 14 and March 14.

If you cannot attend this event call 311 for an appointment for a free child car seat inspection at a DOT Fitting Station. Please note that we cannot accept walk-ins. DOT Child Car Seat Fitting Station locations can be found here.

For a complete list of events see NYCDOT's event calendar.


Food for Thought

Many of the trips we currently take by car could be easily replaced by walking or bicycle, saving money and burning calories. Consider 10% of auto trips taken by New Yorkers are under one-half mile, easily walkable, while 22% are under 1 mile and 56% are under 3 miles – distances readily served by bicycle.*

* City in Flux, Schaller Consulting, April 2007