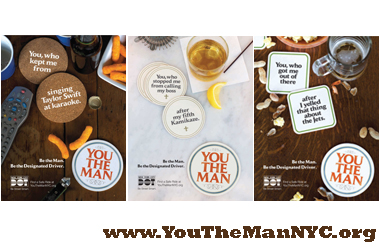 Celebrating the Designated Driver
Just in time for Superbowl weekend the Department of Transportation launched a new effort to make NYC streets even safer. A brand-new public service campaign called "You The Man," aims to reduce drinking and driving in New York City. The National Highway Traffic Safety Administration has identified Superbowl weekend as one of seven holidays throughout the year where drinking and driving spikes.

New York City Department of Transportation Commissioner Janette Sadik-Khan and Deputy Mayor for Operations Edward Skyler were joined at a press conference announcing the campaign by New York Giants defensive lineman Chris Canty. Canty spoke about the importance of using a designated driver and keeping the roads safe during this major sports holiday weekend.

Read the press release here.

DOT's campaign is specifically focused on men ages 21-39, who in 2008 were responsible for 63% of alcohol-related crashes in New York City. This is in keeping with historical trends.

Men in this age group are less likely to be effected by traditional government PSAs. In fact, in developing this campaign DOT and its consultants heard from men in the target audience that they actively did not want to be told what do to by the government. As a result, DOT worked to create a campaign that would look and sound different from ordinary government PSAs.

What DOT is unveiling this week is an interactive, New York City-specific multi-platform campaign that appears online, outdoors, in city bars and on local radio, encouraging city residents to plan ahead for a safe ride home before a night of drinking. The campaign also seeks to honor those who take their turn as the designated driver, lauding those who maintain sobriety and get their friends home safely.



Cool New Tools to Help New Yorkers Plan Ahead

New York City has literally thousands of built-in designated drivers, from subways to buses to taxicabs, and DOT is promoting a variety of ways to get home safely. The agency has teamed up with the Taxi and Limousine Commission to create a Find-A-Ride feature on the You the Man website that helps city residents find TLC -approved Livery Car companies nearby. Web visitors enter the address where they'll need to find a cab or car service, and the site will provide a list of car services nearby. The resulting list of car companies can be emailed and shared with friends. By mid-February users will be able to send this information to their cell phone via text message, so it's ready at the end of the night. The service aims to help New Yorkers who go out in neighborhoods beyond the easy reach of taxis or late night public transit.

DOT is also partnering with Heineken and Phoenix Distributors to bring You The Man to bars throughout New York City. A series of co-branded beer coasters will make their way into hundreds of local bars through Phoenix's distribution channels, starting conversation and reminding New Yorkers about the campaign's website.

"New York is unique in that there are so many options for getting around. We truly have the best public transit system in the country, not to mention more than 10,000 designated drivers already in place -- taxi cabs!" explained DOT Commissioner Janette Sadik-Khan. "This campaign will remind people that they have several options to get home safely after a night on the town, and help them access that information easily."

The campaign website will also feature information on drinking and driving, including facts and penalties, interactive games, animated videos, and portals for visitors to submit thanks to their friends who have been responsible designated drivers. It will also feature a special mobile interface, making it easy to find a Livery Cab at last call. In the coming months, contests and smart phone apps are also planned.



Sobering Statistics

In New York State alone, 40,000-50,000 DWI first offenders are arrested each year. In 2008 New York City saw 1,079 alcohol related crashes resulting in 830 injuries and 74 deaths.

"You The Man" launches on the heels of more stringent DWI laws in New York State, including Leandra's Law, which makes driving intoxicated with children in the car a felony offense. The law also mandates ignition interlock device sentencing on all DWI-related offenses.

To learn more about DWI in NYC, to interact with campaign tools and to access the Find-A-Ride feature, visit www.YouTheManNYC.org.


Forward this email to a friend and tell them to sign up for monthly safety tips from DOT's Office of Safety Education, at: www.nyc.gov/dotnews.
DOT Safety Education Events


Free Car Seat Check
Is your child car seat installed properly? Nine out of ten car seats are not. Find out if yours is.



Saturday, February 13
11 am - 3 pm


Chevrolet Cadillac of Harlem, 2485 Second Avenue in Manhattan at 127 Street

A trained car seat technician will check your seat and demonstrate correct installation. No appointment is necessary.

If you cannot attend this event, call 311 for an appointment for a free child car seat inspection at a DOT Fitting Station. Please note that we cannot accept walk-ins. Car seat checks are done by appointment Mondays - Fridays at all DOT inspection stations.


DOT Child Car Seat Fitting Station locations can be found here.

For a complete list of events, see NYCDOT's event calendar.

More About DWI

You the Man: Campaign Website



You and the Drinking Driving Laws: a Brochure from the NYS DMV



New York State's FAQs about DWI



DWI Penalty Card in English



DWI Penalty Card Translated in Chinese, Urdu, Korean, Polish, Russian, Spanish